I've never been a lover of white rice. But after I tried the Hawaiian Chicken Teriyaki Bowl recipe, I decided I am a lover of Coconut Rice. It's made with Jasmine rice which is very sticky aftyer it is cooked.
The sticky rice is perfect to use in the Hawaiian Chicken Teriyaki Bowl recipe, as it is the perfect balance to the sweetness of the home made Teriyaki Sauce used in the recipe. Together with the marinaded chicken, sweet pineapple and savory vegetables.
It is super easy to make. Add water and coconut milk to a saucepan, rice and cook. You may want to use a non stick pan as the rice will stick to a pan that is not non stick. Hence the name sticky rice. 
The flavor of coconut is very subtle in this recipe, but is perfect for rice bowls of any kind. I can't believe I actually crave this rice, but its only because it's sticky and clumps together.

You can use this Coconut rice in any recipe calling for a white rice. This is definitely a rice you want to make over and over again. 


Print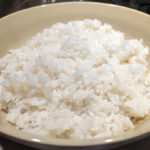 Coconut Rice
---
Description
Super sticky rice, perfect for rice bowls or stir fry.
---
2 cups water
1 1/2 cups canned unsweetened coconut milk (shake the can before using)
2 tsp light brown sugar , packed
1 tsp salt
2 cups Jasmine rice (about 13 oz.), well rinsed and drained
1/2 cup sweetened flaked coconut (optional), lightly toasted
---
Instructions
Combine 2 cups water, coconut milk, sugar, and salt in large saucepan. Bring to simmer, then stir in rice.
Return to a gently boil, cover, reduce heat and simmer for 15 minutes.
Remove from heat and let stand 10 minutes. Remove lid and fluff rice gently with a fork.
Transfer rice to a bowl; sprinkle with toasted coconut.