I am always looking for new "one bowl" dinners. This one really caught my eye. Who doesn't love grilled fresh pineapple, grilled chicken with Teriyaki sauce, sticky Jasmine rice and grilled veggies? Let me first say the home made Teriyaki sauce is to die for! Super delicious. Takes literally a few minutes to make. You will NEVER go back to bottled sauce after you taste this Teriyaki sauce!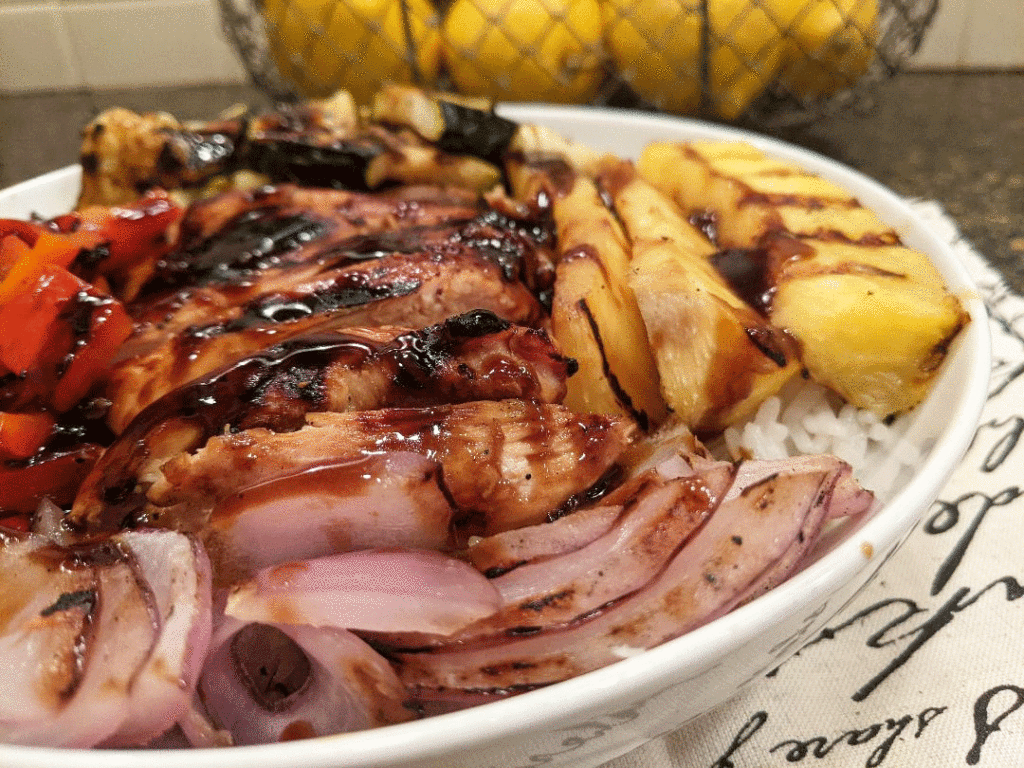 The next thing I loved is the sticky coconut Jasmine rice. I've never been a fan of rice, but this Coconut Rice is my kind of rice. Super sticky. Perfect consistency and texture for the blending of veggies, pineapple and chicken topped with the sweet and zesty teriyaki sauce.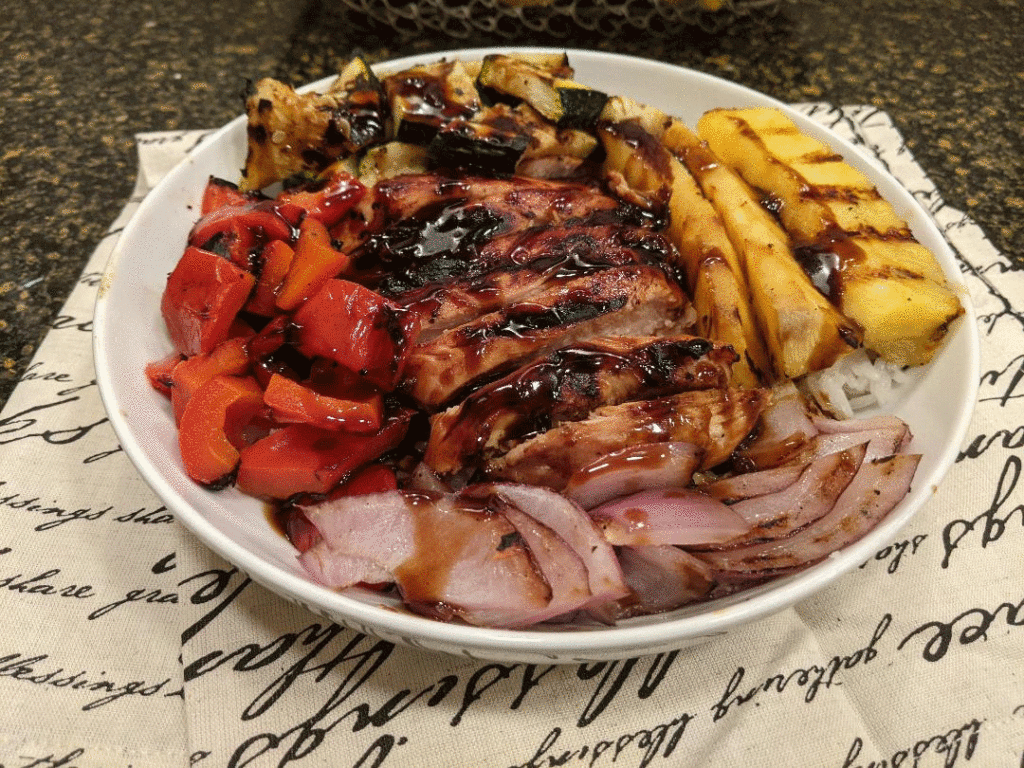 Even hubby loved it, which was surprising because he is a meat and potatoes man!

It is super easy to make, and pulls together perfectly.This can be made on the grille in the warmer months or on a grille pan on the stove during the cooler months.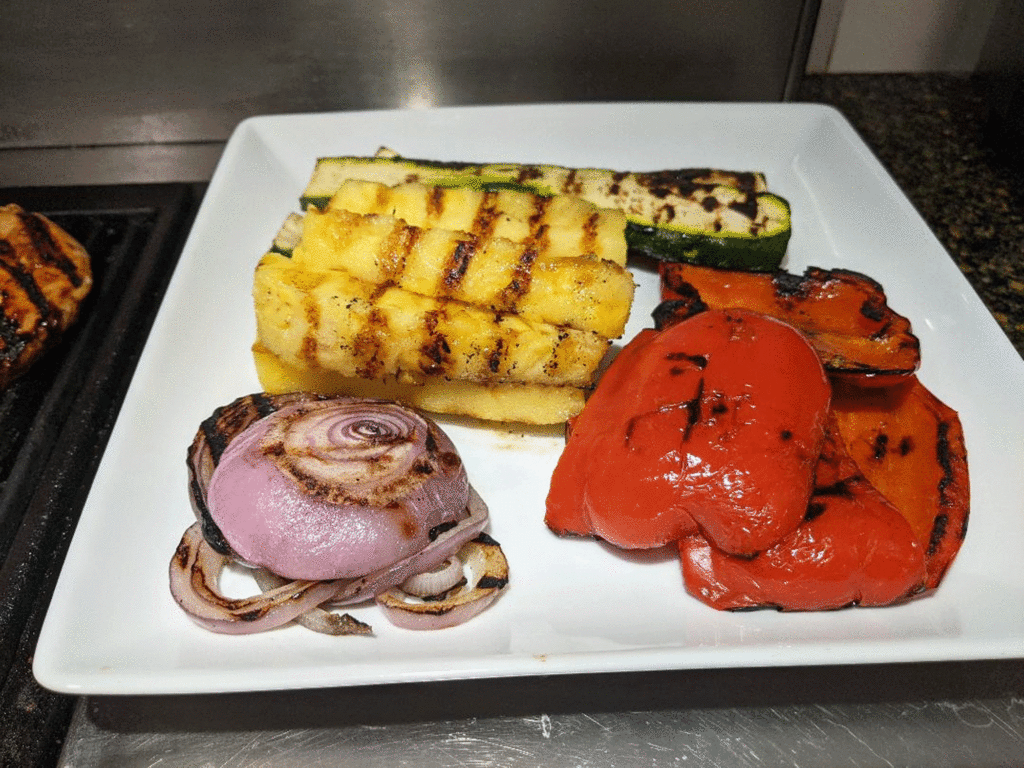 Perfect for a weeknight meal, especially if you cut all your veggies and make teriyaki sauce ahead of time. You can even make the rice and have it ready for a quick heat up. I've even made bowls from the leftover grilled veggies by just giving them a quick heat up.

You can vary this recipe using the same rice but changing the protein and veggies to whatever you have on hand. These bowls are also a perfect way to use up veggies in your fridge.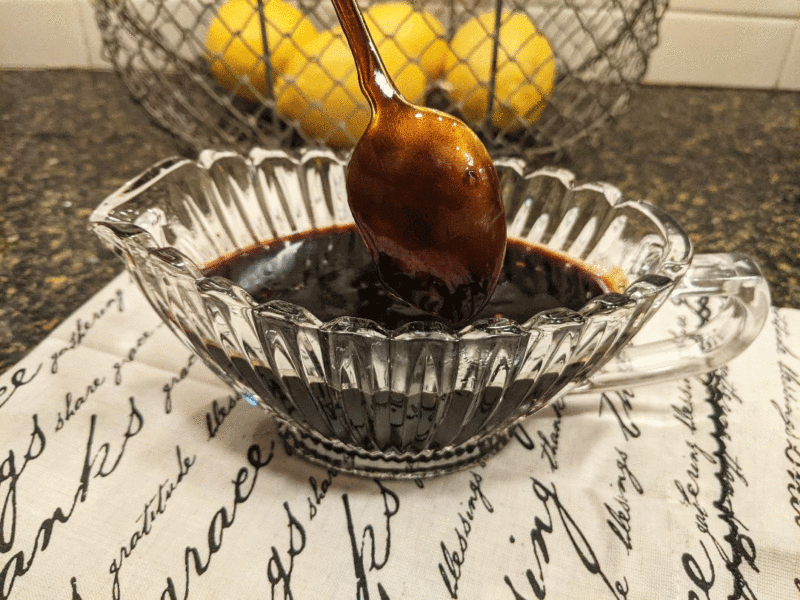 I make the teriyaki sauce ahead and keep in the fridge.

Whatever the case, make this dish. It is delicious!



Print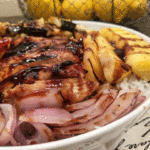 Hawaiian Chicken Teriayki Bowl
---
Description
Rice is super sticky, veggies, pineapple and chicken are drizzled with Teriyaki sauce. Just the right amount of sweetness.
---
Coconut Rice:
2 cups water
1 1/2 cups canned unsweetened coconut milk (shake the can before using)
2 tsp light brown sugar , packed
1 tsp salt
2 cups Jasmine rice (about 13 oz.), well rinsed and drained
1/2 cup sweetened flaked coconut (optional), lightly toasted
Bowls:
6 chicken tenders (or 3 chicken breasts)
2 zucchini , sliced
2 bell peppers , any color, chopped
1/2 pineapple , peeled and cut into spears
1 red onion , sliced thin
1 batch Coconut Rice
Teriyaki Sauce:

½ cup low-sodium soy sauce
2 Tablespoons rice vinegar
1 Tablespoon sesame oil
1/4 cup + 1 Tablespoon light brown sugar
1 Tablespoon honey
¾ teaspoon ground ginger
1 clove garlic , minced
2 teaspoons cornstarch+ 2 tsp water , mixed together to make a cornstarch slurry
1/4 teaspoon crushed red pepper flakes
---
Instructions
Coconut Rice:
Combine 2 cups water, coconut milk, sugar, and salt in large saucepan. Bring to simmer, then stir in rice.
Return to a gently boil, cover, reduce heat and simmer for 15 minutes.
Remove from heat and let stand 10 minutes. Remove lid and fluff rice gently with a fork.
Transfer rice to a bowl; sprinkle with toasted coconut.
Teriyaki Sauce:
Make the teriyaki sauce by adding all of the sauce ingredients to a small saucepan over medium heat. Bring to a boil, stirring constantly, and boil for about 1 minute. The sauce should be thick enough to coat the back of the spoon.

Assemble:
Pour 1/4 cup of the teriyaki sauce over the raw chicken and set aside to marinate for at least 15 minutes (or longer if using chicken breasts).
Preheat a grill or grill pan. If you have a vegetable grill basket to grill the vegetables in, then chop them and grill them in the basket. If not, cut the vegetables into large pieces that will not fall through the grill grates.
Drizzle some olive oil over the vegetables and over the pineapple spears. Grill the vegetables for just a few minutes on each side and then remove to a plate. 
Grill the pineapple next by placing the pineapple spears directly on the grill. Grill for about 2 minutes on each side, and remove to a plate. 
Lastly, place the chicken on the grill. Cook for about a few minutes on each side, or until cooked through. Remove to a plate to rest before slicing.
To Assemble: Add coconut rice to each serving bowl. Top with grilled veggies, pineapple and chicken.  Drizzle teriyaki sauce on top.
Notes
Prepare your rice ahead. Prepare you Teriyaki ahead and this recipe pulls together in a few minutes.