Chicken Piccata is my ALL TIME FAVORITE! With just the right amount of butter in the sauce. No short cutting with replacing oil for the butter. This sauce is just right!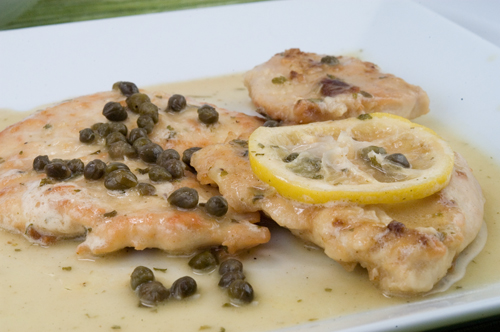 I love, love, love lemons! So it's not surprising that Chicken Piccata is one of my favorite dishes. I have been making it for quite a while now. I usually make it when there's something else for hubby to eat, as he doesn't care for it. So I don't make as often as I would like.
Chicken cutlets are so versatile. With cutlets I make this Piccata, and in the Summer months lots of Milanese with my home made lemon dressing, I also make chicken cutlets to have with tomato sauce and mozzarella. The skies the limit to what you can do with chicken cutlets.
In this recipe, I saute the cutlets in oil and butter. The flavor is much better than just sauteing in oil.
The cutlets can be pounded as thick or as thin as you like. I don't like to go too thin though, the cutlets dry out too much, and I prefer a juicy, tender cutlet. I always use a good quality chicken. My preference is Bell and Evans. I love the quality of the chicken. It comes in handy cryovac containers that can easily be frozen right in their package.
I love the tart, buttery, lemony taste of the Piccata sauce. I do not load with mushrooms as I have seen. Once in a while I will put some Artichoke hearts in the sauce, but most of the time it's just the capers and slices of lemon plain and simple. Capers and fresh parsley are a must.
What's the difference between Chicken Piccata and Chicken Francese?
In Chicken Piccata, the chicken is dredged in just flour or no flour at all. In Chicken Francese the chicken is dredged in flour first and then in a berated egg.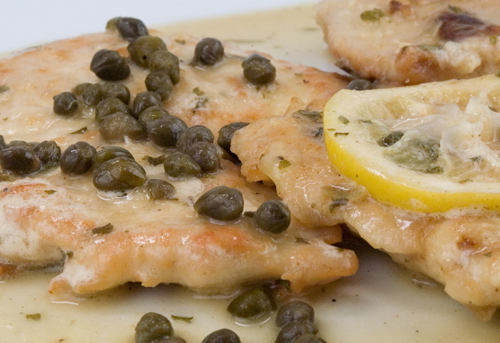 This dish is super easy to make:
Slice the boneless, skinless chicken breasts in half horizontally.
Pound a little to make sure they are the same thickness to allow for even cooking.
Dredge in flour and set aside.
Melt oil and butter in skillet.
Cook for 5 minutes or so turning on each side to brown.
Remove from skillet and keep warm in a low oven. Repeat with remaining chicken.
Pour any excess oil from the pan but do not wipe it out. Over medium high heat, add wine and cook down to about a third, about 5 minutes. Add the stock and cook down to about half, about another 5 minutes.
Add lemon juice (you can add less at first if you're not sure how lemony you want it) and capers.
Add butter cubes and simmer without boiling. Add chicken back to the sauce. Cook on a very low simmer for about 3-4 minutes.
Print
Chicken Piccata
---
Author:

Total Time:

40 minutes

Yield:

4

1

x
Description
This tart, lemony Chicken Piccata sauce compliments the tender, pan fried chicken.
---
1 lb. boneless, skinless chicken breasts
all-purpose flour, seasoned with salt & pepper
3 Tbsp oil
2 Tbsp unsalted butter
1 c. white wine
1/4 c. capers, rinsed and drained
1 c. chicken stock
1/3 cup fresh lemon juice (use half at first and add more if necessary)
4 Tbsp. unsalted butter, chilled and cubed
---
Instructions
Pound the chicken with a mallet until it is uniform in thickness but not too thin. Dredge the chicken in the flour mixture and set aside.
Heat the oil and butter in a non-stick 12″ skillet. Cook the chicken, in batches, for 3-5 minutes, or until golden brown on both sides. Drain on paper towels, cover and keep warm while cooking remainder of chicken.
Pour off the oil from the pan, add the wine and cook down to about a third, about 5 minutes.
Add the stock and cook for 5 minutes, or until reduced by half. Add half of the lemon juice and capers.
Whisk in the cubes of butter. without allowing the sauce to boil. Adjust the seasoning, adding more lemon juice if necessary.
Transfer the chicken back to the skillet, pour in the sauce, and cover and leave 3-4 minutes before serving.
Notes
Chicken can be cooked with or without the flour coating.
Prep Time:

15 mins

Cook Time:

25 mins