I've been having fish a lot lately, and been having great luck getting it at our local market Shaws. I don't usually like fish from a supermarket, but it's so fresh and reasonably priced its hard to beat.
I've been making it Meuniere style, and love it that way, but wanted a change.
I pinned this great Haddock Piccata recipe from Sweet Bites Blog, and thought I would make it tonight. I love anything Piccata, so thought this would be perfect for the thick, white fish.
Oh my…if I got this in a restaurant, I would be back over and over for it! It was that good. Thick, white juicy fish, that flakes apart in huge chucks. With a delicious buttery, lemon wine sauce that is good enough to drink (well in my opinion anyway!).
If you love lemon as I do, you've gotta try this Haddock Piccata recipe! Make sure the fish you buy is the freshest you can get. Not frozen. It should smell like the sea. And make sure you get the thickest fillet possible.
Oh my, I could eat this every night!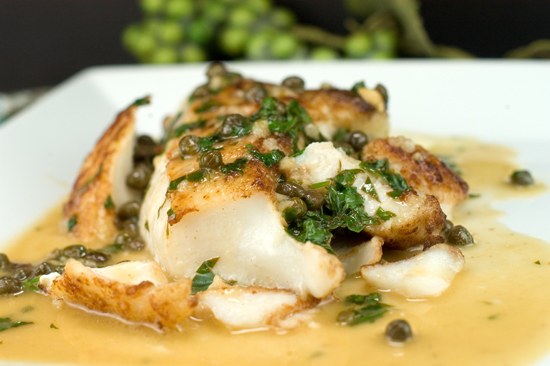 Print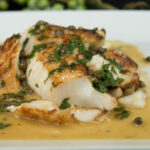 Haddock Piccata
---
1

pound Haddock fillets
about

¼ cup

flour for dredging
freshly ground white or black pepper to taste

2

–

4

tablespoons unsalted butter

2 tablespoons

extra virgin olive oil

1 tablespoon

small capers, drained

1

garlic clove, minced

¼ cup

dry white wine
juice of

1/2

lemon

2 tablespoons

chopped fresh Italian parsley
sea salt and ground pepper to taste
---
Instructions
Soak fish fillets in milk for 5 to 20 minutes. Remove from milk, and pat dry with paper towels. Put some flour in a ziptop bag, and add fish and shake gently until coated.
In a large skillet, melt about 3 tablespoons of the butter with the oil over medium heat.
When the butter foam has subsided, slip the fillets into the skillet. Sauté over medium to medium-high heat until lightly golden, about 3 minutes a side for thick fillets, turning them only once. Transfer to a heated platter and reduce the heat to medium-low. Remove any excess brown butter. Add the capers, garlic and wine. Stir to scrape up any browned bits from the bottom of the pan. Cook until the alcohol has evaporated, about 2 minutes. Add the lemon juice and about 1 tablespoon of butter to create a smooth sauce. Stir in the parsley and taste. Season with salt and pepper if needed.
Remove the pan from the heat and pour the sauce over the fish. Serve immediately.