I've had this recipe from Chef Dennis on my "to do" list for quite some time. It thought this would be perfect to make for this lazy Winter Sunday afternoon.
There's nothing better than pasta with Broccoli Rabe and chucks of garlic, sauteed in a really good olive oil. Throw in some imported Parmesan cheese, and you've got paradise. Well, as far as I'm concerned anyway! I used Barilla Campanelle pasta, because of the shape. It catches all the garlic olive oil, broccoli and cheese, in between the ruffles. I topped with some shaved imported Parmesan cheese.

It's hard to believe something this good, is this easy to make! But it is. This is a perfect dish for a weeknight as it comes together quickly. As for me, someone better get this pasta outta here..I already ate way too much!!

Thanks Dennis, for another great recipe!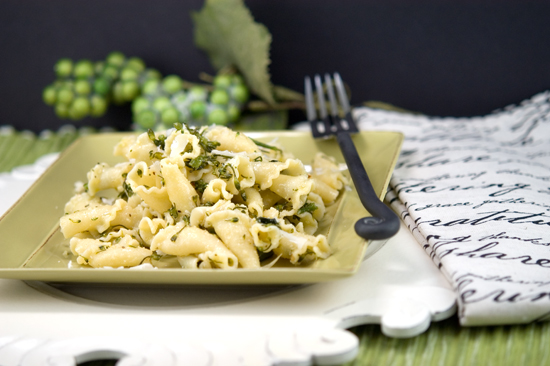 Print
Pasta Aglio Olio with Broccoli Rabe
---
Author:

Total Time:

25 mins
1/2

lb Campanelle or your favorite pasta

1

large head broccoli rabe

4

–

5

cloves fresh garlic, sliced into very thin slices

6

–

7

tablespoons extra virgin olive oil

1

pinch of crushed red pepper flakes (or more depending how hot you like it)
kosher or sea salt & coarsely ground pepper to taste

1/3

c.grated Parmesan cheese
Shaved Parmesan cheese for topping
---
Instructions
Wash and clean broccoli rabe, removing most of the stem
In a large saute pan place broccoli rabe in the pan with about a cup of water over high heat, as the water begins to boil reduce to simmer and allow water to cook off.
This process should take 10 – 15 minutes or until broccoli rabe is fairly tender, then remove from heat (if all the water cooks off and broccoli rabe is still not tender add additional water and continue cooking).
In another saute pan add 6 tablespoons of olive oil , add sliced garlic and saute over low heat until garlic looks like its starting to turn brown. Take off heat immediately. (Do not let garlic completely brown, it will bitter. If it does, throw out and start again. There's nothing worse than the taste of burnt garlic. Especially in this dish).
Add pinch of red pepper flakes and broccoli rabe and toss in oil and set aside.
Cook pasta per instructions on box.
When pasta is almost cooked, return broccoli rabe and sauce to burner on medium, just to reheat a little.
Season with salt and pepper to taste. Add additional olive oil if sauce appears to dry. (you may also add a little of the pasta water if you don't care to use anymore oil).
Reserve a couple ladles of pasta water. Drain pasta.
Toss pasta with broccoli rabe sauce.
Place pasta into a serving bowl and top with grated Parmesan cheese.
Top with some shaved imported Parmesan cheese.
Serve with crusty bread and enjoy!
Prep Time:

5 mins

Cook Time:

20 mins