Juicy boneless pork spareribs with super tasty and sweet Chinese barbecue sauce.
I couldn't wait to make these Chinese barbecue spare ribs I saw on thewoksoflife blog. If you love Asian food as much as I do, you have to visit their blog. They are a family of cooks previously having a Chinese restaurant, so they know all the "tricks" to delicious home made Chinese food!

They have two very similar recipes for barbecued pork. Chinese Boneless Spare Ribs and Char Siu. I made the Chinese Boneless Spare Ribs recipe in this post. Next time will try the Char Siu.

I found their blog when I was researching egg rolls. I had made them previously, and they were good, but a bit too mushy. So I started looking at what methods people use to make egg rolls. I came across their blog and they say to blanch the veggies in water, ice shock them, drain, and then squeeze the water out of them. Then they add other ingredients so filling is not loaded with water. They say that is the way they used to make them in the restaurant. Makes perfect sense as cabbage is loaded with water.
I plan on making the egg rolls this weekend so we will see.

How do you make these delicious spare ribs?

For these pork spare ribs, I used a pork butt. Very meaty but also a fair amount of fat. I sliced about 3/4 inch thick and marinaded for about 30 hours in a zip top bag in the refrigerator. They say 12 to 24 hours, but it turned out to be a little over.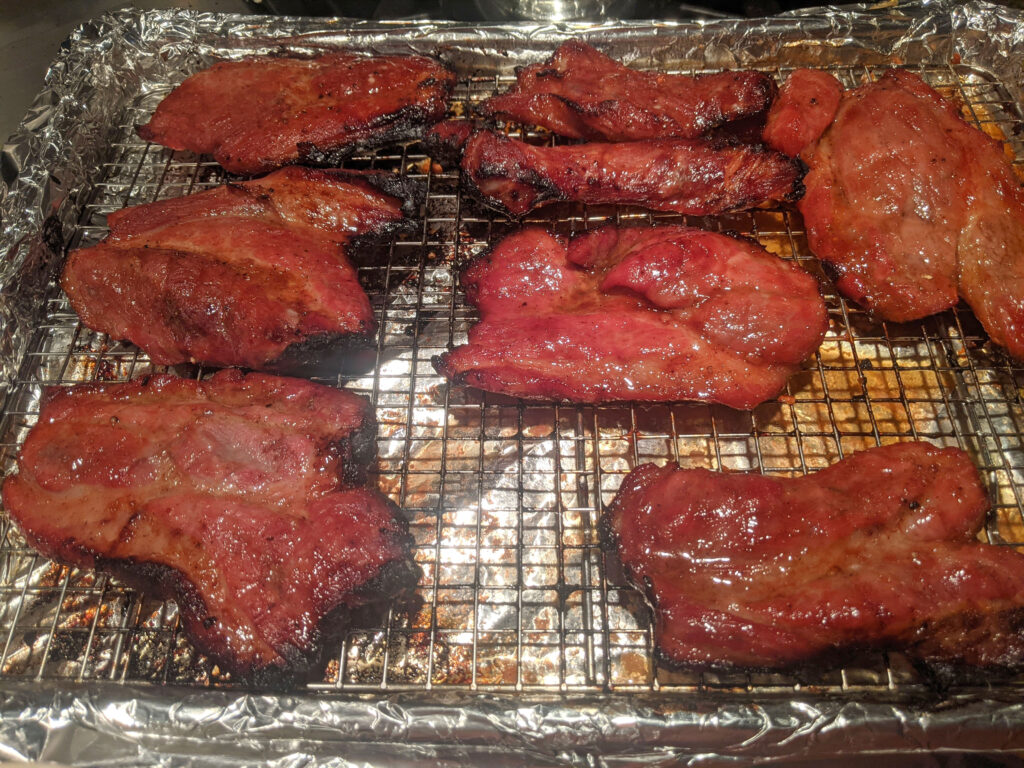 Brought to room temperature, and place on a rack on a baking sheet and baked for 15 minutes each side.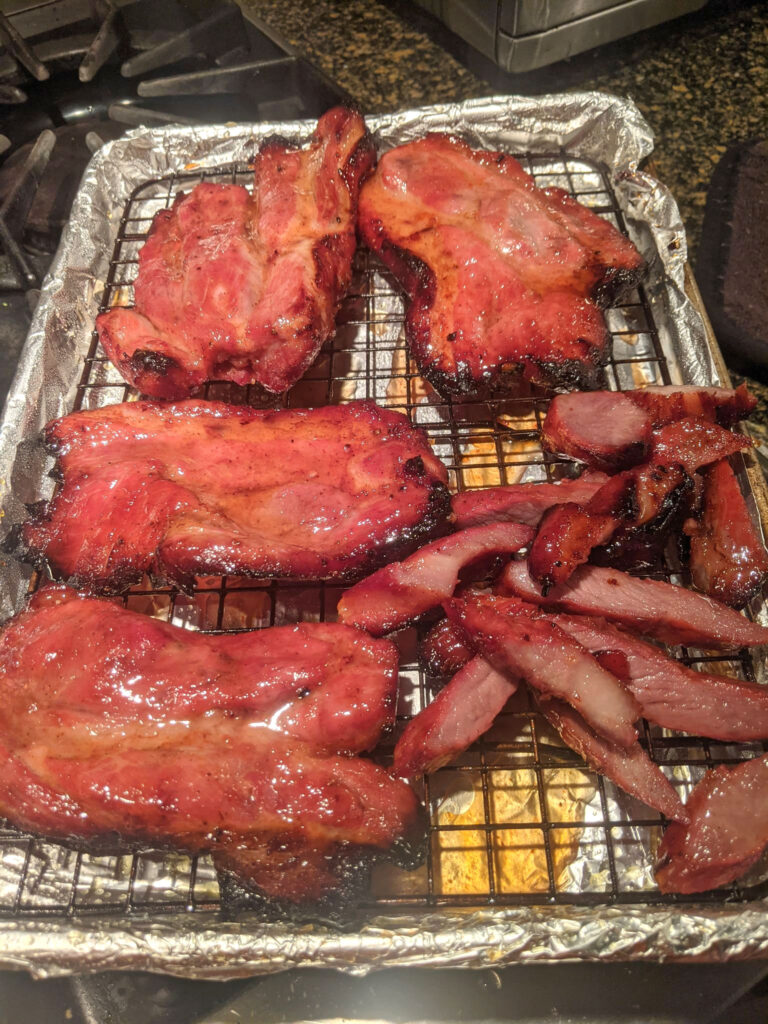 Then I brushed with honey mixture on both sides and broiled until a little crispy. You want to watch this process as you could end up with burnt spare ribs. And after all that marinating, you don't want to have to start over!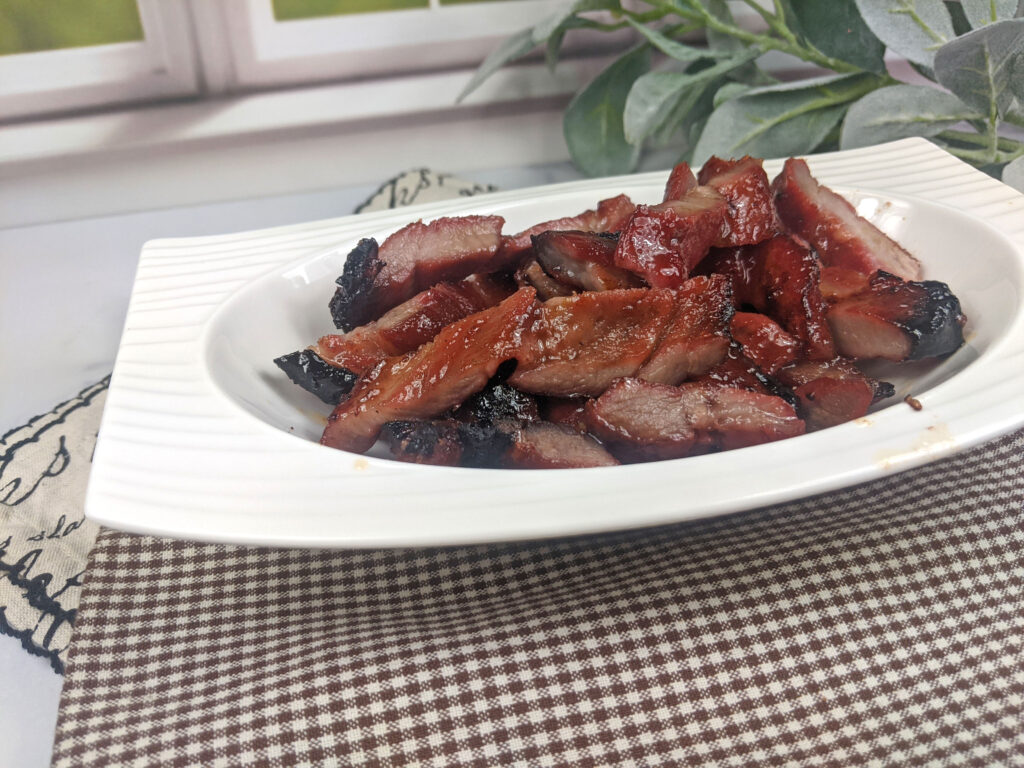 Slice pieces of pork into thin slices.

It's that easy. You just have to marinate ahead of the time you want to cook them.

What to serve with Chinese barbecue spare ribs?

You could serve Fried Rice, Beef Noodle Bowl or Stir Fry with or without the Noodle Cake. Or, you can opt for plain ole Rice Pilaf.

These were delicious! These are perfect for cookouts, barbecues, pot luck or a weeknight supper.

And don't forget to visit thewoksoflife blog. And put plenty of paper in your printer!


Print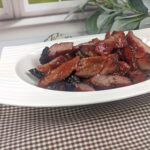 Authentic Boneless Chinese Spare Ribs
---
2–1/2 pounds boneless pork butt (sliced 3/4" thick into 4"x8" slices; can also use boneless country ribs)
2 cloves garlic (minced)
3–1/2 tablespoons sugar
2–1/2 teaspoons sea salt
1 teaspoon five spice powder
1/4 teaspoon ground white pepper
2 tablespoons Shaoxing wine
1 tablespoon hoisin sauce
1 tablespoon ground bean sauce
1 tablespoon ketchup
3 tablespoons pineapple juice
1 teaspoon sesame oil
1/8 teaspoon red food coloring (optional)
2 tablespoons maltose (or honey, for brushing)
---
Instructions
If your pork is thawed, freeze until firm (but not rock solid, about 45 minutes) for easier slicing. Cut the pork into ¾-inch (2 cm) thick slabs. The size of the pieces depends on the cuts of pork you're using. Mine were about 4×8 inches (10×20 cm).
In a large mixing bowl, combine the garlic, sugar, salt, five spice powder, white pepper, Shaoxing wine, hoisin sauce, ground bean sauce, tomato ketchup, pineapple juice, sesame oil, and red food coloring (if using). Mix until everything is well combined and smooth.
Add the pork and toss until well coated in the marinade. Cover with plastic wrap or a large sheet pan, transfer to the refrigerator, and marinate overnight (12-24 hours). For maximum flavor penetration and distribution, you can stir the pork a few times during the marinating period, but this step isn't strictly necessary.
Once the marinating period is over, let the pork come up to room temperature on the counter for 2 hours.
Preheat the oven to 425°F. Line a sheet pan or roasting pan with heavy duty foil (for quick clean-up) and place a metal rack on top.
Place the boneless pork on the metal rack, leaving at least 1 inch of room between the pieces. Pour ½ cup of hot water on the bottom of the pan, and transfer to the preheated oven for 15 minutes.
After 15 minutes, flip the pork. Return to the oven for another 15 minutes. If the pan is dry, add an additional ½ cup of hot water.
Mix the maltose or honey with 2 teaspoons of hot water, and generously brush the pork on both sides. If desired, you can roast the pork under the broiler set to low for a few minutes until the pork is lightly charred and caramelized, but watch closely so they don't burn!
After broiling, brush them once more with the maltose (or honey). Rest at room temperature for at least 5-10 minutes before cutting. To serve, thinly slice the pork into lengths, and serve alongside your fried rice of choice.