I love, love French Potato Salad. I don't make it nearly enough. The tangy lemon garlic dressing loaded with fresh herbs from the garden. What could be better in Summertime?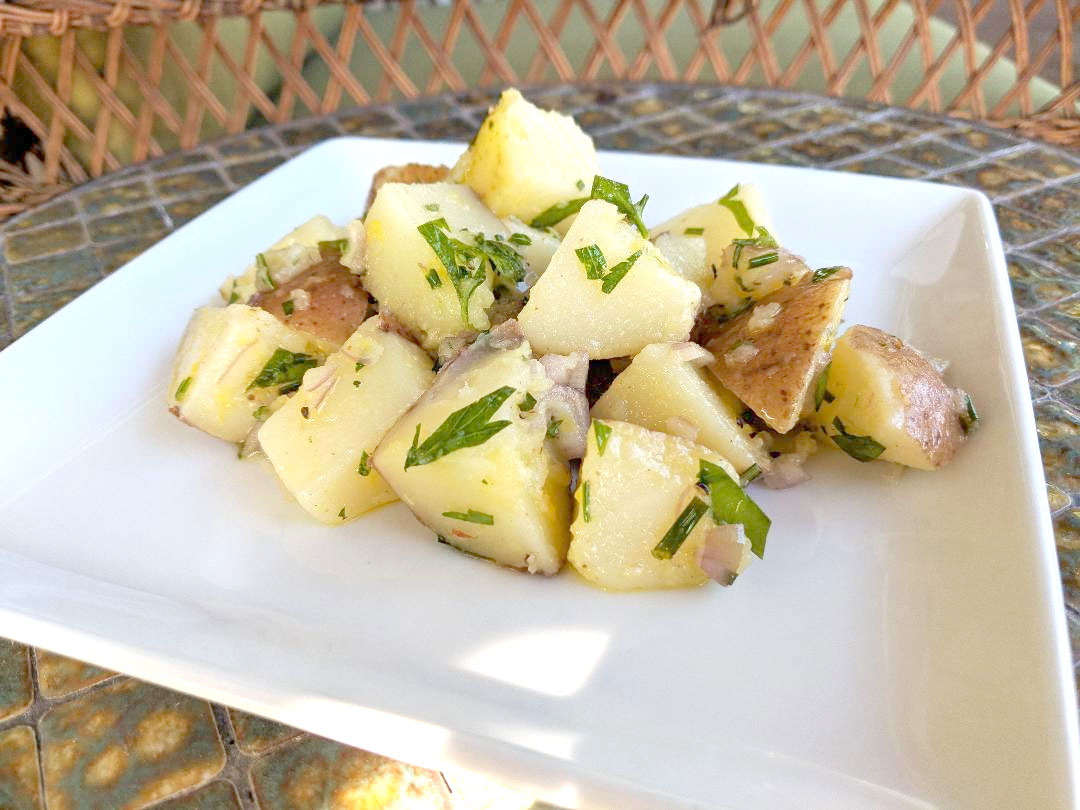 I've made this potato salad with french style green beans if you looking for a variation. I use red potatoes but you can use any type of potato.
Don't have a shallot? Use scallions, spring onions or even a finely diced white onion. It all depends on what you have, and what you like.
The tasty vinaigrette soaks into the warm potatoes giving you a delicious variation to the typical potato salad.
Try this for your next cookout or even for a Summer supper. You will be so glad you did.
Ingredients
3 pounds red potatoes, cut into 3/4-inch cubes
1/2 cup olive oil
1/2-1 Tbsp Agave or sugar
1 Tbsp White Balsamic (NOT typical brown balsamic!)
3 tablespoons freshly-squeezed lemon juice
Zest of 1 lemon
2 small cloves garlic, pressed or minced
2 teaspoons Dijon mustard
1 teaspoon fine sea salt
1/2 teaspoon freshly-cracked black pepper
1-2 shallots, peeled and finely chopped
1/3 cup finely-chopped fresh parsley
4 tablespoons finely-chopped fresh herbs (such as rosemary, chives, thyme or dill)
Instructions
1
Place the diced potatoes in a large stockpot and add enough water so that the potatoes are covered by 1 inch. Cook over medium-high heat until the water reaches a boil. Then reduce heat to medium to maintain the simmer, and continue cooking the potatoes for 5-8 minutes or until the potatoes pierce easily with a fork.
2
Drain the potatoes in a colander and let cool for 15 minutes.
3
Meanwhile, whisk together the olive oil, lemon juice, agave, white balsamic, garlic, mustard, salt and pepper in a bowl until evenly combined.
4
Combine the slightly warm potatoes with the dressing, shallot and fresh herbs. Toss gently until evenly combined.
5
Taste and season with additional salt and pepper if needed, to taste. Cover the bowl and refrigerate for 1-2 hours to chill.
6
Serve chilled or at room temperature (the way I like it). Refrigerate in a sealed container for up to 3 days.