I love fish. Especially Haddock, Cod, or any other white fish. 

I have had it many, many ways. Baked with buttery cracker crumbs, Meunière, Beer Batter Fried and Poached with sauce. 

One of my favorites is Haddock Piccata. But I do variations on it but still keeping the delicious and tart lemon flavor.

This recipe is based on Haddock Piccata, but has a few other ingredients that just adds that extra punch of flavor. And it looks gorgeous as well.

I added sauteed cherry tomatoes, and lemon slices. 

It is super, super easy to make. Just put the fish in an individual casserole, and top with prepared ingredients. The prepared ingredients takes about 5 mionutes.

Cook at 375 degrees F for about 20 minutes or until the internal temp is at 140-145 degrees and it's super moist and super flaky. Do not overcook.

Cooking this way "guarantees moist and flavorful fish.


Print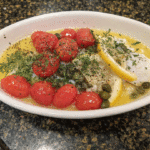 Tuscan Lemon Haddock
---
Description
Delicious white flaky, moist fish with a lemon, white wine based sauce with lemons, garlic, capers and roasted cherry tomatoes bursting with flavor.
---
1/2 lb white fish (Haddock, cod, snapper, etc)
2 Tbsp olive oil
1 garlic clove, minced
10 or so cherry tomatoes
1/3 cup white wine
2 slices lemon
Juice of remaining lemon
3 Tbsp capers
3 Tbsp butter
2 Tbsp fresh parsley or 1 Tbsp dried
---
Instructions
Preheat oven to 375 degrees F.
Place fish in an individual casserole dish.
Heat olive oil in saute pan. Place cherry tomatoes in pan and cook on med high until skins start to split.
And add garlic and cook for 30 seconds. Be careful not to burn garlic. 
Add white wine and reduce slightly.
Add lemon juice, capers, lemon slices and butter. 
Pour desired amount over fish.
Sprinkle with parsley.
Bake in a preheated 375 degree F oven for approx 20 minutes or until internal temperature reaches 140-145 degrees.