I noticed this great Cranberry Swirl Bundt Cake in the All American Cooking Fall Baking issue, and am I glad I did.
Although I will tell you, this recipe isn't shy when it comes to sugar, butter and eggs! It uses 1-1/2 cups (3 sticks) of butter, 3 cups of granulated sugar and 5 whole eggs and 1 egg yolk! I still made it, curious to see what was in store.
Not being a batter person at all, I did taste the batter, and it was delicious! How can batter be delicious? I have no idea, but it was very tasty.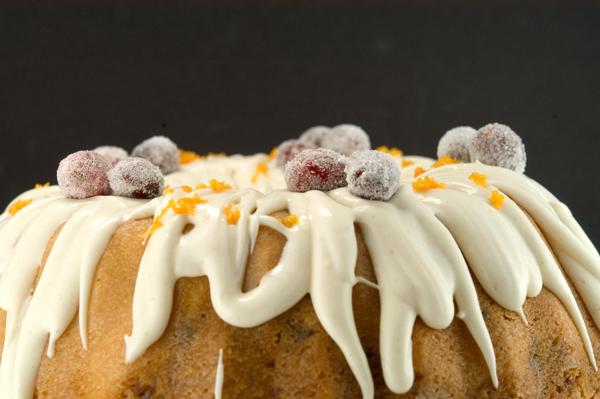 It did take longer to bake than the recipe said, but I did cook in my countertop convection oven, so that may have made a difference on the cooking time. Unfortunately, I didn't pay attention to the recipe when it said, half way, if the top was getting too brown to cover with foil, so I think the top is a little more browned than I'd like but it does end up being the bottom, so no big deal I guess.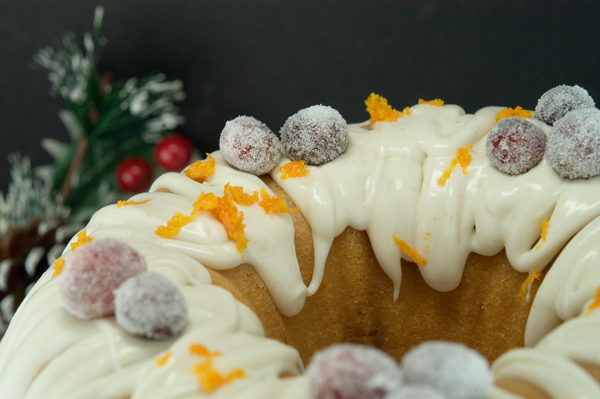 The recipe calls for you to take the home made cranberry sauce, and mix in with some batter, but I wonder how it would be if you just layer some cranberry, and them more batter on top? I think you have a more predominant layer of cranberry? Maybe next time…
The texture of this cake is definitely Bundt or Pound cake texture (very dense), so this cake is great for traveling or giving to friends and relatives.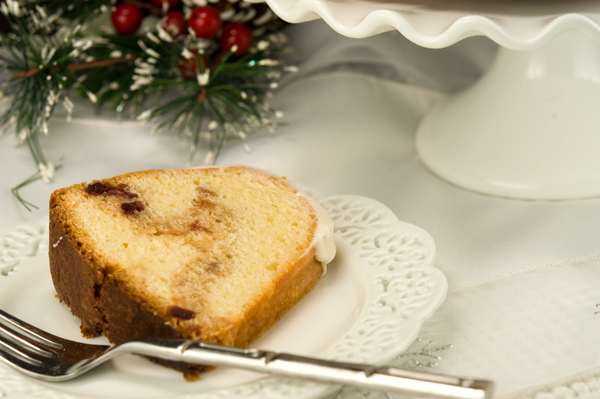 Print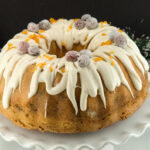 Cranberry Swirl Bundt Cake
---
Author:

Prep Time:

10 mins

Cook Time:

75 mins

Total Time:

1 hour 25 mins
3 1/4 cups

all-purpose flour

1 teaspoon

ground ginger

1/2 teaspoon

baking soda

1/4 teaspoon

salt

1 1/2 cups

unsalted butter, softened

1 cup

sour cream

3 cups

sugar

1 tablespoon

orange zest

1 teaspoon

vanilla extract

5

large eggs

1

egg yolk

1/2 cup

Whole-Berry Cranberry Sauce (recipe follows)
For the Glaze:

1/2 cup

heavy whipping cream

1/2 teaspoon

vanilla extract

2 cups

confectioners' sugar

1/2 teaspoon

ground ginger
Garnish: candied ginger, sugared cranberries*
* Spray cranberries with cooking spray. Roll in granulated sugar, set aside and let set.
---
Instructions
Preheat oven to 325°. Spray a 15-cup Bundt pan with baking spray with flour.
To prepare cake: In a medium bowl, whisk together flour and next 3 ingredients.
In a large bowl, beat butter and sour cream with a mixer at medium speed until combined.
Gradually add sugar, beating until fluffy. Add orange zest and vanilla, beating until combined.
Add eggs and egg yolk, one at a time, beating well after each addition.
Add flour mixture to butter mixture, beating until combined.
Reserve 2 cups batter in a medium bowl. Add 1/2 cup Whole-Berry Cranberry Sauce to reserved batter, and stir until combined.
Spoon 3 cups plain batter into prepared pan. Add cranberry batter. Spoon remaining plain batter over top. Run a knife through the batter 8 times to swirl the filling slightly. Gently tap pan on countertop to release any air bubbles.
Bake for 1 hour and 15 minutes or until a wooden pick inserted near center comes out clean.
Cover with foil halfway through baking to prevent excess browning, if necessary. Let cool in pan for 10 minutes. Remove from pan, and let cool completely on a wire rack.
To prepare glaze:
In a small bowl, whisk together cream and vanilla. Add confectioners' sugar and ginger, whisking until smooth. Spoon over cake. Garnish with candied ginger and sugared cranberries, if desired.
Print
Cranberry Sauce
---
Author:

Prep Time:

5 mins

Cook Time:

20 mins

Total Time:

25 mins
1

(12-ounce) package frozen cranberries, thawed

1 cup

firmly packed brown sugar

1/2 cup

orange juice

1/4 cup

water

1 teaspoon

grated fresh ginger

1/2 teaspoon

vanilla extract
---
Instructions
In a medium saucepan, combine all ingredients.
Bring to a boil over medium-high heat. Reduce heat, and simmer, stirring occasionally, for 20 to 25 minutes or until berries burst and sauce thickens.
Store in an airtight container in refrigerator for up to 3 days, or freeze in an airtight container for up to 2 months.