Let me first say, if you are on a diet, these are probably not the best choice for a side dish. But if you are looking for the ultimate side dish, this is the dish for you. I call it a loaded twice baked potato because it is loaded. Bacon, two types of cheddar cheese, sour cream, scallions, oh and butter. If you are a potato lover, you will love these. They are easy to make, can be made ahead and put in the fridge until you are ready to bake them.Another great recipe from the Pioneer Woman's blog.
I use a really good quality cheddar cheese and grate it myself on a box grater. I like the larger shred of the cheese compared to the pre-packaged cheese, and think the quality and taste is so much better. I also cook my own bacon as I think it tasted so much better than the bacon bits. If you are using the bacon bits, make sure you get the real bacon bits in comparison to the imitation. Those would totally ruin this dish.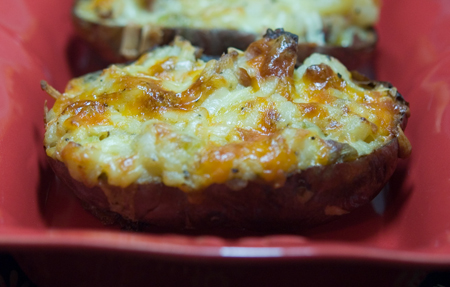 Loaded Twice Baked Potatoes
4 huge baking potatoes (I used huge red potatoes, but Russett's are fine also)
1 stick butter
1/2 c. bacon bits (I fried my bacon fresh, but you can always use "real" bacon bits)
1/2 c. sour cream
1/2 c. cheddar cheese (or you can use half jack cheese and half cheddar), plus more for topping
1/2 c. milk
1 tsp seasoned salt
2 green onions
black pepper
Preheat oven to 400° F. Place potatoes on a baking sheet and bake until they are thoroughly cooked.
In a large bowl, slice the stick of butter and add the butter, sour cream and bacon.
When potatoes are done, remove from oven and lower to 350° F. When potatoes are cool enough to handle, cut each potato in half lengthwise. Scrape out the insides of the potatoes, being careful not to tear the potato skin. Leave a small amount of potato in skin to help keep it intact. Place potato skins on baking sheet lines with non stick aluminum foil for easy clean up.
Mash the potatoes in with the butter, bacon and sour cream. Add the cheese, seasoned salt, green onions and black pepper. Add the milk a little at a time until creamy but not too thin. (Note: if you are freezing, do not add the green onion).
Fill the potato shells with the filling. If you have enough filling, mound the tops. Sprinkle the tops with additional shredded cheese. Bake for 20-25 minutes until they are heated through and cheese is golden brown and melted.