This recipe is based on my Mom's Scone recipe. Every time she makes these scones for church or a bake sale they are gone in no time! I happen to love the dried cherries and almond flavor, so my version is Cherry Almond Scones.
The only thing I changed is I raised the amount of dried fruit from 1/2 cup to 1 cup. I happen to like a lot of fruit in my scones so I use the huge dried cherries. She uses the smaller cranberries. It's all a preference though, basically anything will work.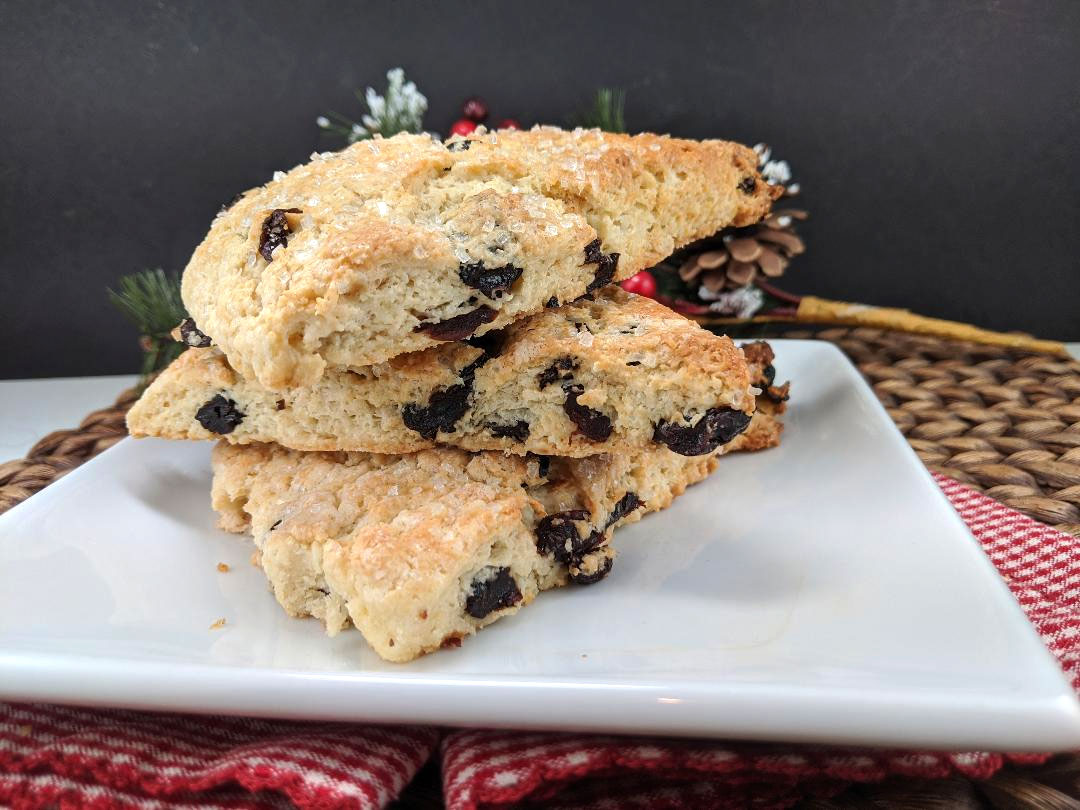 Basically you combine all the dry ingredients, add the butter and fruit, and then add the wet ingredients, form into a ball gently, and pat down to a circle. Cut into 8 wedges and place on a parchment lined cookie sheet. Bake for 17 minutes and you'll feel like you just went to the bakery!
Unfortunately, Mom isn't able to make these anymore due to physical restrictions, but I'm sure this recipe will be a hit for generations to come!
Print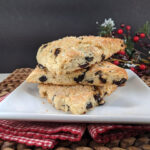 Mom's Cherry Almond Scones
---
2 c. flour
1/2 c. plus 1 tsp. sugar for topping the scones
1 tsp baking powder
1/4 tsp baking soda
1/2 tsp salt
8 Tbsp (1 stick) unsalted butter, frozen
1 pkg (6 oz) or approx. 1 cup dried cherries, or other dried fruit
1/2 c. sour cream
1 large egg
1/2 tsp almond extract (optional)
---
Instructions
Preheat oven to 400° F.
In medium bowl, mix flour, 1/2 c. sugar, baking powder, baking soda & salt.
Grate butter in to flour mixture on large holes of a box grater. Use your fingers to work in the butter, then stir in the dried fruit.
In a small bowl, whisk sour cream, egg & extract until smooth. Using fork, stir sour cream mixture in to flour mixture until large clumps form. Use your hands to press dough against bowl.
Place on lightly floured surface & pat in to a 8″ circle, about 3/4″ thick. Sprinkle with 1 tsp sugar. Use sharp knife to cut into 8 wedges.
Place on parchment lines cookie sheet & bake for 15-17 minutes. Cool 5 minutes & serve warm or room temperature.
Notes
Cranberry-Orange Scones – follow the recipe for scones replacing a teaspoon of finely grated orange rind for the almond extract and dried cranberries for the dried cherries.Lemon-Blueberry Scones – follow the recipe for scones replacing a generous teaspoon of lemon rind for the almond extract and dried blueberries for the dried cherries.