Who doesn't remember Jordan Marsh Blueberry Muffins if you're from the Northeast? Taking a break from shopping for those huge muffins, with loads of blueberries, and crunchy sugar on top… Yuuummy!
Wow, throw out all your Blueberry Muffin recipes, because you won't want to make anything but these! I have lots of Blueberry Muffin recipes, but nothing mimics these delicious muffins!

These muffins originally made by baker John Pupek, are a cake like muffin, with more sugar and fat than regular muffins, but that's what makes them so delicious. Soft muffin with huge tart blueberries, and a crunchy, sugary top, which totally makes the muffin! Just the buttery, vanilla scent they give off when cooking is enough to put you over the top!

Make sure you rinse your blueberries if using frozen. Dry berries between two paper towels before using in muffins. This really does help omit that gray/blue batter you get from the blueberries. Or you can certainly use fresh regular or wild blueberries. Or what about a mixture? And use a generous amount of the Coarse White Sparkling Sugar or granulated, as some of it blends in while baking. The original Jordan Marsh muffins had granulated sugar on top, but I much prefer the extra crunch of the Coarse White Sparkling Sugar.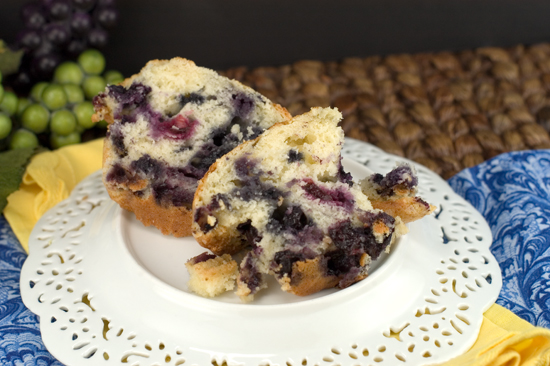 I would grease the top of your muffin pan as well as the cups. Even if you are using muffin papers. I used the large ice cream scoop to fill the cups, and the blueberries oozed while baking, which made them hard to remove from the cups. I think if you grease it will avoid that problem, or at least help it.
These muffins are even delicious later in the day they are made. I just popped them in my small convection oven for 10 minutes or so, to get the tops crunchy again, and they were back to their "just cooked" deliciousness. These muffins are truly something you just have to try! Delicious in every way.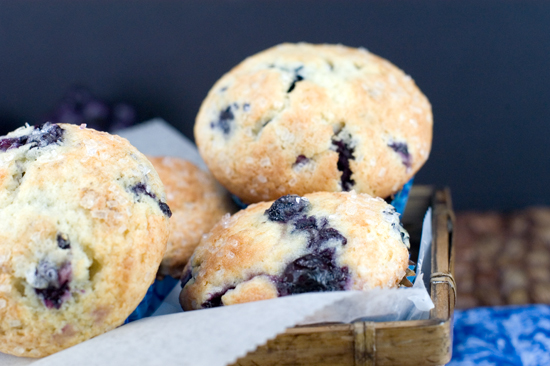 Print