I've been making this zucchini and summer squash saute recipe for years. And I never get tired of it! Its basically the freshest summer squash and zucchini, Vidalia onions and canned tomatoes. Add in some herbs and a touch of sugar, and you have one of the best things you ever tasted. I'm serious. The sauce is so tasty, you look for things to sop up the juice with. If you're lucky enough to be able to find dried green peppers and celery, you can sprinkle some of that in too. All flavors welcome.
It's literally so easy "anyone" can make it. It's one of those things that's so good, you can't believe it's so easy to make.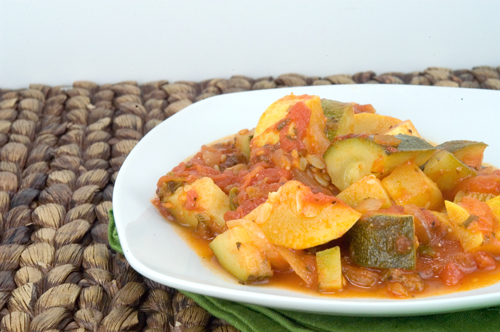 I make with my favorite Vantia canned tomatoes. These tomatoes come in a rather thick tomato sauce, which is perfect for this recipe. If you feel the sauce is drying out some. I just add a small can of tomato juice. That is something I always have on hand.
This summer, you've gotta try this recipe. You won't regret it.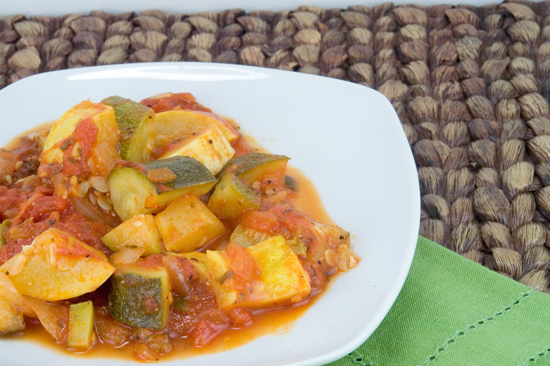 Zucchini and Tomato Saute
Author:
Prep time:
Cook time:
Total time:
Delicious all by itself or over chicken.
Ingredients
3 Tbsp oil
2 Green Zucchini, quartered and sliced into good sized chunks
2 Yellow Summer Squash, quartered and sliced into good sized chunks
1 very large Vidalia onion, peeled and sliced
1 (28 oz can) whole tomatoes
1 tsp sugar
6 basil leaves
salt and pepper
1/4 tsp oregano, dried
1/2 tsp basil, dried
1 tsp parsley, dried
1 small can od tomato juice, if needed
Instructions
Heat oil In a large skillet, over medium high heat until hot. Add onions and saute until slightly browned.
Add in zucchini and squash, and mix thoroughly.
Add canned tomatoes, and herbs and mix together. Add a little sugar.
Let simmer until squash is soft; 20 min to 30 min.