Ever since I saw these Weeknight Scalloped Potatoes on Cooks Illustrated, I have made this recipe my "go to" every time I want to make Scalloped Potatoes. They are quick and easy and oh sooo delicious…

I made them this Christmas for a crown of 11, but they're even simpler for 2.
Scalloped potatoes are one of my favorites. But traditionally they are unevenly cooked, the sauce is either too dry or too soupy, and its really a crap shoot what you get at the end. This recipe takes all the guesswork and anxiety out, and in the end you will enjoy the easiest and most delicious Scalloped Potatoes you'll ever eat! I promise….
The basic concept is to precook the onions & potatoes with a hint of garlic, in a cream and chicken broth sauce, and then pour into a casserole or small individual casseroles, add some shredded cheddar cheese on top and bake for about 15 minutes. That's it! It's like boiling potatoes for mashed potatoes only in a cream sauce. And you control the thickness of the sauce. Who can't do that? And, you can even control the heavy cream, by using a light cream, and you can thicken if necessary with a little cornstarch and use low fat milk.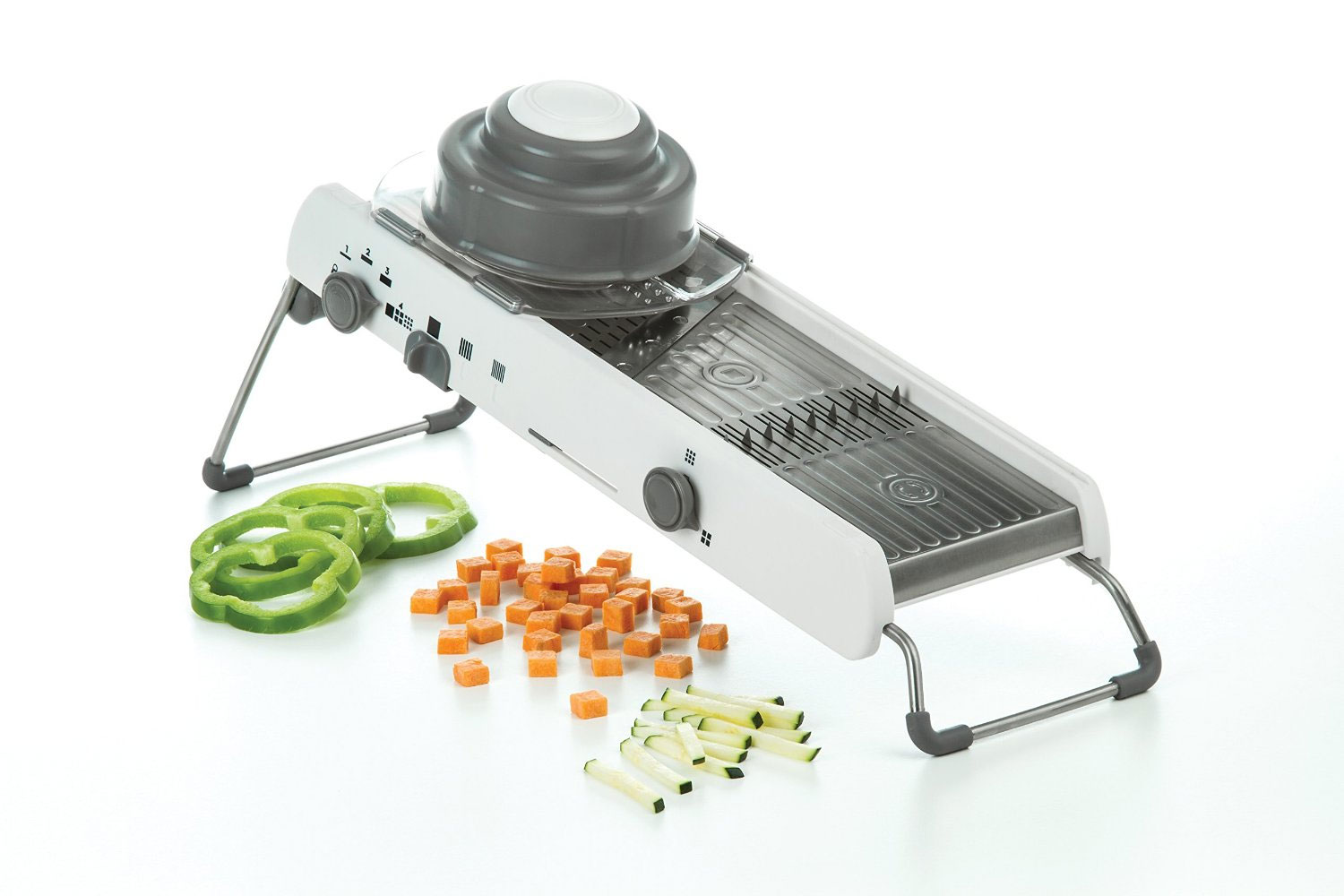 As with any recipe, the right tools make the job easier. Instead of hauling out the food processor, I used a Mandoline, which I laid on top of the stock pot I used to cook the potatoes in, and sliced. the job was super easy and the slices were all the same size. When you slice the potatoes by hand, the slices are all over the place in thickness. Using a food processor or Mandoline, makes the job super easy, and they will cook evenly in the sauce. There are a variety of slicers out there for all different price ranges, so you shouldn't have a problem finding one to suit your needs.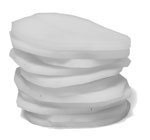 The perfect thickness for slicing potatoes is 1/8″. Thicker slices slid apart when serving, and thinner, produced a mashed like consistency.
Thank you to Cooks Illustrated for coming up with this dynamite way of making Scalloped Potatoes! I know this will be your "go to" recipe too!
This recipe serves 4-6 people, and I doubled for 11 people and had a little leftovers, so if you're making for 2 people, I'd half the recipe.
Print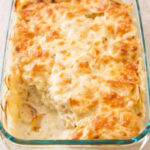 Weeknight Scalloped Potatoes
---
Description
These super easy, super delicious scalloped potatoes are perfect for weeknight meals.
---
2 Tablespoons unsalted butter

1 medium onion, minced (about 1 cup)

2 medium cloves garlic, minced or pressed through garlic press (about 2 teaspoons)

1 Tablespoon chopped fresh thyme leaves

1 ¼ teaspoons table salt

¼ teaspoon ground black pepper

2 ½ pounds russet potatoes (about 5 medium), peeled and sliced ⅛-inch thick (see photos below)

1 cup low-sodium chicken broth

1 cup heavy cream

2 bay leaves

4 ounces grated cheddar cheese, shredded (1 cup)
---
Instructions
Adjust oven rack to middle position; heat oven to 425 degrees.
Melt butter in large Dutch oven over medium-high heat until foaming subsides. Add onion and cook, stirring occasionally, until soft and lightly browned, about 4 minutes. Add garlic, thyme, salt, and pepper; cook until fragrant, about 30 seconds.
Add potatoes, chicken broth, cream, and bay leaves and bring to simmer.
Cover, reduce heat to medium-low, and simmer until potatoes are almost tender (paring knife can be slipped into and out of potato slice with some resistance), about 10 minutes. Discard bay leaves.
Transfer mixture to 8-inch-square baking dish (or other 1 1/2-quart gratin dish) and press to an even layer; sprinkle evenly with cheese. Bake until cream is bubbling around edges and top is golden brown, about 15 minutes. Cool 10 minutes before serving.
To Make Ahead: Once the scalloped potatoes have been transferred to the baking dish and pressed into an even layer, they can be wrapped in plastic wrap and refrigerated for up to 24 hours. When ready to bake, add the cheese, cover with foil, and bake in a 400-degree oven until the mixture is hot and bubbling, about 45 minutes. Remove the foil and cook until the cheddar begins to brown, about 30 minutes longer. Let cool for 10 minutes before serving.
Save
Save