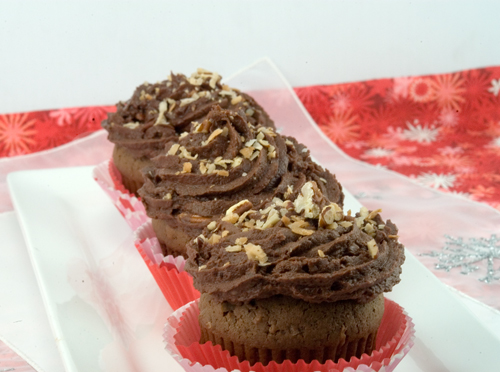 I pinned this cupcake recipe on Pinterest from Evil Shenanigans, and decided to make them today. Being so close to Valentine's Day, I thought they would be the perfect thing "chocolate". I love those chocolate haystack candies, which are basically chocolate and coconut. So this frosting with the chocolate and coconut looked delicious.
The cupcake itself has coconut and pecans in them, as well as the frosting. I will say I thought the cupcakes were a little dry, but then again I haven't found a made from scratch recipe I like better than boxed. Next time I make these (an I will because they really were delicious), I may make from the box. There's a downfall with boxed mixes though. The cake is not very dense, therefore holding any dense filling or frosting is difficult. Anyway, it may be just me, as I know a lot of people that much prefer scratch cupcakes to boxed.
Print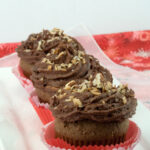 Italian Wedding Cupcakes
---
Author:

Prep Time:

15 mins

Cook Time:

20 mins

Total Time:

35 mins

Yield:

24

1

x
Description
These cupcakes are a perfect twist on plain ol chocolate. I you like coconut, you'll love these cupcakes.
---
1/2 cup

butter, at room temperature

1/2 cup

sugar

1/2 cup

packed light brown sugar

3

eggs, separated

1 1/2 ounces

unsweetened chocolate, melted and cooled

1 2/3 cup

all-purpose flour

3 tablespoons

Dutch-processed cocoa powder

1/2 teaspoon

baking soda

1/4 teaspoon

baking powder

1/4 teaspoon

kosher salt

1 tsp

espresso powder

1/2 cup

buttermilk

1 teaspoon

vanilla

1/2 cup

shredded sweetened coconut

1/3 cup

finely chopped pecans

2 tablespoons

crushed cocoa nibs
---
Instructions
Heat the oven to 350 F and line two 12-cup cupcake pans with paper liners.
In a medium bowl cream together the butter, sugar, and brown sugar until smooth but not fluffy. Add the egg yolks and mix well, then add the melted chocolate and mix until well incorporated.
In a separate bowl sift together the flour, cocoa powder, baking soda, and baking powder. Once sifted whisk in the salt.
Alternately add the flour mixture and buttermilk into the butter, in three additions, beginning and ending with the flour. Stir in the vanilla, coconut, pecans, and cocoa nibs.
In a clean bowl whip the egg whites until they form stiff peaks. Fold the egg whites into the batter in two additions making sure no streaks of white remain in the batter.
Divide the batter evenly between the cupcake liners and bake for 12 to 15 minutes, or until the cupcakes spring back when gently pressed in the center. Cool for 5 minutes in the pan then turn out onto a wire rack to cool completely. Leave the oven on.
While the cupcakes cool prepare the frosting.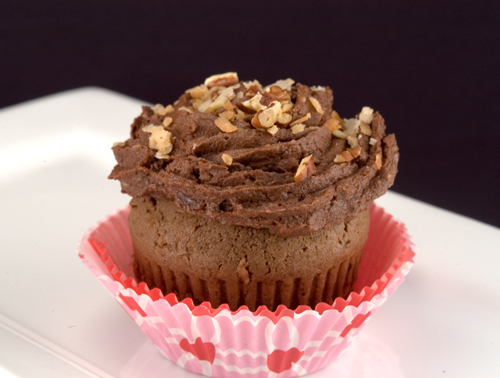 The frosting was delicious. I added some espresso powder as I always do in chocolate recipes, which made them extra delicious. The toasted coconut on top was also yummy.
Print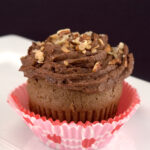 Italian Wedding Cupcake Frosting
---
Description
A rich chocolate and coconut frosting infused with toasted pecans.
---
1 cup

shredded sweetened coconut

1/2 cup

finely chopped pecans

1 cup

(about

6 ounces

) semi-sweet chocolate, chopped (I used chips)

1/4 cup

butter

1/2 cup

sour cream

1 teaspoon

vanilla

1 teaspoon

espresso powder

3 cups

powdered sugar
---
Instructions
Spread the coconut and pecans on a parchment lined baking sheet and bake for 8 to 10 minutes, stirring after 5 minutes, until the coconut and nuts are toasted. Remove from the oven and cool to room temperature.
In a microwave safe bowl combine the chocolate and butter. Microwave for 30 seconds then stir the mixture. If the mixture is not completely melted return to the microwave for 15 seconds bursts, stirring after each, until smooth. Allow to cool for five minutes.
Add the sour cream and vanilla and whisk to combine, then add 2 cups of the powdered sugar and whisk until smooth. Add the remaining powdered sugar a tablespoon at a time until the mixture is thick but not too stiff. The frosting will stiffen further as it sits. Reserve 1/3 cup of the toasted coconut and pecans for garnish. Stir the remaining coconut and pecans into the frosting.
Pipe or spread the frosting on the cupcakes as desired. Sprinkle the tops with the reserved coconut and pecans.

I would recommend anyone make these. If you don't want to make the cupcakes from scratch, use your favorite recipe or boxed. They'll be delicious either way.