It's that time again! Time to get outdoors, drag out the outdoor furniture… and time for outdoor picnics and parties. It's also time to get all the planters and window boxes planted with loads of annual flowers for that burst of Summer color.
One of my favorite annuals is the Dragon Wing Begonia (also known as Cane type Begonias). Over the years, I have planted virtually most every annual available in my area. None stands out as being the best for beautiful display, maintenance, and easy care. Not even Petunias. It is hard to believe that a plant can do so well in so many locations, flower all summer long, and even if you forget to water… stays beautiful. I can't tell you the plants I have thrown away due to the fact that most container plants must be watered every day and I forget.
Most of the time, while away on vacation, you are worried that you will return to see your plant fallen over, and dried up. Not the Dragon Wing Begonia…it's strong and hardy. Last year, I think I watered one of my planters that was pretty far away from the hose…therefore a pain to water…ONCE! I don't remember last year being an especially rainy Summer, so imagine it got the normal water that Mother Nature delivers, and my one watering. Now, I'm not telling you never water, because I'm sure it depends where you are located, how much natural rain you get, etc. I am telling you that this plant is hardy, beautiful, and something you will plant year after year, no doubt.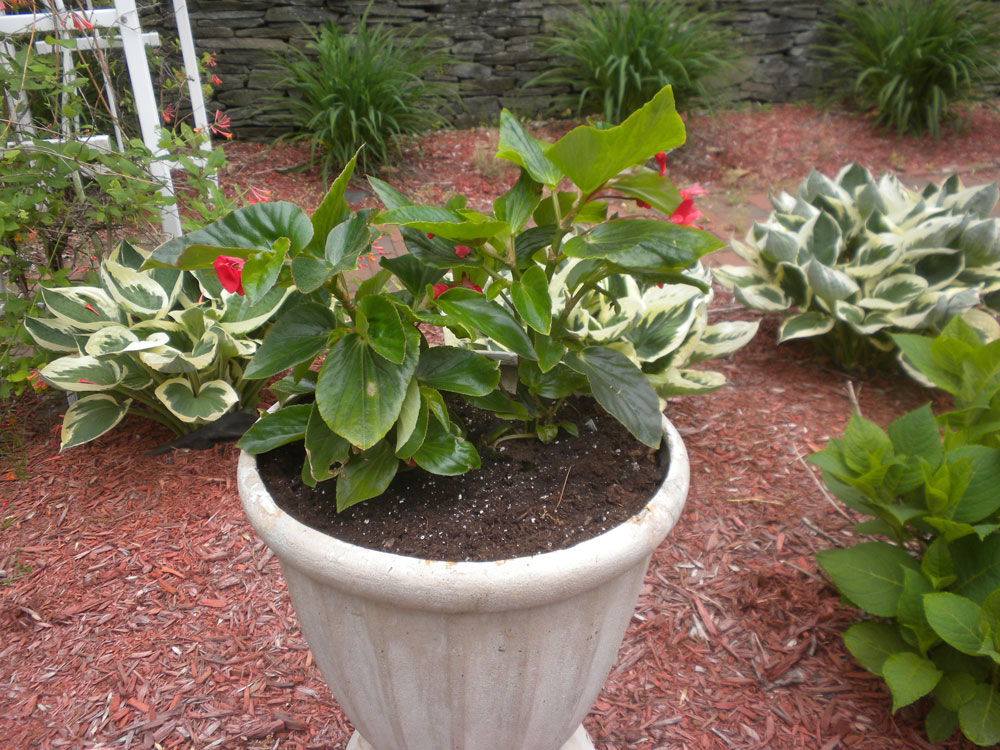 Above are one of my planters just planted this year. I buy plants in 4′ containers.
You see these beautiful plants in planters in marinas, planters in your town, malls, etc. Why? Because they are so dependable. have a beautiful display and can go without water for a period of time.
It seems like they are getting more popular. I used to have a hard time finding these beautiful gems, but they seem to be available in more garden centers. I buy mine at the same garden center as I like the variety they have. These do come in several varieties, producing different colors of leaves and flowers. They also have different shapes of leaves. So, if you find one you like stay with it. These plants grow to be about 15″-18″ or so. So, if they get too big for your area, just cut them back some. In a fairly large container, approx. 15″ in diameter, only need about 2 plants (the size that come in a 4″ or 6″ pot). They may look a little scant in there at first, but will quickly grow into a full display, trust me. They drape over your planter, so something like a pedestal urn would compliment their beautiful display. These days you can get them in Home Depot or Lowe's fairly reasonably priced.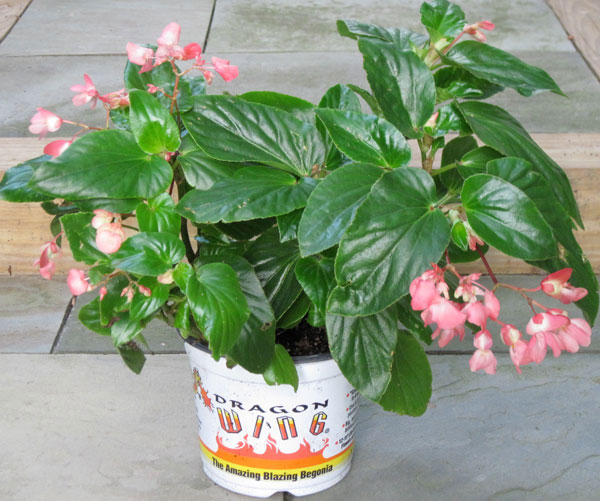 Dragon Wing Begonia in pink.
Unfortunately, (or fortunately for some people), these gems are only hardy in zones 9-11. That means, in those areas, they will return year after year. In the zone I live in, they are considered an annual. A DEPENDABLE ANNUAL. I will tell you I have brought them in right before a hard frost was expected, not wanting the beautiful display to end. They did well at first, but slowly would lose their leaves, and essentially end up just sticks in a pot. Then I'd throw it away.
Since then I have been doing research on how to overwinter, and its says the "outdoor" leaves have to drop off and the plant grows "indoor" leaves, so perhaps I didn't wait long enough. I will retry it again this year. Its says that the plant never goes dormant, so keep lightly moist, and placing the plant in a pebble tray where you can refill with water to keep plant humid. It prefers humid conditions to dry, and the inside of your house can be very dry with the heating system on in winter.
Although I had no luck bringing in the entire plant, I have had success cutting stems to propagate. Just cut some stems and stick in a small vase with water, wait for roots to appear and put in a small planter with potting soil. You will have plants to enjoy all winter.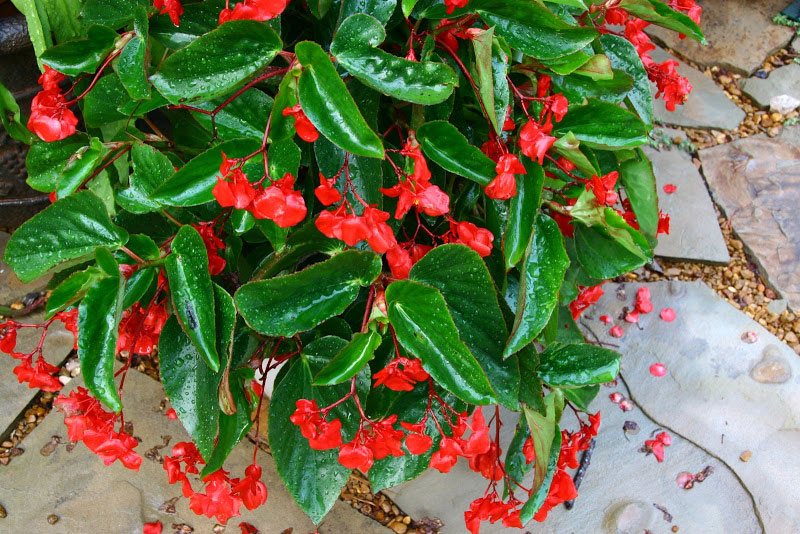 The light classification shows as light shade to shade, but I put these around my back patio which gets bright light but not scorching sun, and they do very well. They are super heat tolerant, and never need deadheading. Just give them occasional water, and leave them alone to do their thing!

I have noticed a garden center in my general area that has loads of varieties of begonias. There seems to be a new white baby wing begonia I haven't seen yet. I may have to take a road trip and go visit Andrews Greenhouse and check them out.
This plant blooms to literally the end of October in the Northeast. I have even seen early snow on them. They are truly a worthwhile investment.
EVERYONE asks, "What is that plant over there???" it's gorgeous!!! This plant is surely a SHOWSTOPPER!