I've always wanted to try Prime Rib on the Rotisserie. I bought a rotisserie when I bought the grille but never used it. It was still in the box and I decided it was time to dust it off and try it out!   Cooking Prime Rib was my second attempt at cooking on the rotisserie. The first time I put a whole chicken on the spit and gave it a "whirl". Well a "whirl" is what i got! I put the bottom burners on, put the chicken in the rotisserie and turned it on. Everything was great for about 15 minutes. After that, the rotisserie stopped turning. I happen to touch it and was blazing hot!
I read the directions and it says to use the rotisserie with the 2 outer burners or the IR back burner if you're grille came with one. The concept is the meat you are cooking should not be over direct heat.
So, I purchased another rotisserie motor, and had the butcher cut me a piece of prime rib. I was determined to try this again.
I seasoned my prime rib as I would do to cook in the oven. and put on the spit. I preheated the grille with the IR back burner. Started the motor and here we go!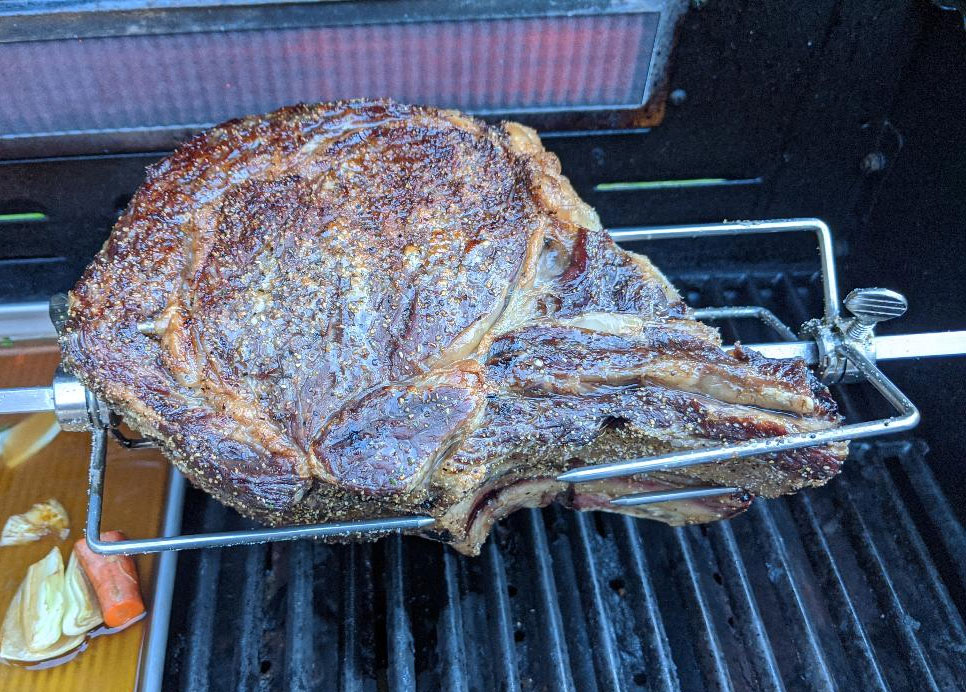 Everything was going fine until I heard clunking sounds. I opened the brill hood and noticed that the roast was a little uneven from when I started, so took it out of the grille and re positioned it on the spit. After that, I was fine.
Unfortunately I can't tell you how long it was cooking because I was helping hubby install a new outside light so wasn't paying attention. Besides, I cook meat to internal temperature anyway.
Before you know it, the roast was golden brown and perfectly cooked inside. I cook to 135 degrees F and then let it rest for about 10 minutes. The temperature will go up slightly from letting it rest.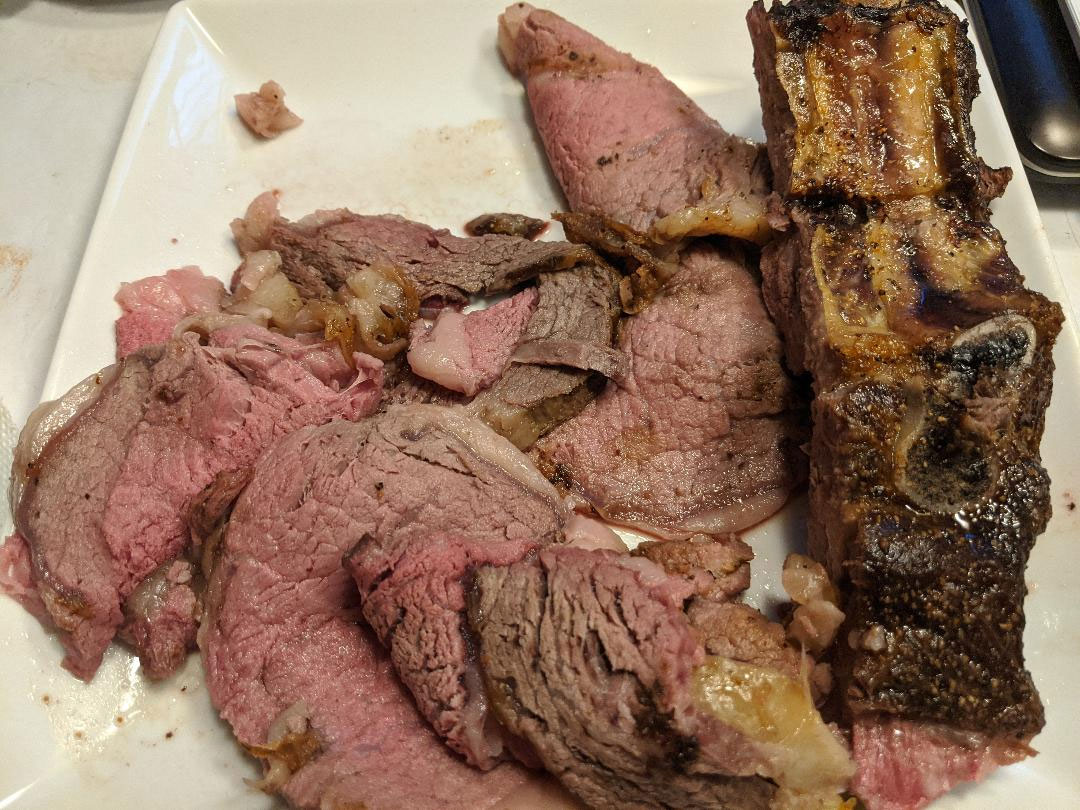 It was perfectly cooked. I like it a little more well done than hubby, so I take the outer pieces.
During these "Covid" times, I have been centering my free time on fixing up the back yard. Some of the restaurants are opening and I am not too crazy about all those people under tents outside with no masks on. So I am trying to get creative with making things I would not normally make. And since its getting so nice out, it looks like I'll have to get creative on the grille.
The rotisserie is a great tool for making roasts, chicken, etc. I'm also going to try baking some fish and scallops on the unheated portion of the grille. You can also make some Fettuccine with broccoli and Alfredo sauce, grill some boneless chicken breasts on the grille, slice and top your pasta dish. Easy and delicious.
Moral of "this" story… read the directions! It will probably save you a little money.
And get creative making delicious dinners for your family and friends this Summer. And….STAY SAFE!