I love foccacia. Especially a light foccacia but need that crispy crust as well. This recipe fills all of the criteria.
I saw this recipe from Lilvienna and just had to try it. Check out their website! Really unique recipes. 

I've made several forms of foccacia before but never got the consistency  liked.

Until now…. This recipe is my new best friend.

This recipe is super easy, especially if you have a stand mixer with a dough hook.

1. Just dissolve yeast into warm water. Add oil and salt.

2. Add flour a half at a time, to the yeast mixture with the paddle attachment. Once everything's together, use the dough hook and knead for 8 minutes.

3. Place in a clean bowl coated with some olive oil. Coat dough on both sides with oil and cover bowl with plastic wrap.

4. Let rise for approx 30 minutes or until doubled.

5. Place parchment paper into a 9 x 13 inch pan and coat parchment with olive oil.




6. Carefully transfer the foccacia dough into the 9 x 13 inch pan, massaging the dough the the edges of the pan. Let it rest a few minutes if it bounces back and try again.

7. Drizzle olive oil on top of the dough (make sure it gets all over the top), and spread fresh or dried thyme and/or rosemary on the surface. Put the halved cherry tomatoes on at this point if you choose to. Dimple the dough with your fingers.

8. Let the dough rise again for about 30 minutes.

9. Bake in a 400 degree F oven for approx 20 minutes.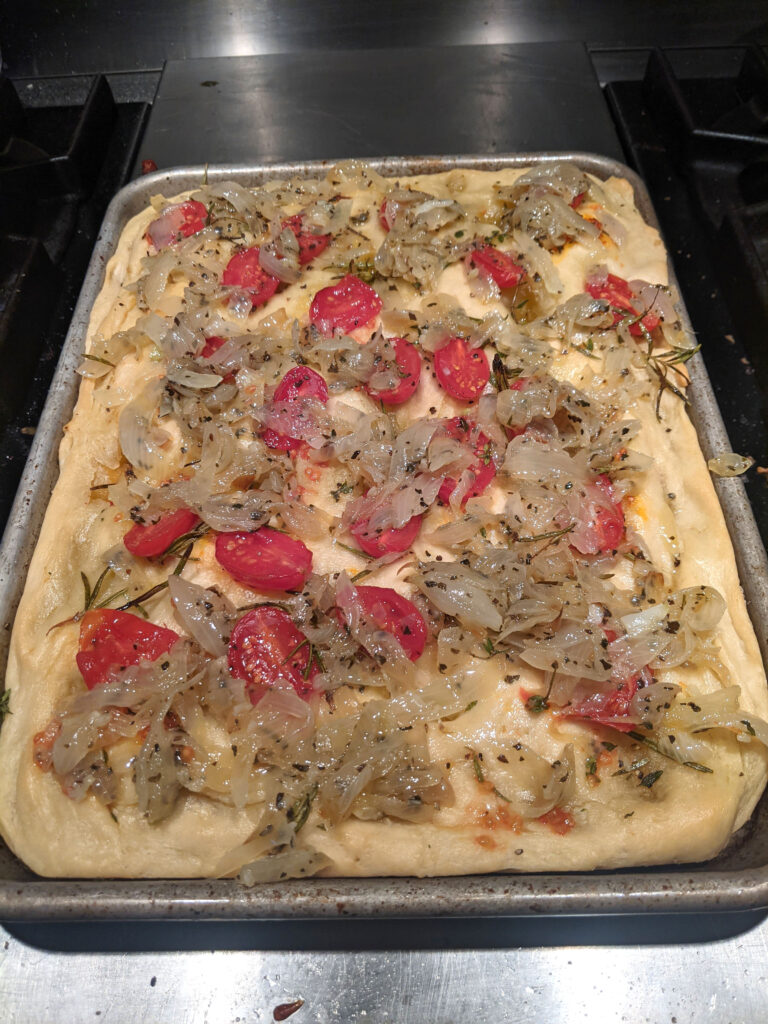 If adding caramelized onions: don't top bread until the last 8 minutes of baking.

10. Let cool and cut.

Note: that if you are going to top with caramelized onions wait until approx 8 minutes left to cooking.  Otherwise they will burn.

It doesn't matter what you top with, this foccacia is light and airy with a crisp edge and bottom. Just what I was looking for!


Print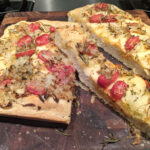 Fluffy Foccacia
---
Author:

Total Time:

1 hour 20 minutes

Yield:

12 pieces
Description
Light and fluffy with a crispy bottom. Very nice flavor as well. Super easy to make. Roasted cherry tomatoes are so sweet, they "pop" in your mouth! Caramelized onions are super sweet also.
---
Dough:
1 cup plus 1 tbsp (255 ml) warm water
2 teaspoons (5 g) active dry or instant yeast
1 1/4 teaspoons (8 g) fine salt
2 tablespoons (25 g) olive oil
3 cups (400 g) all purpose flour
Topping:
1 tablespoon olive oil plus more for greasing bowl and pan
A few sprigs of fresh Rosemary, stems removed
A few sprigs of fresh thyme, stems removed
10 or 12 cherry tomatoes, halved (optional)
2 caramelized onions with 2 medium garlic cloves (optional)
Fresh basil (optional)
---
Instructions
Stand mixer method:
Add warm water to the bowl of your stand mixer. Sprinkle yeast on top and wait until dissolved (30 seconds for instant yeast, a few minutes for active dry yeast). Add oil and salt.
Add roughly half of the flour and mix with the paddle attachment until all ingredients are incorporated (about a minute). Add the remaining flour and incorporate until all ingredients come together. Change to the dough hook and knead about 8 minutes. The dough is rather sticky but if possible do not add additional flour, which makes the focaccia less fluffy.
Generously oil a clean bowl with olive oil. Put the dough in and turn it around until coated in oil. Cover the bowl tightly (with a lid or cling wrap) and let it rise until doubled, for about 30 minutes at warm room temperature (in summer). It will take a little longer when colder.
Line a 9×13 inch (33x23cm) pan with parchment paper and additionally grease parchment with oil. Carefully transfer the risen dough to the pan and try to gently stretch it evenly without deflating the dough until it fills the baking pan.
Drizzle the dough with 1 tablespoon of olive oil and evenly distribute it on the surface with your fingers. Sprinkle thyme and rosemary over the dough, then dimple it with your fingers. Add tomatoes at this point. Do not add caramelized onions until later.
Let the dough rise a second time for 20-30 minutes until notably puffed. No need to cover during rising since the dough is oiled and won't dry out. If you want to skip the second rise, see note. Add more oil before baking if needed.
Bake focaccia in the preheated oven at 400°F (200°C) until golden brown, about 15 to 20 minutes. If adding caramelized onion, add at 8 minutes before done. Cool baked focaccia bread for at least 10 minutes before slicing, better a little longer. If you are adding caramelized onions, top focaccia half way through baking. Any other topping can be put on in the beginning.
Notes
Skipping the second rise:
If you want to go this route, do not preheat the oven, instead put the pan into the cold oven right away after topping it with olive oil and thyme (or your topping of choice). Set the oven to 400°F (200°C) and bake until golden brown, about 25 to 30 minutes, depending on how fast your oven heats up.
If you are adding toppings:
Cherry tomatoes can be added before the second rise. If topping with caramelized onions, top at the last 8 minutes of baking so they don't burn.
Make sure to add more olive oil if the top of the bread looks dry.
Prep Time:

1 hour

Cook Time:

20 min

Category:

Breads
Keywords: focaccia, breads, italian breads,