Cacciatore means "hunter" in Italian. In cuisine, alla cacciatora refers to a meal prepared "hunter-style" with chunks of onions, fresh herbs, tomatoes, bell peppers and wine. Many recipes vary by adding carrots, mushrooms or any other veggie. Some add olives instead of capers. Chicken Cacciatore can have bone in or boneless chicken, just legs, thighs or breasts. Or, a whole cut up chicken. It's all a matter of preference. You can also make with different meats. I happened to have some sausages and Cacciatore popped into my head. I made the Cacciatore sauce as usual and grilled the sausages on the outdoor grille. Them I sliced the sausages and threw into the sauce.
This Sausage Cacciatore is a delicious, hearty meal that will satisfy your family whether you make during the colder months or the warm Summer months.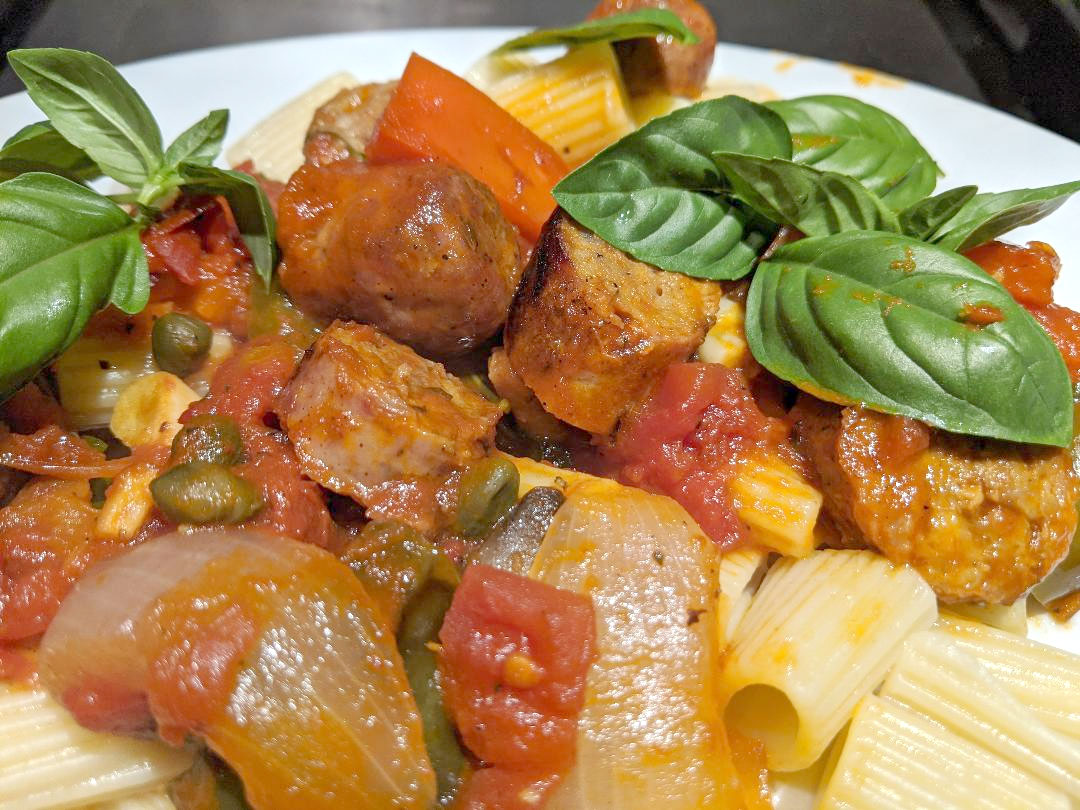 A lot of recipes call for diced tomatoes. I don't like to use diced tomatoes because they don't break down. They are not designed to. Whole peeled tomatoes and diced tomatoes usually contain calcium chloride, which helps keep them firm. However, dicing exposes more surface area, so diced tomatoes absorb more calcium chloride than whole tomatoes, which means they don't break down easily when you simmer them. I use Pastene Italian Peeled Tomatoes. I break them up as I take them out of the can. They give a real richness to the sauce. I find the diced tomatoes make the sauce watery and tomatoes are not very flavorful.
For this recipe wanted the sausages to have a slight char on the outside. I think it makes them tastier and certainly gives the dish a more pleasing appearance.  I didn't want them to be completely charred. Just some darker grill marks. So I put my grill pan on the grill grates outside and cooked the sausages on that. It gave the sausages the grill marks I was looking for but not totally charring them. I grilled the sausages outside on the grille. I do have grille on my stove indoors but the fat in the sausages really make quite a bit of smoke. Even my heavy duty exhaust fan works to keep up with the smoke. In the warmer months I take advantage of the outside grille for sausages. I cooled them slightly and sliced into bite sized pieces.
For the Cacciatore sauce, I made exactly the same way I would make for Chicken Cacciatore.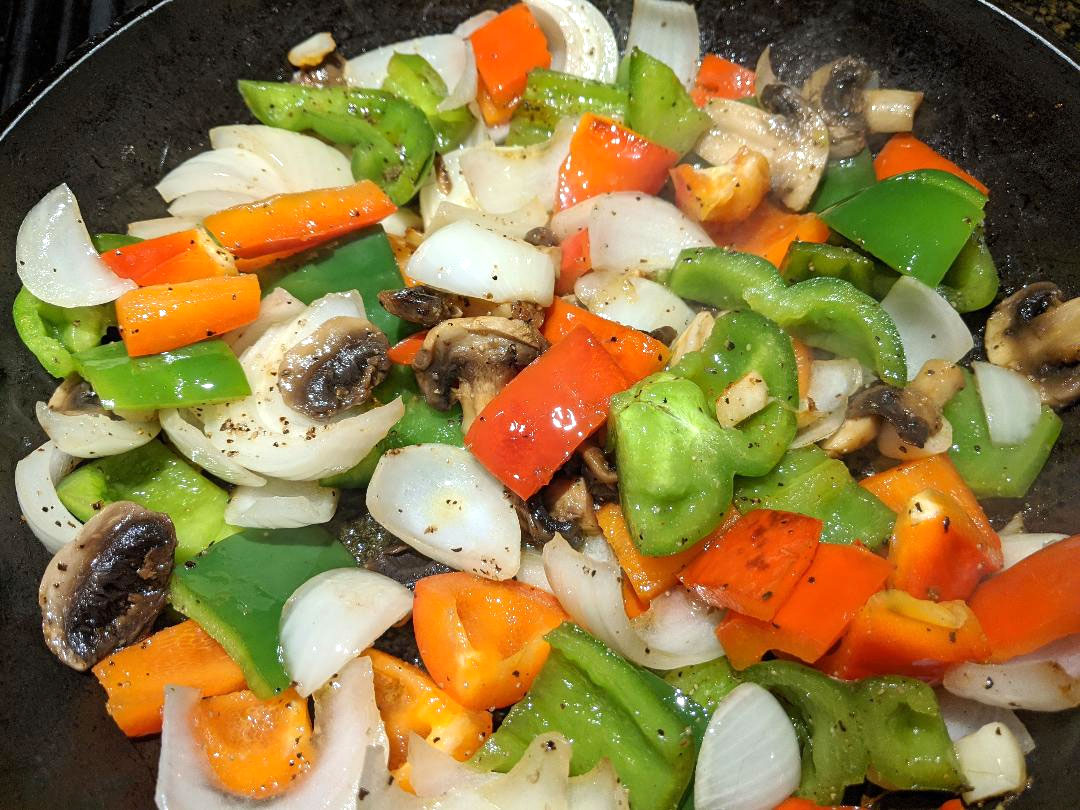 I sauteed the veggies (in this case bell pepper, onion, mushrooms and garlic) in a little olive oil.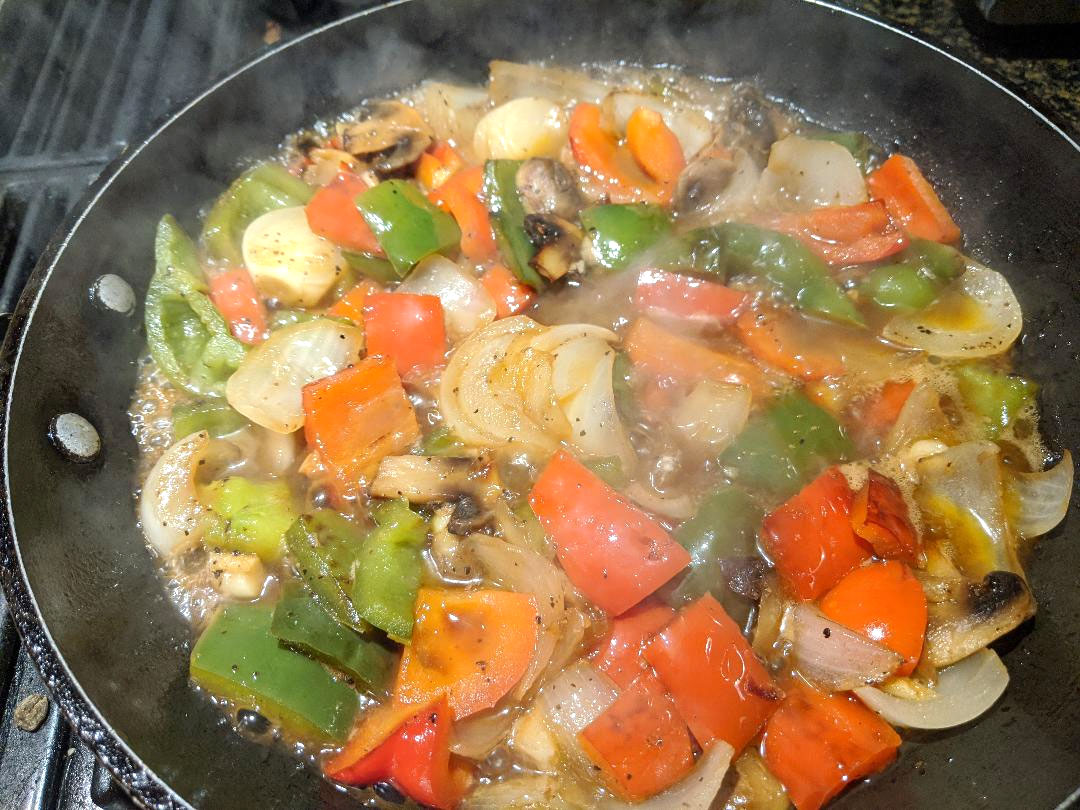 When they started to get tender I added some white wine.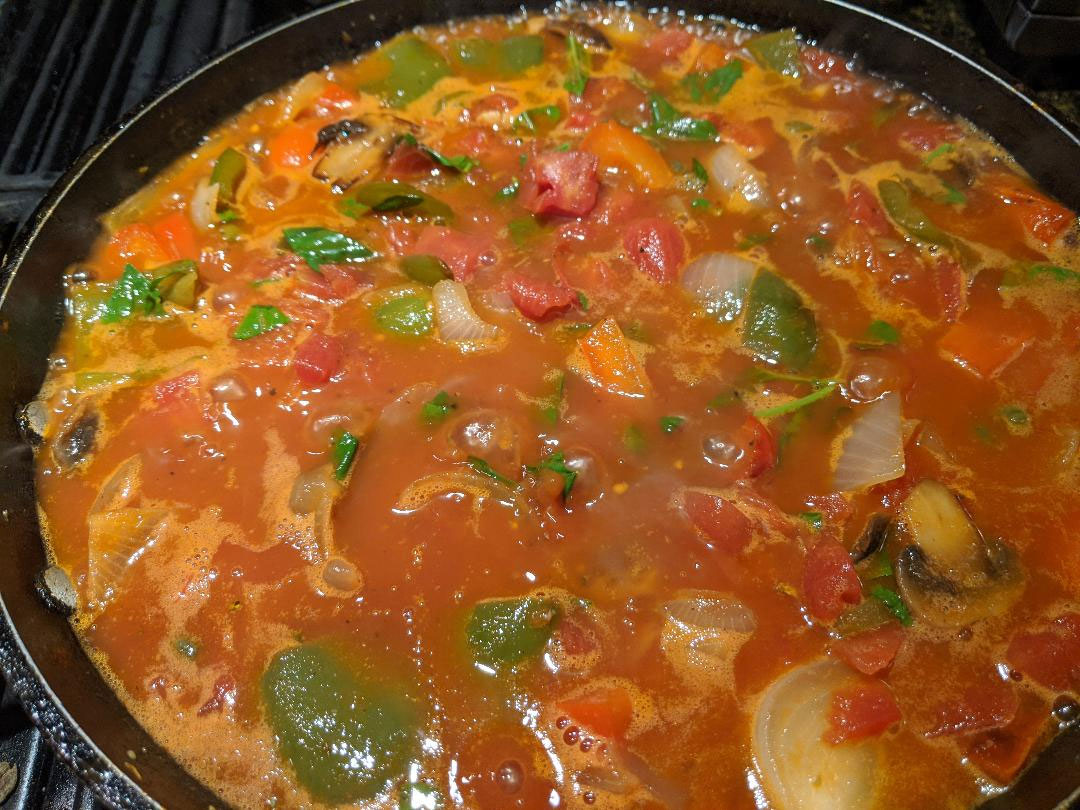 Cook down a bit and then add the tomatoes, chicken stock, capers and herbs.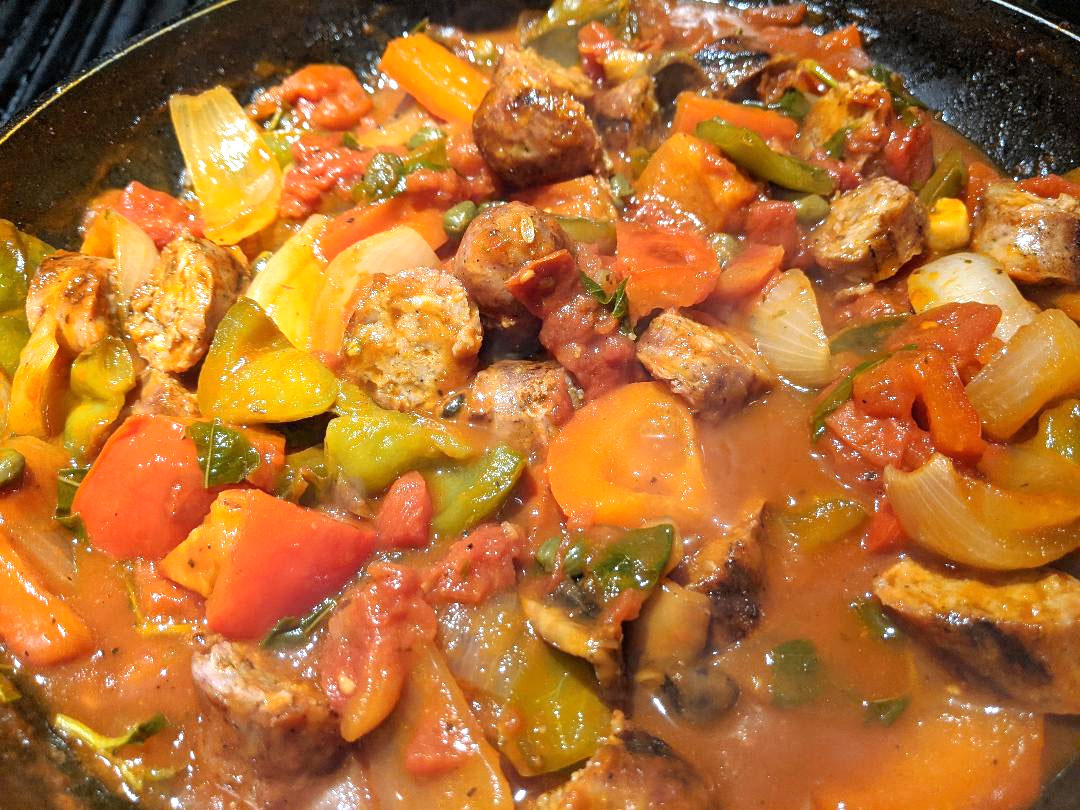 I just let the sauce cook for a bit to meld all the flavors together ad thicken a bit. Add the sliced sausages. Cook a little longer.
I just topped my pasta with the sauce instead of mixing all in. It doesn't matter how you mix it.
Make sure you try and use fresh herbs whenever possible. If its the Summer I have plenty planted in the herb garden. Unfortunately in Winter you have to by them in the grocery store. Dry herbs will also work if you don't have fresh.
Your entire family will love this Sausage Cacciatore. I think I like it better than the chicken version!
Print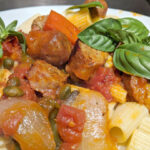 Sausage Cacciatore
---
Author:

Cook Time:

30 min

Total Time:

30 minutes

Yield:

4

1

x
Description
This is warm and comforting for the colder months, but also delicious in the warmer months.
---
5 sausage links, grilled (with a slight char), and sliced into bite sized pieces
3 tablespoons olive oil
1 teaspoon salt, plus more to taste
1 teaspoon freshly ground black pepper, plus more to taste
1 large red bell pepper, chopped
6 mushrooms, sliced
1 onion, chopped
3 garlic cloves, finely chopped
3/4 cup dry white wine
1 ( 28-ounce) can diced or whole tomatoes with juice
3/4 cup reduced-sodium chicken broth
3 tablespoons drained capers
1 1/2 teaspoons dried oregano leaves
1/4 cup coarsely chopped fresh basil leaves
---
Instructions
Cook sausage on outdoor grille on medium light being careful not to burn. You want them to be temperature cooked to 160 degrees F, but only have a slight char on them. You can also cook in a skillet on top of the stove. Either way make sure they are cooked to 160 degrees F. Remove from grille. Cool slightly and slice sausage into bite sized slices.
In a large heavy saute pan, heat the oil over a medium-high flame. Add the bell pepper, mushrooms, onion and garlic to the same pan and saute over medium heat until the onion is tender, about 5 minutes. Season with salt and pepper. Add the wine and simmer until reduced by half, about 3 minutes. Add the tomatoes with their juice, broth, capers and oregano.
Add the sausage slices to the pan and turn them to coat in the sauce. Bring the sauce to a simmer. Continue simmering over medium-low heat until the flavors meld, about 30 minutes.
Serve with pasta or mashed potatoes.
Notes
This is also great for leftovers.