I LOVE fried fish with beer batter. That's something you can rely on being fabulous when going to a Irish pub or restaurant. Yes, its intensely greasy, but if you don't eat it very often, it's perfectly acceptable. And there's something about those super crunchy, pointy ends I love. The super flaky, moist, delicate white fish in the middle isn't too bad either! You can use any kind of white fish. And don't forget the malt vinegar, Beer Battered Fish just wouldn't be any good without it!

So, not being the best at deep frying, here I go again, we're giving the deep fryer another whirl.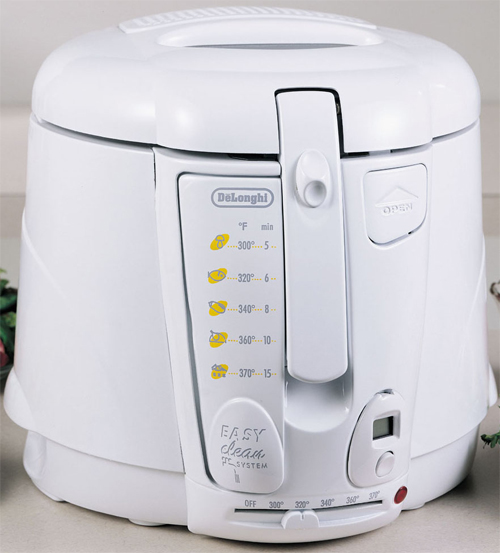 I have this deep fryer appliance I hardly use, but like it because I'm a little paranoid about starting a fire with my hot oil. I do have a kitchen fire extinguisher but really don't want to ever use it, if you know what I mean!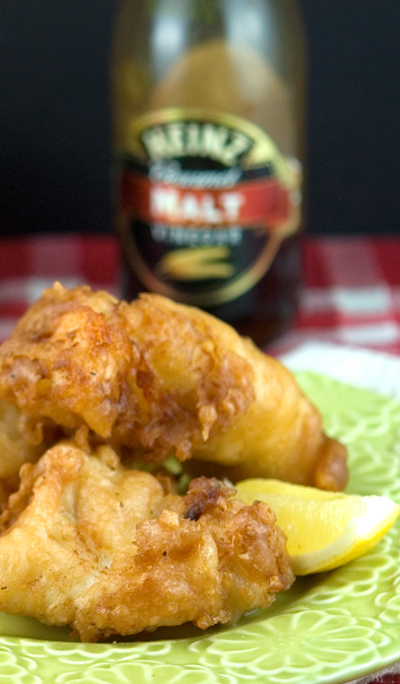 The fish turned out incredible! Even though I don't eat deep fried food that often, it was great to know I can make Beer Battered fish, just like in the restaurants, right in my own home. Now I have to get rid of the greasy smell in my house. That part I don't like!
Print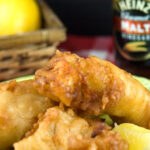 Beer Battered Haddock
---
Author:

Prep Time:

10 mins

Cook Time:

30 mins

Total Time:

40 mins

Yield:

8

1

x
Canola oil

2

lb. haddock, cod, or other white fish, cut in to pieces
salt & pepper

1

–

1/2

c. all-purpose flour

1

–

1/2

tsp sugar

1 tsp

. salt

1

–

12

oz. bottle beer

1 tsp

hot sauce (optional)
---
Instructions
Pour oil to depth of 3 inches into a large dutch oven; heat to 360 degrees F.
Sprinkle fish with salt and pepper.
Whisk together flour, sugar & salt in large bowl. Whisk in beer and hot sauce. Dip fish in batter, allowing excess batter to drip off.
Gently lower fish into hot oil using fork. Make sure you dip in oil slowly so fish does not go to the bottom.
Fry fish in batches, 2 to 3 minutes on each side, or until golden brown.
Place fried fish on wire rack on a jelly roll pan; keep warm in a 200 degree F. oven until ready to serve.

How on earth to prevent the fish from sticking to the deep fryer basket???
When putting fish in to the hot oil, I just dropped in to the hot oil, the fish sank, and stuck to the basket.  I couldn't flip the fish because it was so stuck. The oil was up to temperature, so why did it sink and stick? Next, I tried using a set of tongs, and edged them in the hot fat, trying to let it cook some before I let go so it would float. The fish got stuck to the tongs. Next, I decided to use a fork, edge it in to the oil, let it cook some and if I needed to, use another fork to release the fish from the fork. By that time, the fish was cooked enough to float, and then, I could flip freely in the hot oil. It took a couple of not-so-good-looking pieces of fish, but I think I finally got the method down!
Source: Southern Living Comfort Food