From the moment I saw this Breville Crispy Crust Pizza Maker in Williams Sonoma, I knew it had to be mine. How bad can a pizza be, made in a portable electric oven that heats the pizza stone to 660 degrees F? Then I remembered White Garlic Tomato Pizza. This combo was too good to be true.
How bad??? I mean, how good??? Oh oh, this thing can mean real trouble. Home made pizza made in the speed of a wood oven, with the same crispy crust as a wood oven??? Yup. You betcha! This oven fits the bill!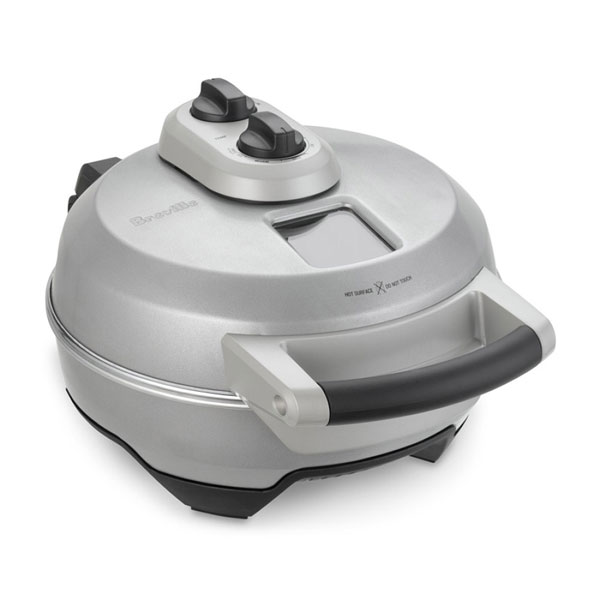 So far, I've made regular sauce based pizza's with cheese and my favorite toppings, and they were delicious. Tonight I decided to make a White Garlic Tomato Pizza made from the fresh garden tomatoes I had. WOW! I think this is my most favorite pizza. The crust reminded me of the bread stick made from pizza dough they serve at one of my fave restaurants Fiorella's in Newtonville, MA!
This could be very bad! REALLY BAD! You have to try this appliance! You will be so glad you did!
I had never had White Garlic Tomato Pizza before yet made it. But I decided to give it a whirl. How bad could it be? It's pizza after all?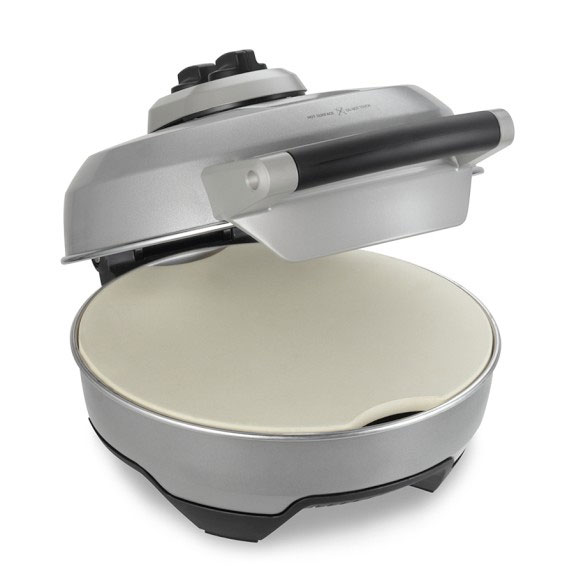 I had every intention of making my own pizza dough, but for tonight's I made from premade pizza dough. In this oven, it's easier to make little personal sized pizzas. And from the first time, I realized that the trick of making your pizza on a parchment, putting it on the stone for a minute or two, and them taking a spatula and sliding off the parchment to finish the cooking, is a lot easier than expecting it to "slide" off the peel of spatula. It doesn't. Maybe an experienced pizza maker can maneuver this, but the average cook, i don't think so. Trust me the parchment method is easier! Just watch the parchment for those one to two minutes that it doesn't burn too much. Parchment is only rated for about 450 degrees F, and burns pretty easy. It only takes about a minute or so, for the dough to bake enough to slide off. You won't believe how fast! And the pizza cooks pretty fast too! Maybe about 4-5 minutes. It's like having a wood oven right in you're kitchen!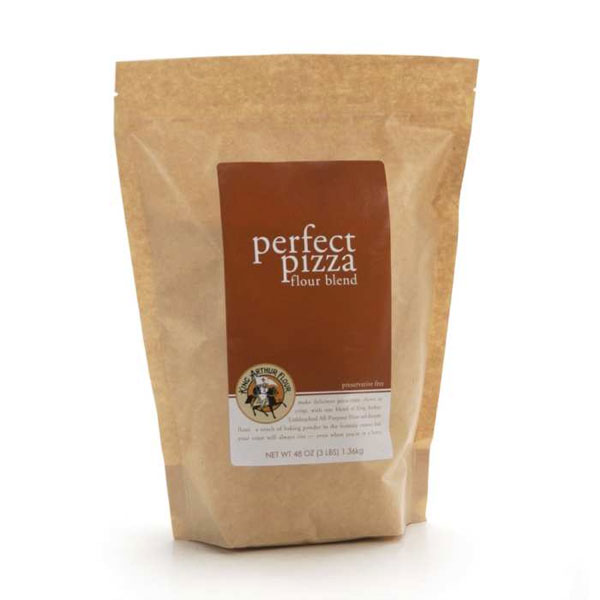 Hey, once you get good at this pizza thing, you can even make your own pizza dough, which is super easy! You can get some in my Shopafoodieaffair store!
First, I took a garlic clove minced, and put in a very small dish with some extra virgin olive oil. I microwaved it for about a minute. I took a very small amount of dough and spread out to a personal sized pizza (make sure its not too thick). I took a silicone basting brush and sprinkled some of the garlic oil over the pizza dough. I spread some Mozzarella cheese on top. I put some sliced tomatoes on top of the cheese. Sprinkle with a very small amount of dried Oregano, Basil or what ever you'd like, then I drizzled a little more garlic oil on, and a little more cheese. Well, you get the idea.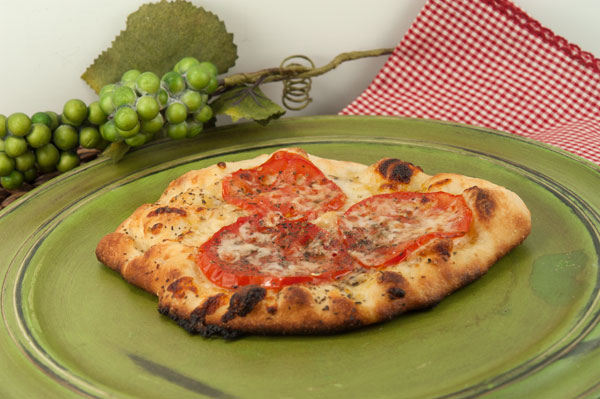 That's it! This was THE BEST pizza I've ever had. But I'm convinced the pizza oven had a LOT to do with it! The edges of the pizza was crispy and tender inside, with a hint of garlic. DELICIOUS! Can I give this product 10 stars? 
Print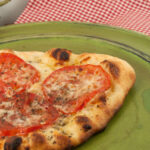 Mini White Garlic Tomato Pizza and Review of Breville Crispy Crust Pizza Maker
---
Author:

Total Time:

10 mins

Yield:

1

1

x
Description
Just like wood oven pizza!
---
Ready made pizza dough, or freshly made

3 Tbsp

Extra virgin olive oil

1

garlic clove, minced

1

fresh garden tomato, sliced thin
Mozzarella cheese
Dries basil & Oregano
---
Instructions
In a small bowl, take olive oil and minced garlic and microwave about a minute.
Take a small portion of dough and form into a personal sized pizza. Use a little flour if you need to to avoid sticking. Place on parchment. Using a silicone basting brush, sprinkle some of the garlic olive oil on the dough. Don't put an excessive amount, it will drip all over your pizza stone and smoke up the kitchen.
Sprinkle cheese on next. The place tomato slice on top of cheese. Sprinkle a very little oregano and basil (or one or the other).
Place pizza on parchment on pizza stone. After a minute, Slide the pizza off the parchment (I put the parchment in the sink instead of the trash, until I know it has cooled off entirely).
Cook for about 4 minutes or so, watching for doneness.
Prep Time:

5 mins

Cook Time:

5 mins