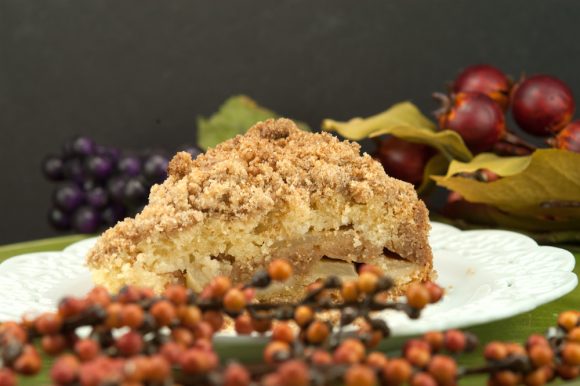 I am a sucker for coffee cakes. And, anything with apples in it. Hence, this gorgeous Apple Cinnamon Coffee cake recipe.
I am obsessed with Pinterest! In the car during long rides (no, I am not driving….), on the Ipad while watching TV (obviously I am not watching….), and anytime I have some free downtime. I find all kinds of ideas for decorating, crafts, recipes, table settings, vacations, wonders of the world, you name it.
That's where I found this great Apple Cinnamon Coffee cake recipe from omgchocolatecakes.com.
This Labor Day weekend its quite a bit cooler than the summer's been. There is a touch of Fall in the air, so this coffee cake featuring apples, is perfect.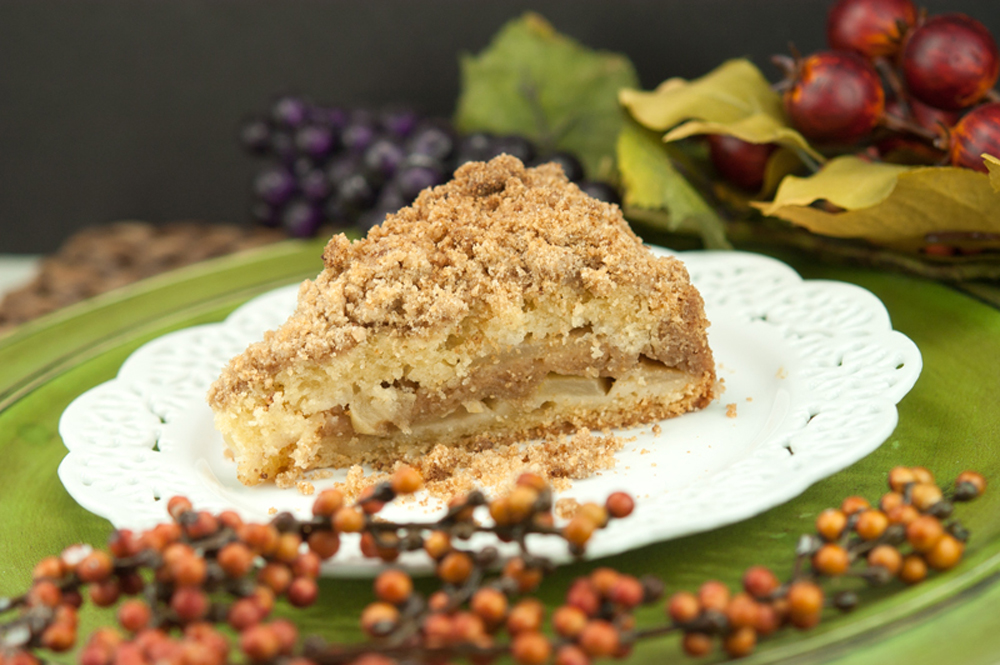 It's super easy to make. Make sure you make in the 8″ springform pan though. If it were made in a regular cake pan, a good amount of the crumbs would come off the cake by the time you flipped it. The springform is the way to go.
Mine took a little longer to cook than the recipe called for, but that's not unusual for my oven for some reason, so I just cooked until the blade of a knife came out clean.
This cake is perfect for taking anywhere, and everyone will be astonished it looks so good!

Apple Cinnamon Coffee Cake
Ingredients
For cinnamon streusel crumb:
1½ cup flour
½ cup brown sugar
¼ cup granulated sugar
½ teaspoon salt
1 teaspoons cinnamon
¼ teaspoon nutmeg
½ cup butter -melted
½ teaspoon vanilla
1 large (or 2 small) tart apples-peeled and chopped
For the cake:
4 Tablespoons butter
½ cup granulated sugar
1 large egg
1 teaspoon vanilla
½ cup sour cream
1 cup flour
¼ teaspoon baking soda
¼ teaspoon salt
½ teaspoon baking powder
For apple cider glaze (optional):
½ cup powdered sugar
1½ -2 Tablespoons apple cider
Instructions
Preheat the oven to 350 F. Grease 8 inch springform pan and line the bottom with parchment paper, set aside.
To make cinnamon streusel crumb in a bowl, whisk together dry ingredient, add melted butter and vanilla and stir until the mixture is evenly moist, set aside.
To make the cake in a large bowl, cream together 4 tbsp butter with ½ cup sugar until light and fluffy, add egg and beat well, then add vanilla and sour cream and beat again.
In another bowl, stir together 1 cup flour, baking soda, salt, and baking powder and add to the butter mixture, stir until just combined.
Spread half the batter at the bottom of the pan ( it will be very thin layer). Spread the apple chunks evenly over the batter, then sprinkle about 1 cup of the cinnamon streusel crumbs over the apples. Spread the remaining batter over the crumbs and on top spread the rest of the cinnamon streusel.
Bake 35-40 minutes or until a tester inserted in the center comes out clean.
Before remove the ring of springform pan run a thin knife around the cake.
To make the optional glaze, whisk together powdered sugar with apple cider and drizzle over the cake.
Save
Save
Save
Save
Save