Orecchiette is such a cute pasta shape! In Italian orecchia means "ear" -etta meaning "small". And that's what the pasta shape looks like…little ears. They are super easy to eat, and easily holds all the sauce and goodness in your recipes. I have had Orecchiette in my favorite restaurants, but it is almost always served with Broccoli Rabe. I'm not a fan of Broccoli Rabe as it is quite bitter. Hence this recipe for Orecchiette with Sausage and Broccoli.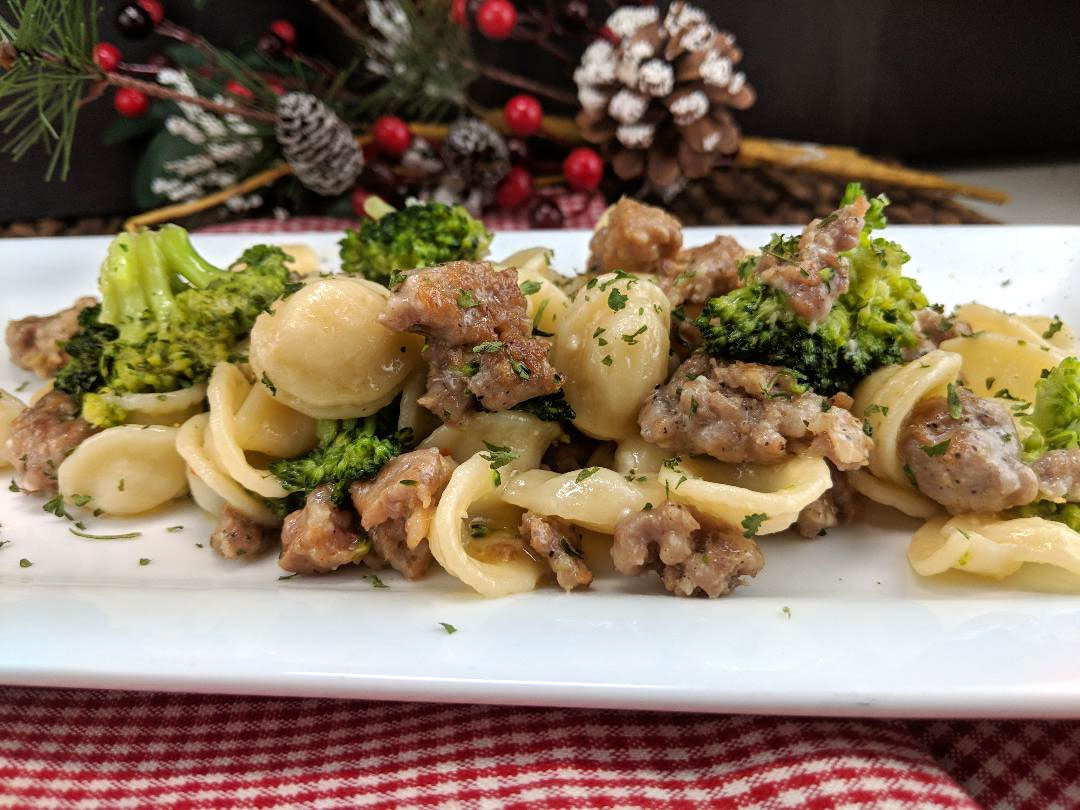 This recipe is literally one of the easiest recipes I have made. Sometimes I even add some sun dried tomatoes.
While the Orecchiette is cooking, saute the sausage in a little oil in a cast iron, or stainless steel skillet until cooked, and add garlic. Then add the broccoli, broth, additional oil, red pepper and salt and pepper to season. A non-stick pan is not recommended as it does not create the browned bits on the bottom of the pan that adds so much flavor.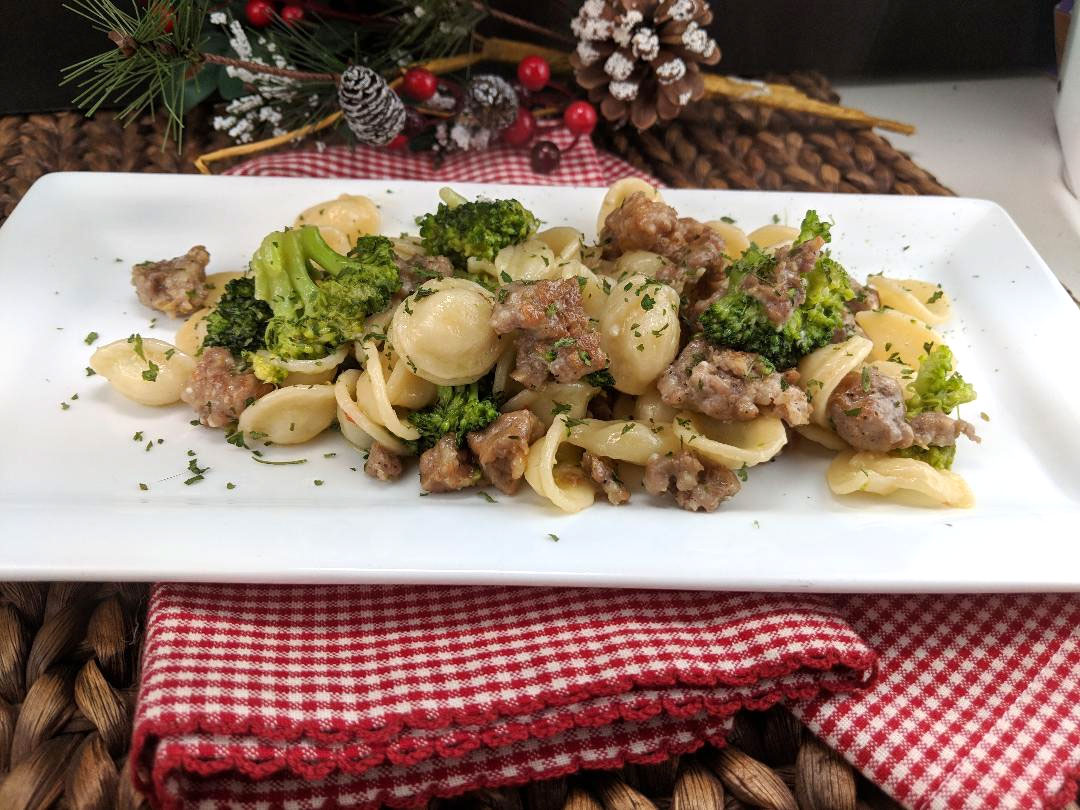 Add butter until thickened , and add mixture to drained Orecchiette, add cheese and mix.
Sprinkle with a little fresh and chopped parsley and additional cheese if desired.
I adapted this recipe from Lidia Matticchio's recipe. I always make a recipe exactly as it is called for. Then I tweak ingredients id I feel I need to. She uses fresh Orecchiette, I opted for using dried. I use a lot more butter than she does. I changed the broccoli di rapa for broccoli. Both versions are delicious. It's almost like you can't mess up this recipe. It's that good.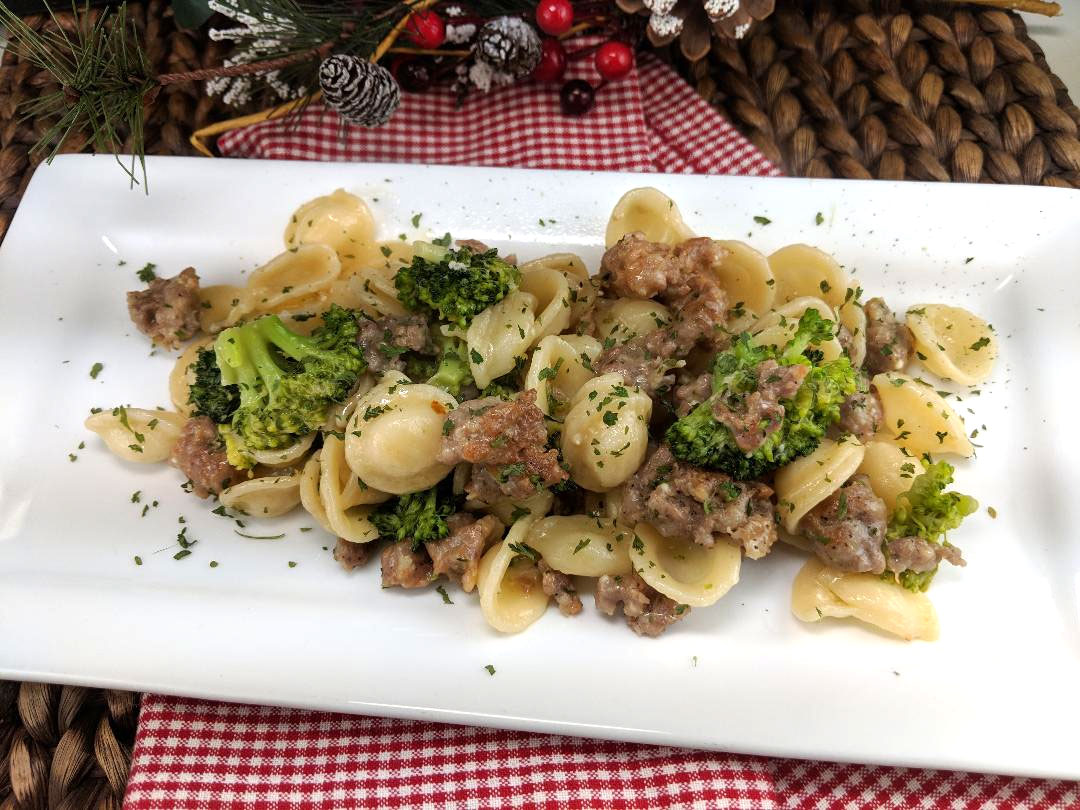 Ingredients
1- 1 lb.package Orecchiette
1 pound broccoli florets
1 pound sweet Italian sausage, cases removed
5 tablespoons extra virgin olive oil
3 large garlic cloves, crushed
1/4 to 1/2 tsp salt
1/4 teaspoon crushed red pepper flakes
1 cup Chicken Stock, more if needed
1 to 3 tablespoons unsalted butter
1/2 cup freshly grated Pecorino Romano cheese (about 1 ounce)
Instructions
1
Boil a large pot of salted water. Prepare the orecchiette according to package directions.
2
While the orecchiette is cooking, place a couple tablespoons of the oil in a skillet. On medium to medium high heat, cook sausage, breaking up the pieces with a silicone spatula. Cook until slightly browned. Add garlic and cook 1 minute.
3
Add the remaining oil, broccoli, broth, salt and red pepper flakes. Cook 4-5 minutes until broccoli is slightly tender.
4
Stir in butter and half of the cheese.
5
Add remaining cheese when serving.