Orecchiette is such a cute pasta shape! In Italian orecchia means "ear" -etta meaning "small". And that's what the pasta shape looks like…little ears. They are super easy to eat, and easily holds all the sauce and goodness in your recipes. I have had Orecchiette in my favorite restaurants, but it is almost always served with Broccoli Rabe. I'm not a fan of Broccoli Rabe as it is quite bitter. Hence this recipe for Orecchiette with Sausage and Broccoli.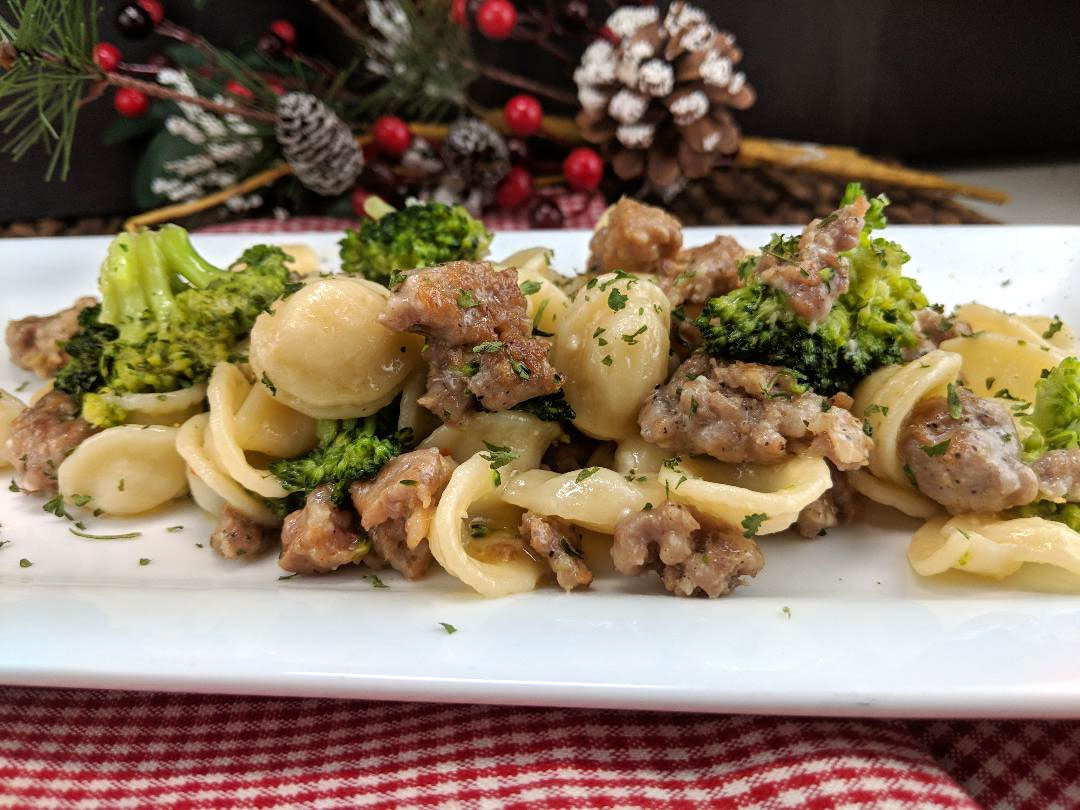 This recipe is literally one of the easiest recipes I have made. Sometimes I even add some sun dried tomatoes.
While the Orecchiette is cooking, saute the sausage in a little oil in a cast iron, or stainless steel skillet until cooked, and add garlic. Then add the broccoli, broth, additional oil, red pepper and salt and pepper to season. A non-stick pan is not recommended as it does not create the browned bits on the bottom of the pan that adds so much flavor.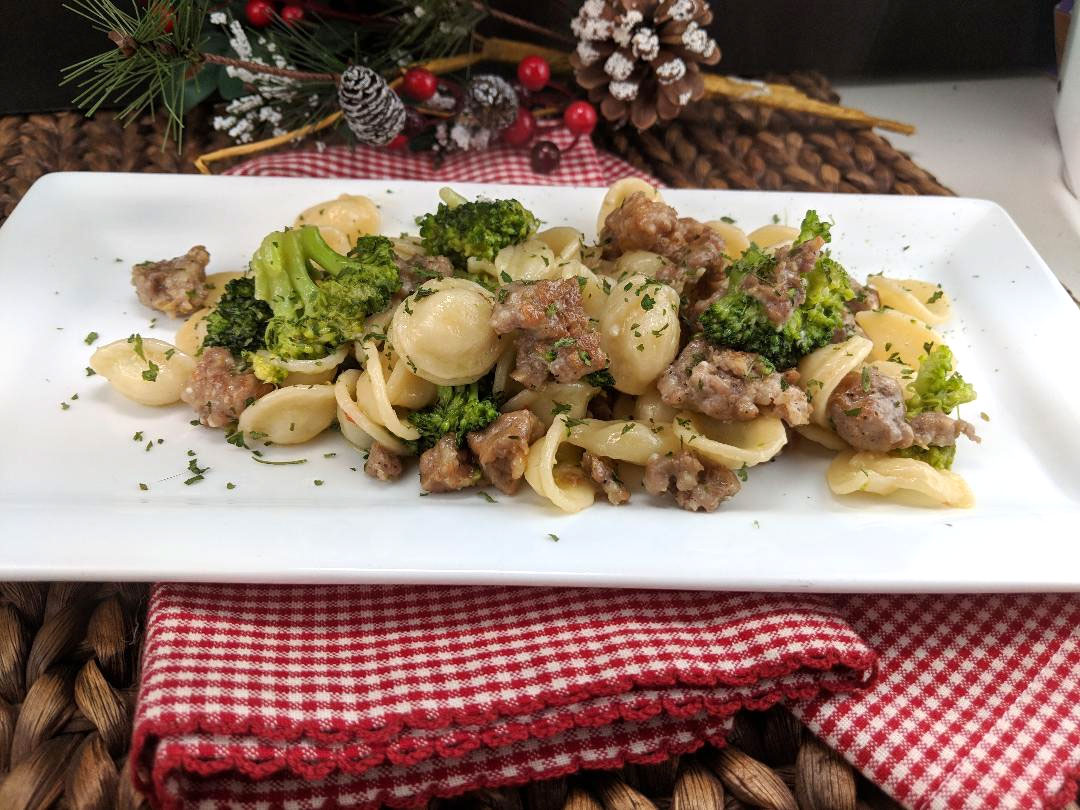 Add butter until thickened , and add mixture to drained Orecchiette, add cheese and mix.
Sprinkle with a little fresh and chopped parsley and additional cheese if desired.
I adapted this recipe from Lidia Matticchio's recipe. I always make a recipe exactly as it is called for. Then I tweak ingredients if I feel I need to. She uses fresh Orecchiette, I opted for using dried. I use a lot more butter than she does. I changed the broccoli di rapa for broccoli. Both versions are delicious. It's almost like you can't mess up this recipe. It's that good.
This is a basic recipe. Obviously you can change the pasta, you can also add a little cream if you want a more creamy sauce. You can switch the broccoli and use broccoli rabe or broccolini. You can also add a dab of tomato paste from the tube to add a little tomato to this recipe.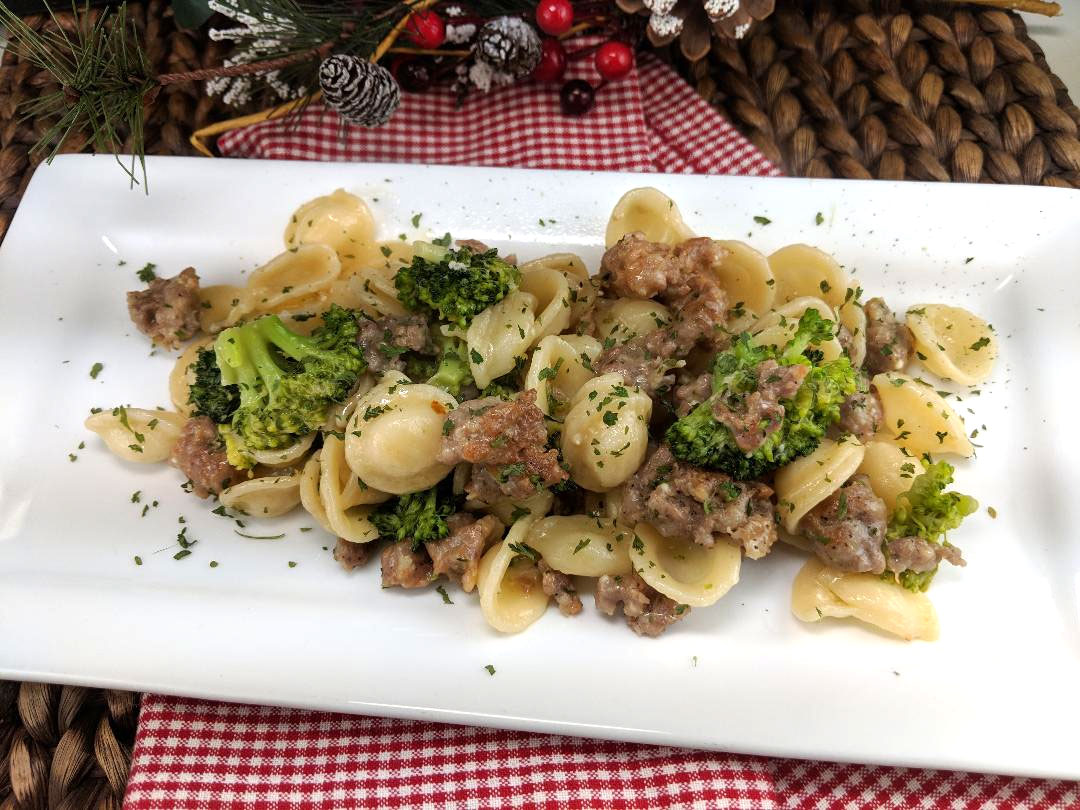 Print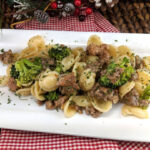 Orecchiette with Sausage and Broccoli
---
Description
Deliciously creamy, flavorful pasta and sausage dish, perfect for any weekday meal.
---
1 lb. Orecchiette dried pasta
4 Tbsp olive oil
1 pound broccoli florets
1 pound sweet Italian sausage, cases removed
5 tablespoons extra virgin olive oil
2 large garlic cloves, crushed
1/4 to 1/2 tsp salt
1/4 teaspoon crushed red pepper flakes
1/2 c. white wine
1–1/2 cups Chicken Stock
4–6 tablespoons unsalted butter
1/2 cup freshly grated Parmesan cheese, separated into two 1/4 cups each
1 Tbsp fresh Parsley, chopped
Salt and Pepper to taste
---
Instructions
Boil a large pot of salted water. Prepare the orecchiette according to package directions.
While the orecchiette is cooking, place a couple tablespoons of the oil in a skillet. On medium to medium high heat, cook sausage, breaking up the pieces with a silicone spatula. Cook until slightly browned. Add garlic and cook 1 minute. Remove from pan as set aside.
If the pan has a small amount of sausage dripping leave in the pan. If there is quite a bit drain some out. You want the flavored grease from the sausage, without making your dish overly greasy.
Add the wine and scrape up the browned bits on the bottom of the pan while reducing slightly. Add chicken broth and cook on medium for approx. 5 minutes. Add the sausage mixture, broccoli, salt, pepper and red pepper flakes to the chicken broth mixture. Cook 4-5 minutes until broccoli is slightly tender.
Stir in butter and half of the cheese.
Add remaining cheese when serving.
Notes
This recipe is super easy to make for a weeknight supper.