I was thumbing through my recipe box recently and came across John Hadamuscin's Apple Pandowdy recipe. I haven't made this in YEARS! Not sure why because it is DELICIOUS! It's one of those old time recipes you don't see anymore. I've seen it made with puff pastry topping, rolled out dough cut into squares, and in this case dropped biscuits. It's one of the best apple recipes I've made! It is another one of my favorite recipes from John Hadamuscin's Special Occasions cookbook. If you don't have this cookbook, get it. It has quite a few delicious recipes in it (Orange Pumpkin Muffins, Summer Meatloaf, Hudson Valley Apple Bars, Grilled Chicken with Lemon and Oregano). John sadly passed away in 2018. John studied Culinary Arts in Paris, and worked as a chef in NY, caterer, wedding planner and interior designer. He shared his knowledge of cooking with his many cookbooks and one novel. He LOVED Christmas, so especially at this time of year I pull out his cookbook and look for inspiration.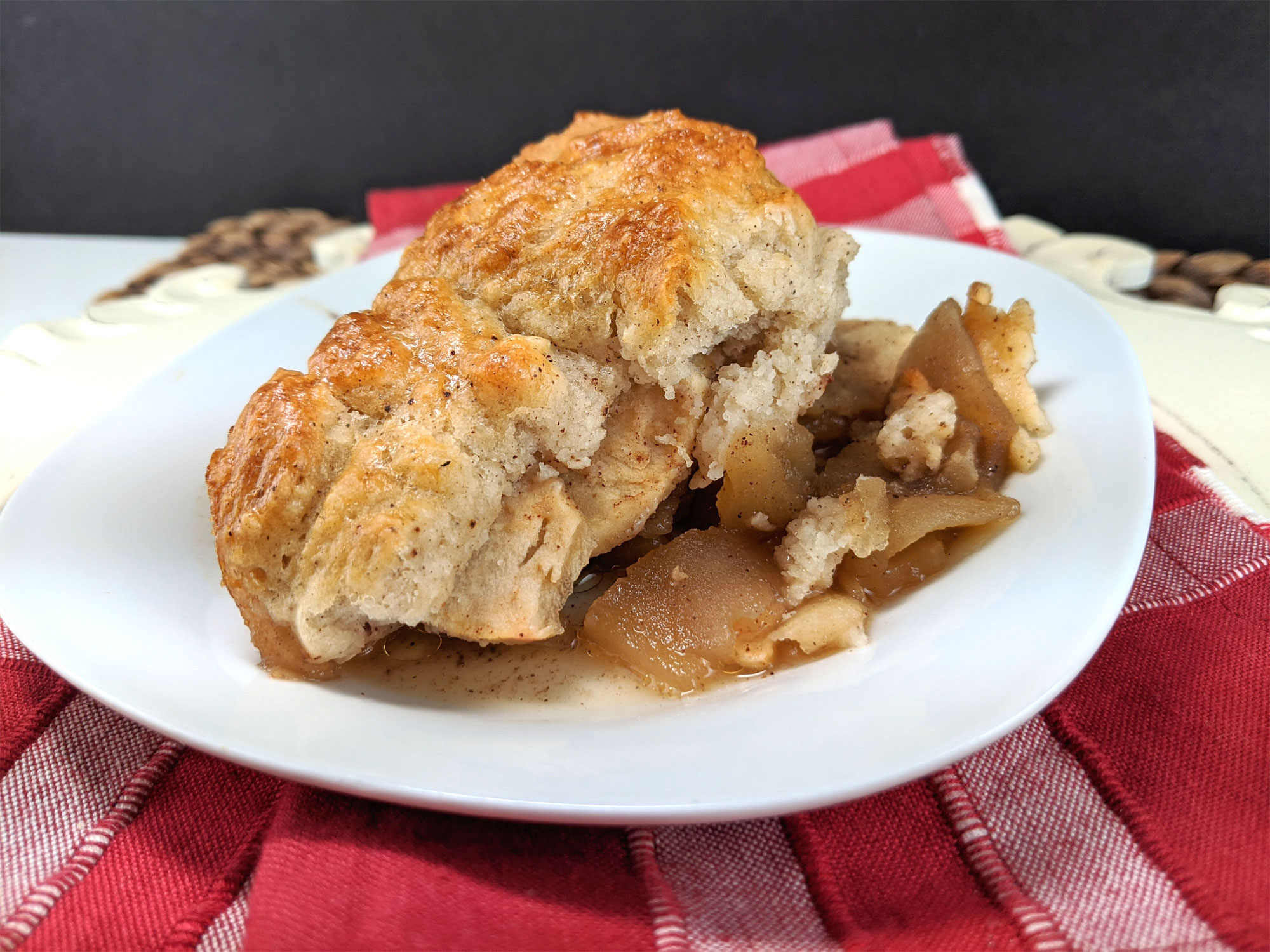 I had to make this Pandowdy since I hadn't made it in years. I don't know if it was the type apples I used (Granny Smith and Gala) but when it was done cooking, the apples didn't seem 100% cooked. They were a little hard. And the juice the apples were in was a little thin.
So I made a another smaller version and precooked the apples a little ahead of time. I also put a little cornstarch in to thicken the juice. There are three advantages to precooking the apples. One is the apples get a chance to get a head start on cooking so you can assure they are fully cooked. Two, you can see how thick the juice is and adjust either way. If its too thick add some apple juice, too thin add more cornstarch. Three, you can adjust the sweetness and spiciness.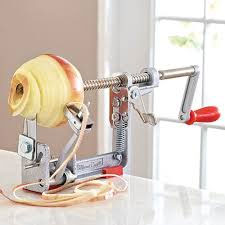 It is super easy to make. I slice the apples with my Pampered Chef Apple, Corer, Slicer, cut in half and put in a large pan. I love this gadget. I would never make anything with sliced apples if I had to do it by hand.
Then I mixed together the filling ingredients except butter, and put into the apples.
I cook on the stove on medium for about 10 minutes. Watch them, and cook just until they start getting tender. Don't forget they still have to cook another 45 minutes in the oven. And do not use Macintosh apples with this recipe method or you will end up with applesauce. Just until they start getting soft but don't lose their shape.
Pour filling into a buttered glass casserole.
Dot with 1/4 c. butter.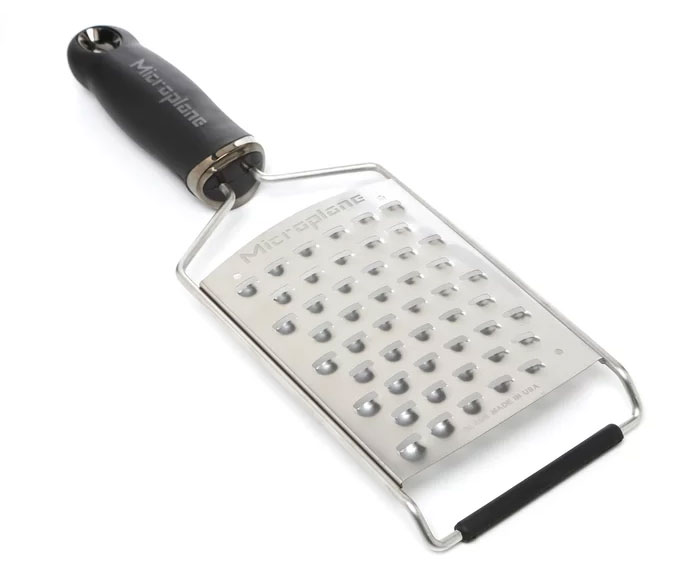 Mix together the topping ingredients and drop by tablespoonfuls onto the top of the apples. I use a Microplane large holed flat cheese grater to grate the cold butter to make the job a little easier. It sits perfectly on the top the bowl. I wouldn't use a box grater though, as the butter sticks to the back of the grater and it is hard to scrape off.
Brush surface of topping with a beaten egg, and bake for 45 minutes.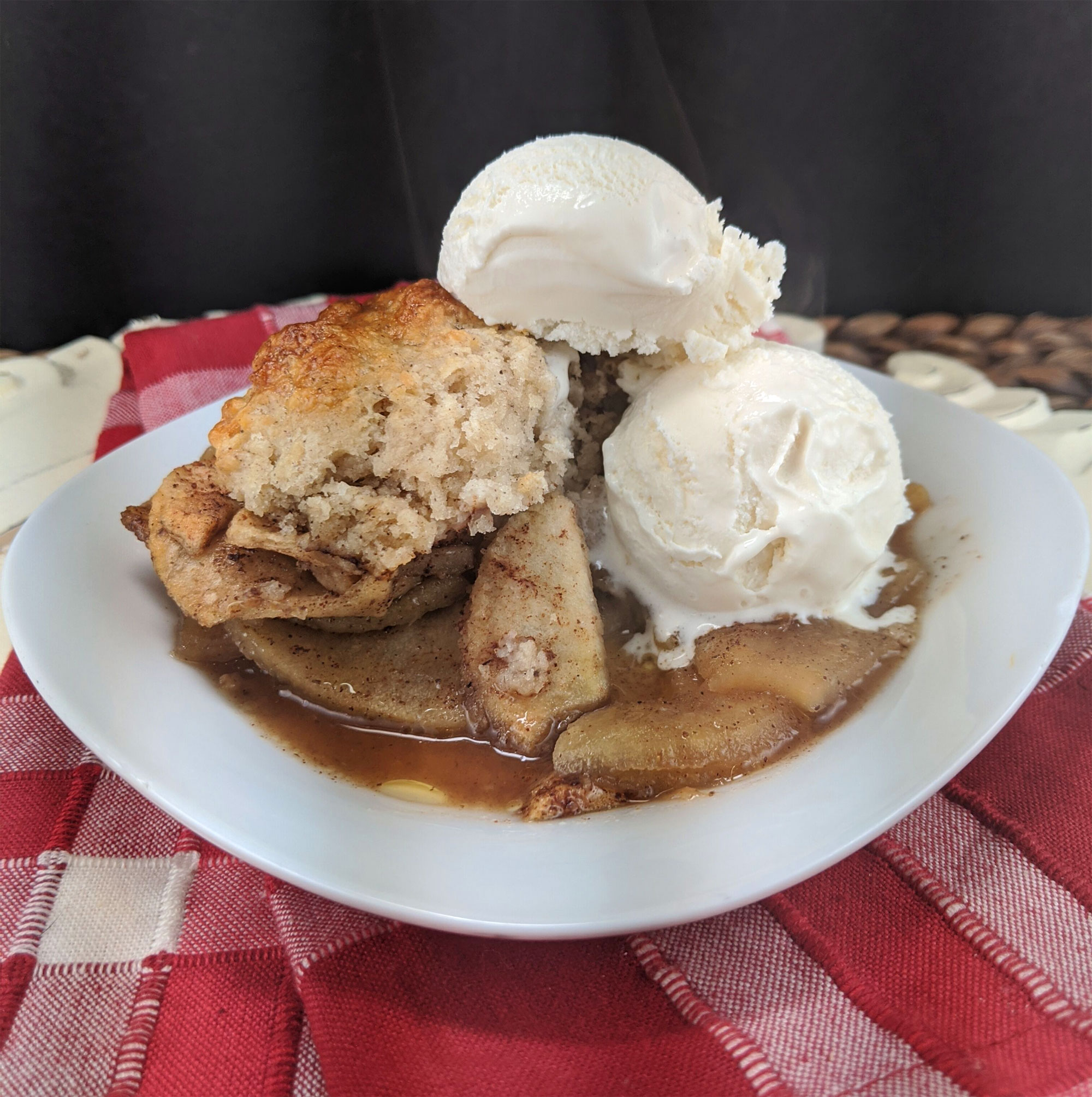 You are going to end up with a good ole fashioned Apple Pandowdy. Top with some really good Vanilla Ice cream and dig in!
Print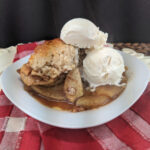 John Hadamuscin's Apple Pandowdy
---
Description
Comforting, spicy and delicious. Perfectly cooked apples with a biscuit with crispy top. Serve warm with vanilla ice cream.
---
Filling:
8 to 9 tart baking apples, pared, cored and sliced
1/4 cup freshly pressed or reconstituted frozen apple juice (I also use bottled)
1/4 cup pure maple syrup
1/2 tsp ground cinnamon
1/4 tsp ground cloves
1/8 tsp ground nutmeg
1/4 cup firmly packed dark brown sugar
1 tsp fresh grated lemon rind
1/4 cup butter
Topping:
1–3/4 cups sifted all purpose flour
1 Tbsp granulated sugar
1 Tbsp baking powder
1/4 tsp salt
1/2 tsp ground cinnamon
6 Tbsp cold butter, grated on large holes of cheese grater
1 cup milk
1 large egg, lightly beaten
---
Instructions
Preheat oven to 375 degrees F. Butter a 9 x 13 glass ovenproof casserole dish.
Slice apples and place in a large stockpot.
Combine the remaining filling ingredients except the butter in a small mixing bowl and pour the mixture over apples. Mix the apples and filling together.
Cook on medium heat for about 10-15 minutes or until the apples just start to soften. Watch them. You don't want them to start falling apart, just start getting soft. Pour apples into buttered dish.
For topping, sift together the flour, sugar, baking powder, salt and cinnamon. Cut in the butter with a pastry blender (I use a large hole flat cheese grater laid over the top of the mixing bowl. Then blend with the pastry cutter. You could also use the food processor fitted with steel blade), until the mixture is the consistency of coarse meal.
Pour in the milk and beat with a fork until just blended in, forming a stiff, sticky dough.
Drop the dough by large tablespoonfuls onto the filling, leaving a few spaces for the juices to bubble up and for steam to escape. Brush the surface of the dough with beaten egg and bake for 40-45 minutes,or until the top is golden brown and the apples are tender.
Serve warm with a scoop of vanilla ice cream or sweetened whipped cream.