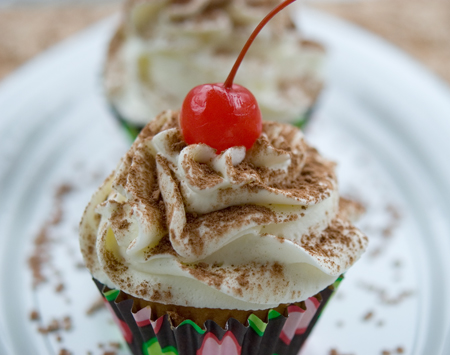 I was surfing the internet, looking for recipes when I came across these great cupcakes from the Culinary Concoctions by Peabody blog. The mousse filling in these reminded me of a cake I used to get from a local bakery that is no longer there. I decided to try them out, even though they are sinfully indulgent.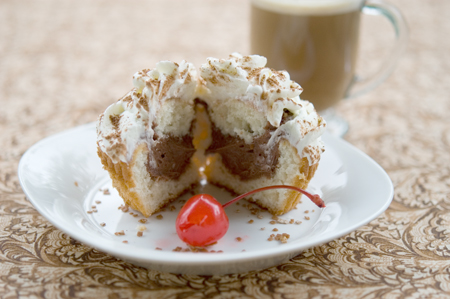 Tiramisu Cupcakes
White Cupcakes:
1-1/2 c. all-purpose flour
1 c. cake flour (all-purpose can be substituted)
1 Tbsp baking powder
1 tsp  salt
1/2 c. unsalted butter, at room temperature
1 1/2 c. granulated sugar
1 tsp vanilla extract
1/4 c. vegetable oil
1 c. whole milk
5 egg whites (save egg yolks for mousse filling below)
Sift together flours, baking powder and salt in a medium bowl; set aside.
In an electric mixer, using paddle attachment, cream butter and sugar until light and fluffy, about 3 minutes.
Add vanilla extract and beat until incorporated.
In a liquid measuring cup, combing vegetable oil and milk.
Add flour mixture and milk/oil mixture alternatively to the mixing bowl. Beating on low speed after each addition.
Pour mixture into a large bowl. Scrape down to make sure you get all of the batter.
Clean out bowl and switch to whisk attachment.
Beat egg whites until stiff peaks form.
Fold 1/3 of the egg whites into the batter, to "lighten" the batter. Gently fold in the remaining egg whites.
Grease and lightly flour muffin pans. Fill each cup half full (cupcakes will raise quite a bit during baking).
Bake at 375° F. for 18 to 20 minutes or until done.
Cool on a wire rack.
Espresso Chocolate Mousse:
2 c. chilled heavy cream
4 large egg yolks
4 Tbsp sugar
1 tsp espresso powder
6 oz fine-quality semisweet chocolate, finely chopped
Heat 3/4 c. cream in a 1-quart heavy saucepan until hot.
Whisk together yolks, sugar, espresso powder, and a pinch of salt in a metal bowl until combined well, then add hot cream in a slow stream, whisking until combined.
Transfer mixture to saucepan and cook over moderately low heat, stirring constantly, until it registers 160°F on thermometer. Pour custard through a fine-mesh sieve into a bowl.
Melt chocolate in a double boiler, stirring frequently. Whisk custard into chocolate until smooth, then cool.
Beat remaining 1-1/4 c. cream in a bowl with an electric mixer until it just holds stiff peaks. Whisk one fourth of cream into chocolate custard to lighten, then fold in remaining cream gently but thoroughly. Cool in refrigerator until thickened.
Mascarpone Frosting:
2 c. heavy whipping cream
8 ounces Mascarpone cheese, at room temperature
1-1/2 c. powdered sugar
Using and electric mixer, whip the cream until stiff peaks form.
In a mixing bowl, fold 2/3 of the whipped cream into the Mascarpone cheese, along with the powdered sugar.
Add remaining cream. Blend until cream is fully incorporated.
Place in refrigerator until ready to frost.
Garnish with a dusting of cocoa powder.
Adapted from Culinary Concoctions by Peabody