I will tell you, the first time I saw this recipe, I thought it was another one of those made from refrigerator cinnamon rolls. But when I began reading I realized that was not it at all. And, the recipe was extremely easy! Something you pull together in 10 minutes, literally. Before I read the entire recipe I was thinking I would have to make a caramel topping on the stove first. Not so. You just mix together 4 ingredients, and put in the pan. Done. The streusel mixture is blended in the food processor in a jiffy. The the batter is mixed in the electric mixer!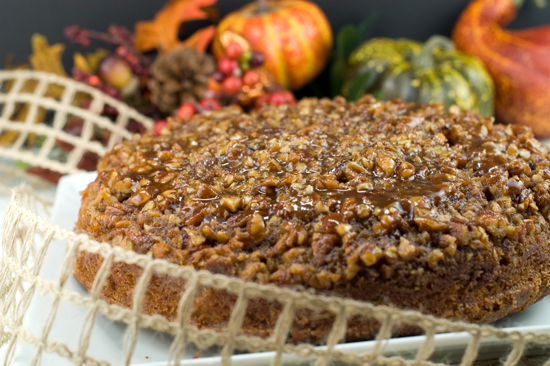 I know I've said this a million other times, but I really mean it this time…..OMG, was this coffee cake "OVER THE TOP"! Well, I should say, IF your love moist coffee cake with a cinnamon filling, and IF you love crunchy cinnamon topping (which ends up being the bottom), and only IF you love the gooey caramel pecan topping….then ONLY will you agree, this IS "THE BEST" coffee cake you've ever eaten. Now its hard to mess up coffee cake…what's not to like? But this coffee cake is like none other I've ever tasted, that's for sure.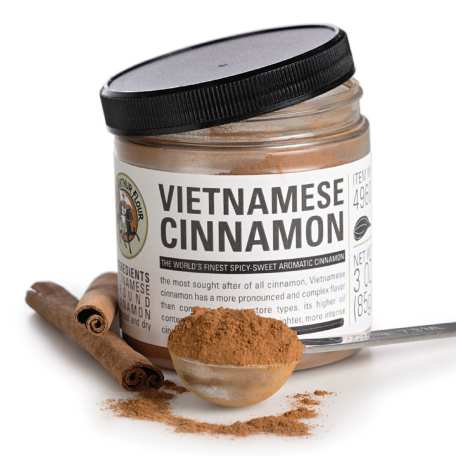 It just so happens that I LOVE caramel. It just so happens that I LOVE moist coffee cake, and that crunchy cinnamon topping….LOVE, LOVE. Make sure to use the BEST Cinnamon you can for this recipe. This cake is incredible, and a must for gift giving at holiday time, because the person you give it to, will remember it for a long time!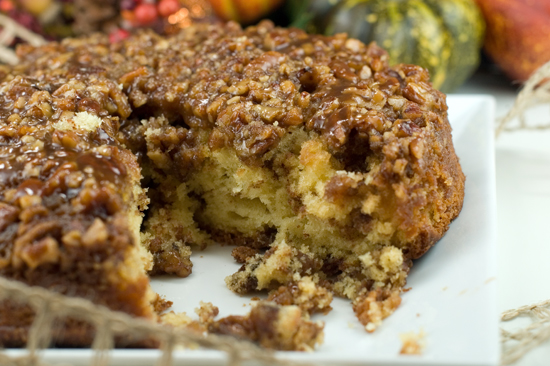 Thanks Cuisine At Home for another great recipe!
Print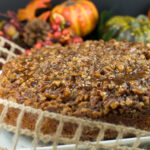 Cinnamon Roll Coffee Cake
---
Author:

Prep Time:

15 mins

Cook Time:

60 mins

Total Time:

1 hour 15 mins

Yield:

10

1

x
For the Caramel, Stir:

3/4 cup

brown sugar

1/4 cup

heavy cream
Pinch of salt

1 cup

chopped pecans
For the Streusel, Pulse:

1/2 cup

brown sugar

1/3 cup

all-purpose flour

4 Tbsp

unsalted butter, sliced

1 Tbsp

ground cinnamon

1/4 tsp

. table salt
For the cake, Whisk:

1/2 cup

buttermilk

1/4 cup

lowfat vanilla yogurt (used plain yogurt w/vanilla ext.)

2

eggs

1 1/2 cups

all-purpose flour

1/2 tsp

. baking powder

1/2 tsp

. baking soda

1/2 tsp

. table salt

1/2 cup

unsalted butter, softened

3/4 cup

sugar
---
Instructions
Preheat oven to 350°; coat a 9″ cake pan with nonstick spray.
For the caramel, in a small bowl, stir together brown sugar, cream, and salt. Pour into prepared pan and spread to coat the bottom. Sprinkle pecans over the caramel.
For the struesel, pulse 1/2 c. brown sugar, 1/3 cup flour, 4 Tbsp butter, cinnamon, and 1/4 tsp salt in a food processor until fine. Set aside.
For the cake, whisk together 1-1/2 cups flour, baking powder, baking soda, and 1/2 tsp. in a small bowl.
Whisk together the buttermilk, yogurt, and eggs in a measuring cup with a pour spout.
Beat 1 stick unsalted butter with the granulated sugar with an electric mixer just until combined. Alternately add flour mixture and buttermilk mixture to the butter mixture, starting and ending with the flour mixture. Blend only enough to incorporated the dry ingredients into the batter.
Spread half the batter over the caramel, then sprinkle with half the streusel. Carefully spread remaining batter over streusel; top with remaining streusel.
Bake coffee cake until a toothpick inserted in the center come out clean, 50-60 minutes. Cool cake for 5 minutes on a rack, then run a paring knife around the sides to loosen the cake. Invert cake onto a serving plate while hot.Let coffee cake cool slightly before cutting.
Due to the sticky top, you may find it better to cut with an electric knife to get more uniform cuts.