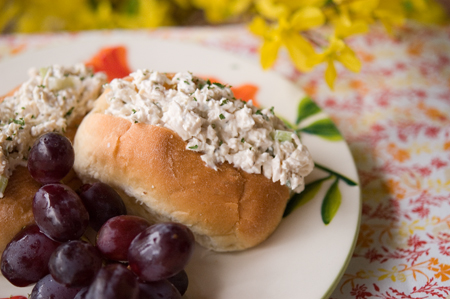 To get a really flavorful chicken for chicken salad, I cook it just as I would a chicken soup. If you make more chicken than you need for chicken salad, the added bonus is you can make a small soup from the broth the chicken cooked in. Just like I do with potato salad, I cut the mayonnaise with sour cream in a ratio of 3 parts mayo, and one part sour cream.  You can use any amount of chicken depending how much you need. There really is no cut and dry "recipe",  just use your best judgement on amounts.
Chicken Salad
Cooking chicken:
2 whole chicken breasts, boneless & skinless
2 carrots, (if making soup, peel and slice; if not, just cut in half)
2 celery stalks (if making soup, slice; if not, cut in half)
1/2 white onion (if making soup, chopped; if not, throw in whole piece)
2 Tbsp fresh parsley, chopped
salt & pepper
2 – 14.5 oz cans low sodium chicken broth (or enough to cover chicken)
Chicken Salad:
3/4 c. mayonnaise
1/4 c. sour cream
2 stalks celery, chopped
1 Tbsp celery seed
1 Tbsp fresh chopped or dried parsley
Rinse chicken. Bring chicken, chicken broth, along with the celery, onion, carrot, parsley, salt & pepper to a boil. Lower heat to medium, cover and cook 15 minutes. Shut off heat and let cool to room temperature.
Cut chicken in to bite sized pieces. Add chopped celery, celery seed, parsley, mayo & sour cream, and salt & pepper to taste.
If making soup from remaining stock, shred chicken and put back into stock. Add some small cooked pasta if desired.