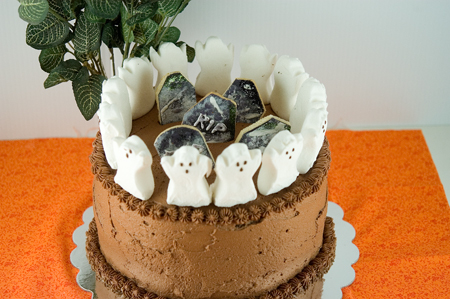 There really is no "recipe" for this cake. I just wanted to make a Halloween cake for the holiday. I used a cake mix and made my own chocolate frosting. Did a little cake decorating and viola!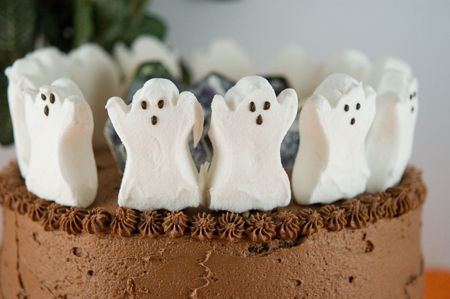 I made two cake mixes the same flavor, and divided between two 8″ round cake pans. When slightly cooled I flipped out of the pans and cooled on cooling rack. When completely cooled, I leveled the cakes (they had a slight dome in the middle), so they were completely flat.
Put on a fancy cake plate or cake board, and I cut some wax paper strips and slid them under the bottom of the cake, so when decorating, the dish doesn't get messy. I used my chocolate frosting recipe shown in the black & white cupcake post, and tripled it.  Top the first layer with icing, put the next layer on, and frost complete cake top and sides. Decorate any way you want! Its easy and most of all delicious!