Ever since my kids were little, I always insisted they eat something before trick or treating. I started making corn chowder for them, as it was not too heavy, and at least they had something good in their stomachs before downing all that sugar! Even though they are all grown, it just isn't Halloween without corn chowder. This Halloween is no different. Because of the storms and power outages we had this year in our area, Halloween was postponed until tonight. So, Halloween's finally here, and my recipe for corn chowder! This is literally so easy, anyone can make it!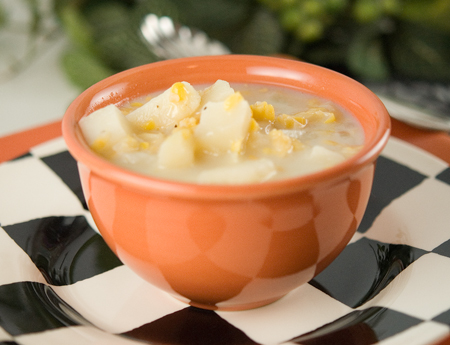 Ingredients

3 Tbsp butter

3 huge russet potatoes, diced

3-15 oz cans creamed corn

2 c. or so milk

salt & pepper

Instructions

1

Saute onions in a large dutch oven in 3 Tbsp butter until softened, but not browned. Add diced potatoes

2

and add water until just covering potatoes. Boil until potatoes are soft. Add creamed corn and milk. Season

3

with salt & pepper and add a dab of butter.