It's funny how you remember the smallest, what may seem unimportant things from your childhood. I have so many memories of visiting my grandmother's house.  Playing Parcheesi and Rummy 500 card games on the porch on a warm summers day. Her making me breakfast when I slept over. She made everything, french toast, pancakes, oatmeal, and I especially remember a soft boiled egg in an egg cup all chopped up. In this recipe, the yolk will be perfectly jammy. The results depend on the size of the egg, I use large.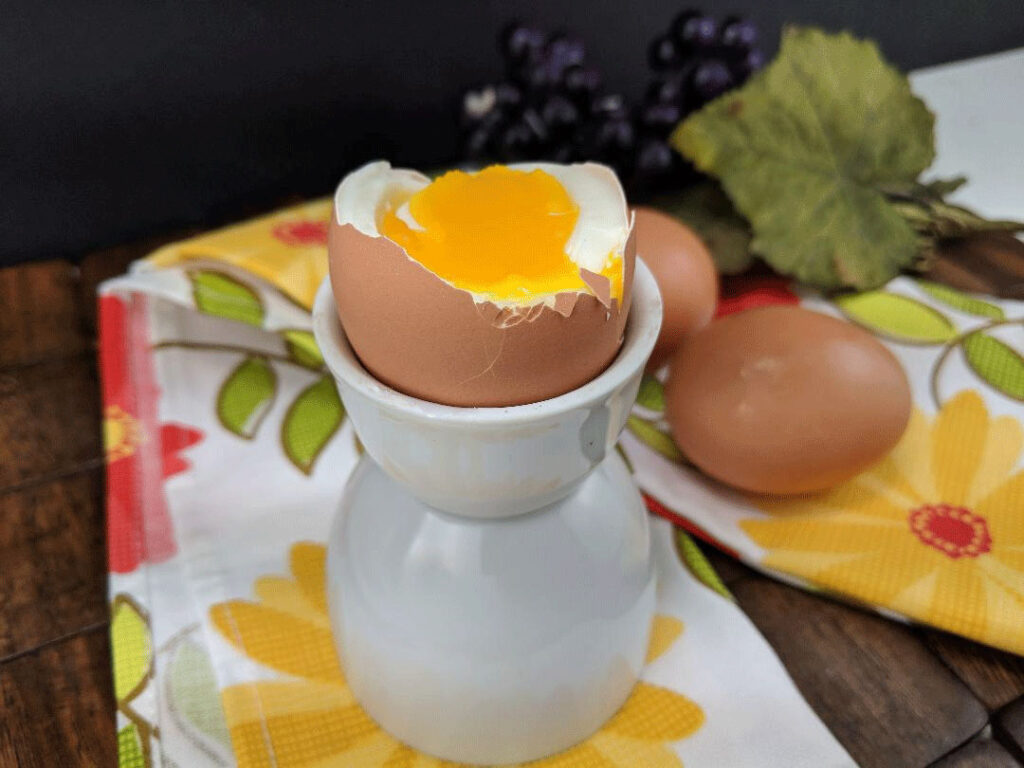 Frequently, I have eggs for breakfast. If you use an extra large egg you may have to add a little time to achieve the same results. Otherwise the egg white may not cook fully. And I hate uncooked egg white. A soft cooked boiled egg is much more preferable over fried, as they have the same cooked egg whites and soft egg yolk and no extra grease and fat from butter to cook them in.
If you follow this method they will come out perfect.  The yellow was runny, and the white was perfectly cooked. I put in an egg cup, chopped it up and added salt & pepper.
They are super easy. I just put cold water into a saucepan, add eggs, and cook on high heat until the water starts to boil. Then lower heat to medium and cook for 3-1/2 minutes. Then put pan in the sink and fill with cold water until the eggs are cool enough to handle, which should be about a minute. I take a knife to split the egg and spoon into an egg cup or eat right out of the shell.
Every time I make these eggs I think of my Grandma!
Print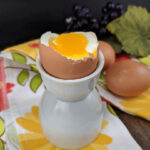 Soft Boiled Eggs
---
Description
Perfect start to the morning. Dip your toast in, and enjoy.
---
---
Instructions
Place eggs in pan with enough cold water to just cover the eggs. Place pan on stove, covered, and bring to boil.
Once water begins boiling, reduce heat to medium, and time for 3 1/2 minutes.
At conclusion of 3 1/2 minutes, take pan and put in sink and run cold water into it, until eggs are easy to handle.
Stick knife into egg so it is easy to split.
Spoon egg out of the shell into a bowl or just eat right out of the shell.