Wow…let me first say, this was super, super delicious! This Pasta Primavera from Seasons and Suppers was one of the best!
I will tell you, it pays off to get all your ingredients ready ahead of time! There are a few steps to cooking this…nothing hard, but wouldn't be as easy if your ingredients weren't ready and waiting. It's basically the same concept as Stir Fry, you gotta have everything ready to go.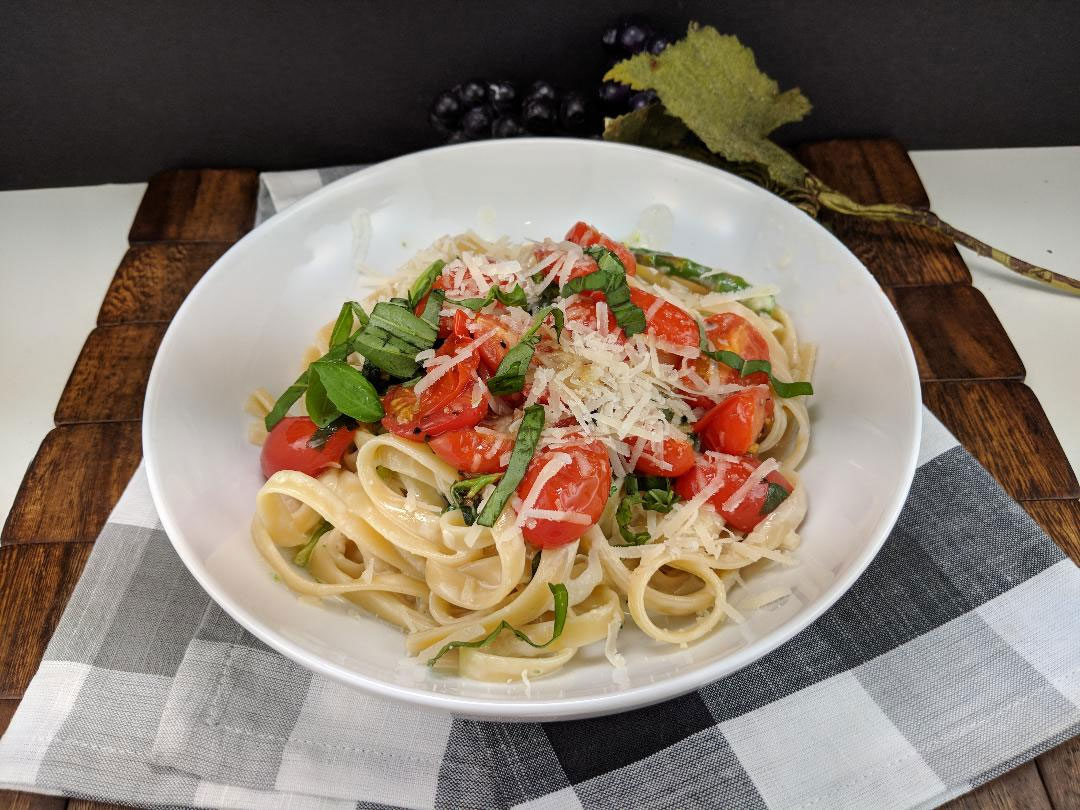 Super delicious cream sauce, veggies, noodles, all topped with a tasty roasted tomato, garlic, basil topping…and then a final topping of freshly grated Parmesan.
Restaurant quality, right at home. Who could ask for more?
Ingredients
9 oz dried pasta such as spaghetti, tagliatelle, fettuccine or linguine
Tomato Topping:
1-1/2 cups grape tomatoes halved
1 cloves garlic minced
3 Tbsp fresh basil chopped
1/4 cup olive oil
Salt and freshly ground pepper
Vegetables:
15-20 asparagus tips
1 stalk broccoli cut into small florets
1/2 cup frozen peas
Sauce:
3 Tbsp olive oil
Pinch red pepper flakes
Salt and freshly ground pepper
1/2 small red onion thinly sliced
2 cloves garlic, minced
1 cup whipping cream
2/3 cup Parmesan freshly grated
2 Tbsp butter
Salt and freshly ground pepper
2-3 handfuls baby spinach
3 Tbsp fresh basil chopped
Additional freshly grated Parmesan
Freshly ground pepper
Instructions
1
Start a large pot of water boiling on the stove-top for the pasta (and blanching the vegetables). Add a generous sprinkling of salt.
2
Meanwhile, gather all your vegetables and chop. Add the tomatoes, 1 clove minced garlic, 3 Tbsp basil and 1/4 cup olive oil to a small saucepan. Set aside. Collect the vegetables that will need blanching (asparagus, broccoli and peas) and place in a medium bowl. Set aside. Place the remaining ingredients (red onion, 2 cloves minced garlic and baby spinach next to the stove. Grate the Parmesan and measure out the cream and have handy to the stove as well.
3
When pasta water is boiling, add the vegetables that need blanching into the boiling water and allow to cook for 3-4 minutes (depending on how tender-crisp or tender you want them). Using a slotted spoon, remove vegetables from the boiling water to a colander. Rinse under cold water to stop the vegetables from cooking further. Set aside.
4
Add the pasta to the still boiling water. Allow pasta to cook to al dente, per package instructions.
5
While pasta is cooking, heat 3 Tbsp olive oil in a large skillet over medium heat. Add the pinch of red pepper flakes, then add the red onion and cook, stirring, until the onion is just starting to soften. Add the garlic and cook, stirring, another 45 seconds or so. Add the cream, butter and Parmesan and cook, stirring, until combined. Add the reserved, blanched vegetables and cook, stirring, until warmed. (Turn off heat under skillet or remove from heat until pasta is ready, if necessary, to avoid over-cooking the vegetables).
6
When pasta is ready, scoop out and reserve 1 cup of the pasta cooking water and set aside.
7
Turn heat on under saucepan with tomatoes to medium. Allow to come to a simmer, then reduce heat to low to keep warm.
8
Drain pasta and add to the skillet with the sauce and vegetables. Heat over medium heat, tossing with tongs, for about 1 minute. Scatter baby spinach and basil over-top and toss, until spinach is wilted. Season with salt and pepper as needed. If the mixture seems thick, add a bit of the reserved pasta cooking water as needed, to loosen it.
9
Spoon pasta into serving bowls. Spoon warm tomatoes over the top. Garnish with additional Parmesan and some freshly ground pepper.