I got this great and easy recipe years ago when I purchased those recipe cards from Betty Crocker. Every month you got a package of recipe cards to add to your collection.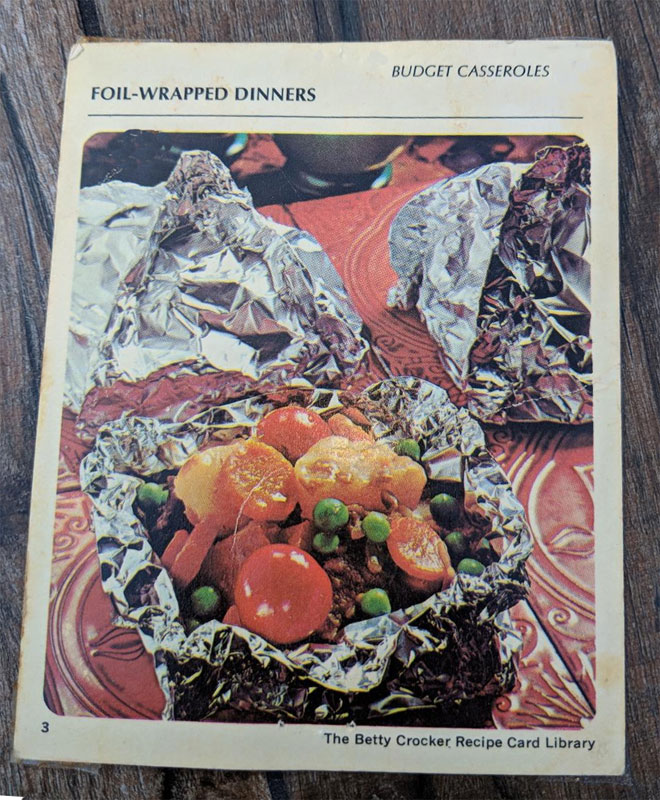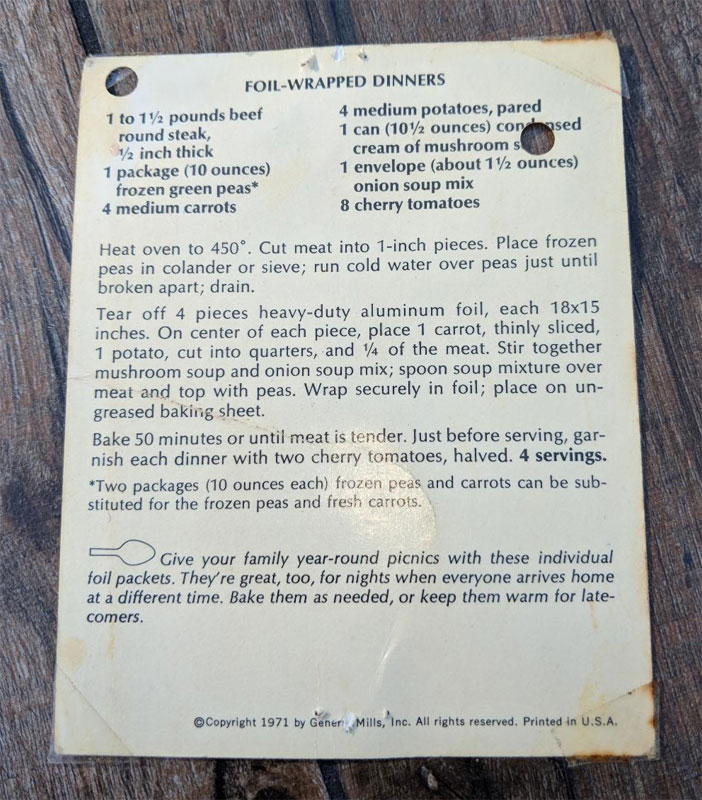 I haven't made these in years. It's one of those recipes I made a lot, and then somehow it got buried in the recipe box and got forgotten. It wasn't until the other day, my son reminded me of the Foil Wrapped Dinners I used to make. They are perfect for a busy family. You just put all the ingredients in the foil, wrap it up in a pouch, and either bake right away, or put in the refrigerator to bake when you get home. It's that easy…and super delicious. I use Sirloin Tips when I make them, but you can use any type meat and veggie.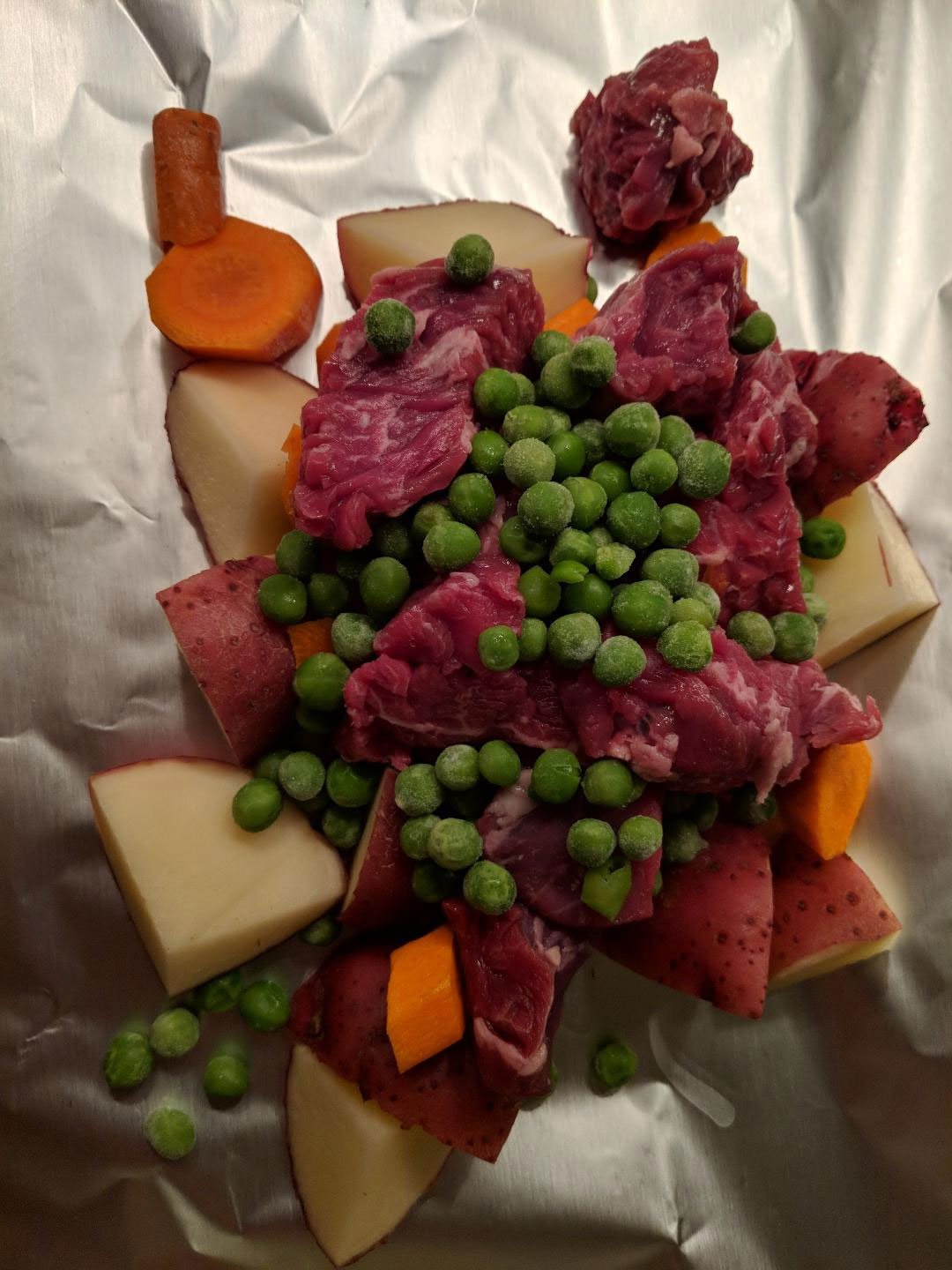 Just assemble meat and veggies on a square piece of foil.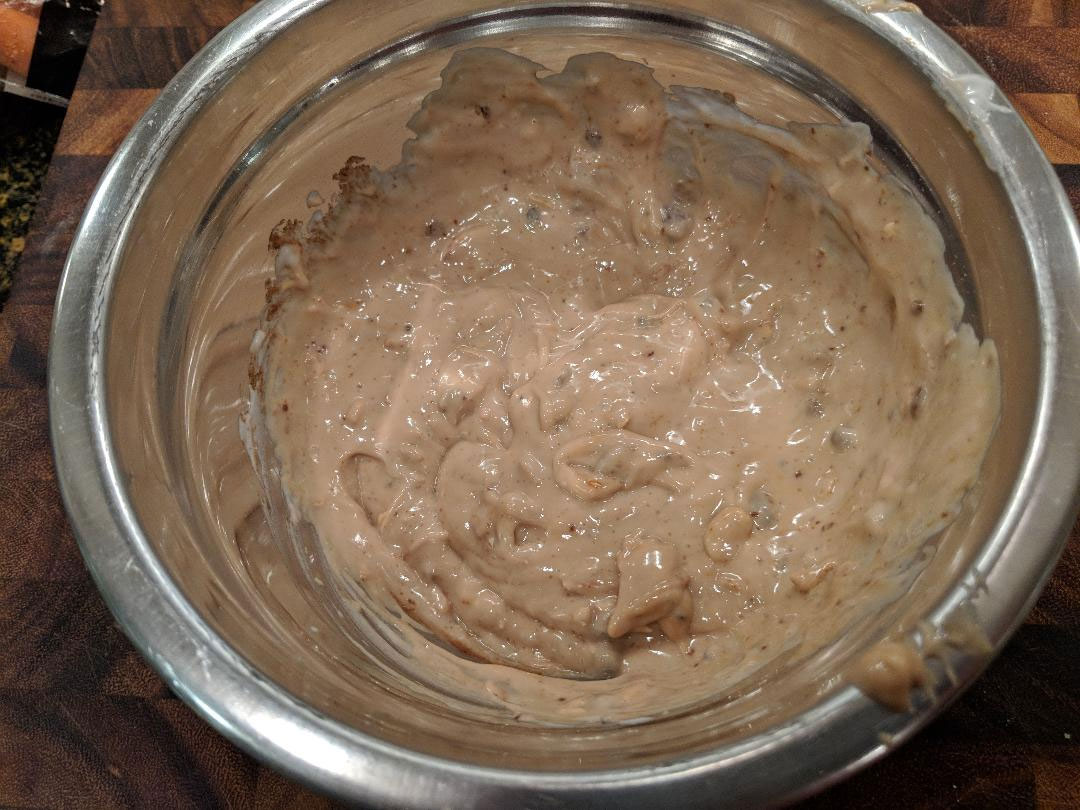 Mix dry and canned soup together.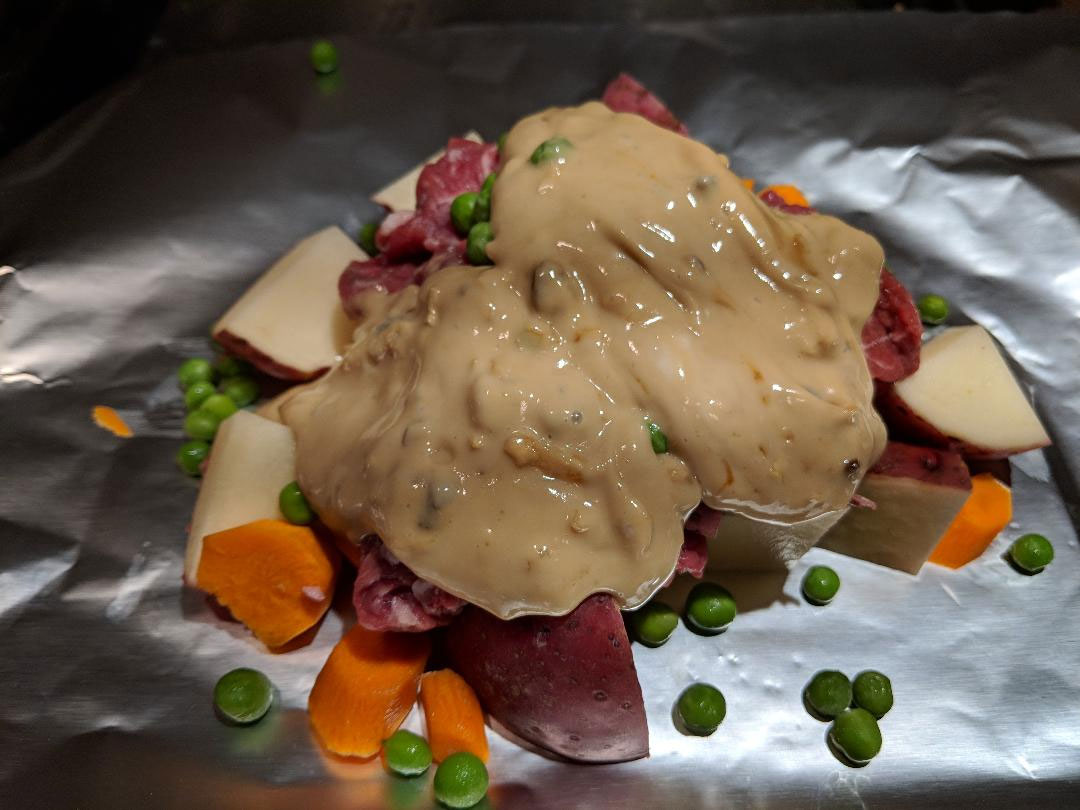 Add soup mix to meat and veggies.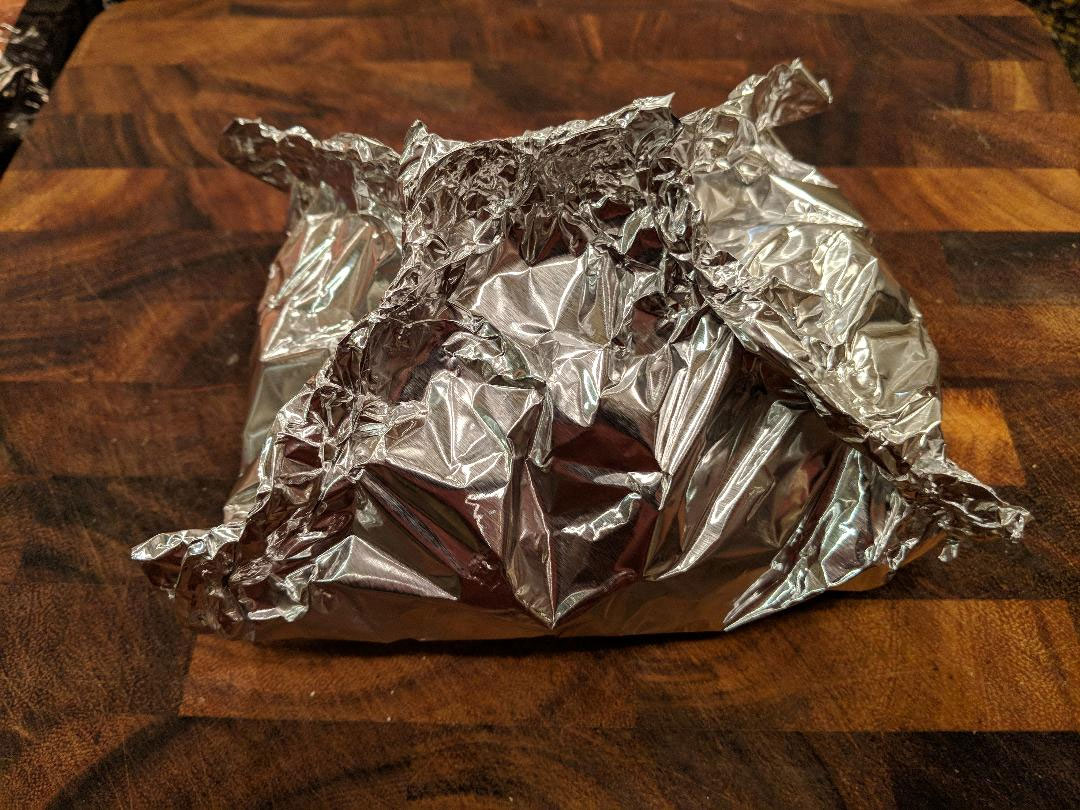 Fold pocket up like a tent, and put on a baking sheet. Bake for 50 minutes…and viola!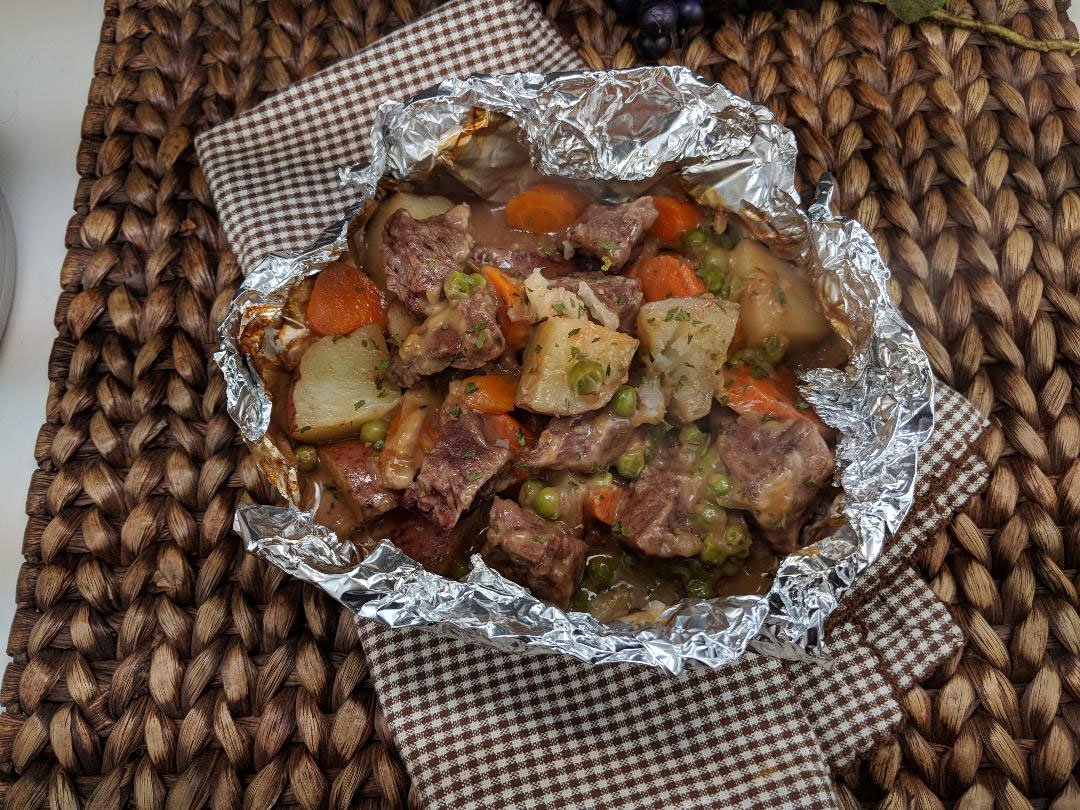 You can even get creative and put chicken in. Just can also change the canned soup flavor to Cream of Celery or Cream of Chicken. The original recipe calls for cherry tomatoes which I have never put in. I don't know why, but why mess with a good thing?
These dinners are great for busy families, when everyone gets home at a different time.
Throw them in the oven, or on the unheated side of your gas grille. Foil dinners are delicious no matter what you put in them. And most of all, the cleanup is super easy as well!
Ingredients
1 lb to 1-1/2 lbs. beef round steak (or I use steak tips)

10 oz. frozen peas

4 medium carrots, peeled and sliced thin

4 medium potatoes, peeled and cubed

1 can Cream of Mushroom soup

1 envelope dry onion soup mix
Instructions
1
Preheat oven to 450 degrees F.
2
Cut meat into bite sized pieces.
3
Tear off 4 pieces of heavy duty aluminum foil (non-stick, if you have), into four 18 X 15 inch pieces.
4
In center of each piece of foil, place 1 sliced carrot, 1 diced potato, and 1/4 of the meat.
5
Stir together mushroom soup and onion soup in a bowl. Divide soup mixture between each of the four dinners. Top with frozen peas.
6
With two opposite corners, gather in the middle. Do the same with the other two. Pinch and fold over to hold, and fold and seal the open edges of the pouch. Make sure the pouch is completely sealed. Place on ungreased baking sheet.
7
Bake 50 minutes or until meat is tender.
Notes
This a great weeknight dinner with easy clean up.
Print