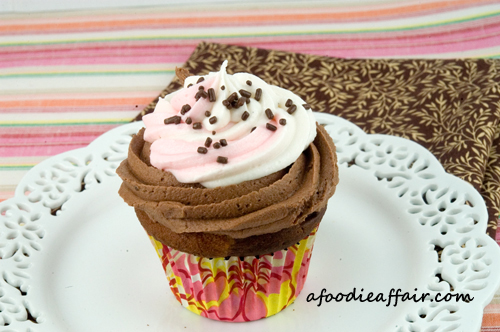 I've always wanted to make Neapolitan cupcakes, and decided to finally do it. I love vanilla, chocolate and strawberry ice cream, so why not in the form of a cupcake?
I started with two yellow (or in my case, a yellow and a white) cake mixes. I just love the texture of a cake from a cake mix, and it's less work to make, so why not? I added the ingredients to make the cakes, and measured out equal parts in three different bowls (I think I got 4 cups in each).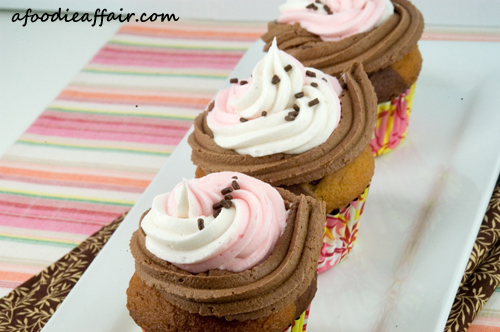 Then I added 4 pouches of pre-melted unsweetened chocolate (I used Nestle brand) to one of the bowls, and mixed in with the batter. For the strawberry, I added some strawberry extract, some strawberry jam and a little red food coloring for the red tint. Keep tasting the batter for the right amount of strawberry flavor. You can even put some finely ground fresh strawberries through a fine mesh strainer and use the pulp for flavor as well. Don't be afraid to tint with red food coloring a little darker than it looks like it should be when mixed in with the batter. After baking the color will not be so predominant. I left the third bowl alone for the vanilla.
I started to spoon the batter in to one third of the cupcake liner, and then the other third, and so on. That seemed like it was going to be pretty tedious, so I thought of something more "automated". I took the three batters, and put each one in a pastry bag.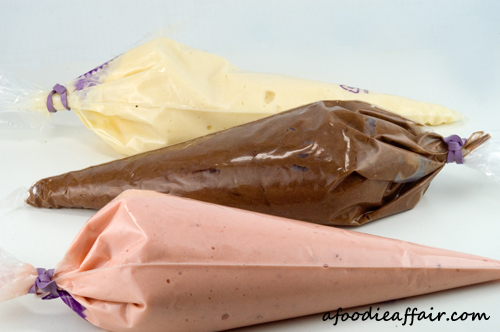 Then I took the three and put into one larger pastry bag, with no decorating tip on it. I cut the ends off the bag at the last minute, and then proceeded to fill the cupcake liners.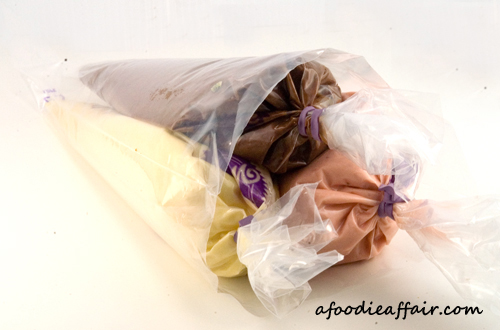 It really was a pretty fast and easy way to fill the liners with equal parts of the batter.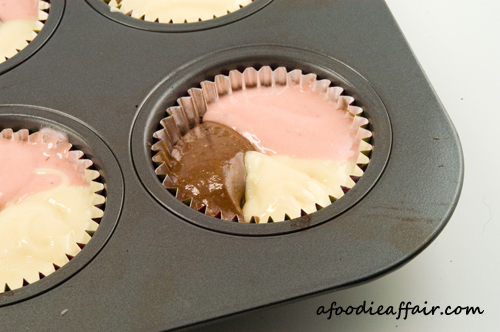 Bake as directed on box, and frost with Neapolitan Frosting, which is basically your favorite vanilla recipe, with added chocolate and strawberry as you did for the cake batter.
Print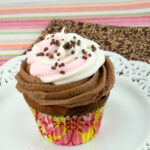 Neapolitan Cupcakes
---
Author:

Prep Time:

15 mins

Cook Time:

25 mins

Total Time:

40 mins

Yield:

30

1

x
Description
A cupcake reminiscent of Neapolitan ice cream, both in the batter and the frosting.
---
2

yellow cake mixes
water, oil and eggs as directed on cake mix package

4

envelopes (4 oz.) unsweeteded premelted chocolate

2 Tbsp

(or so) strawberry jelly

1

–

2

tsp strawberry extract
few drops red food coloring
---
Instructions
Preheat oven to 350 degrees F. Prepared cupcake pans with cupcake liners.
With an electric mixer, prepare cake mixes as directed on box.
Divide batter in to three bowls evenly.
Add unsweetened chocolate to one bowl and blend thoroughly.
Add strawberry jelly, extract and food coloring to another bowl, and blend thoroughly.
Add three different batters to three different pastry bags (I used 16″ size), and tie ends.
Put all three pouches into another pastry bag (a little larger would be ideal, although my largest was a 16″ one so I had to very carefully make sure they were all in the one bag evenly).
Cut end off of the bag, enough so the batter will come out willingly, but not too large that it will be too hard to control. Start smaller and try first, you can always make the opening bigger if you need to.
Squeeze in to the cupcake liners, and fill 2/3 full.
Bake as directed on the cake mix package.

For the Neapolitan frosting, I made my basic vanilla frosting recipe, and added the chocolate to one, and strawberry jelly and extract to the other. Its hard to say how much frosting to make for each but I would probably say about 2 cups confectioners sugar for each. I always seem to make too much, because it will be such a pain to stop in the middle and make more. You can always refrigerate and use later. I thin k I made 3 cups each for this recipe and I did have some leftover, so use your best judgement. You always use a lot more frosting when piping it on the cupcakes. I stock up on my confectioner's sugar in places like Costco, BJ's or Sam's when I can, so it's not too bad.
Print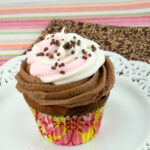 Neapolitan Cupcake Frosting
---
6

c. confectioners sugar

3/4

c. vegetable shortening

3 Tbsp

strawberry jelly

2 tsp

strawberry extract
drop or

two

red food coloring

4

pouches (4 oz.) unsweetened pre-melted chocolate

1

–

1/2

tsp vanilla extract
milk, to desired consistency
---
Instructions
With electric mixer, blend 2 cups confectioners sugar with 1/4 cup vegetable shortening.
Add vanilla, add a little milk to desired consistency.
*For chocolate, blend confectioners sugar and vegetable shortening, and add 1/2 tsp vanilla, pre-melted unsweetened chocolate and milk to desired consistency.
* For strawberry, blend confectioners sugar and vegetable shortening, and add strawberry jelly, extract ,red food coloring and milk to desired consistency.
Notes
It's very important not to make the frosting too runny when piping on with a pastry bag and tip.

I used a single 16″ pastry bag for the chocolate frosting, and piped a ring around the outside of the cupcake.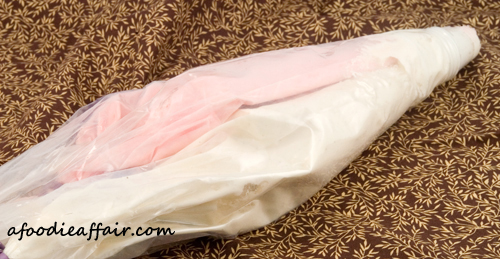 Then I filled a pastry bag each with the vanilla and strawberry frosting's. I put both bags in to one bag with a frosting tip on the one bag. Snip the ends off of the two individual bags before you put in to the one bag, and tie the top, or twist the top. Pipe frosting to fill the center of the cupcake. Sprinkle tops with chocolate sprinkles.
I realized after I filled the two individual pastry bags, that I had purchased some dual chamber pastry bags for exactly this type application. They're perfect for piping two different colored frosting's on a cupcake. Oh well, next time!