This dressed up version of garlic bread is going to woo your guests, whether it's for an outside cookout or gathering, or an inside casual dinner.
Who doesn't like garlic bread? This is a cross between Bruschetta and traditional garlic bread. It can be cooked on the grill or in a pizza oven. Although if you are like me, I prefer it in the broiler, so I start up my countertop convection oven, put it on broil, and cook in there. I love the crunchy, bubbly topping that only the broiler can create.
Honestly, anyway you make it, it is super delicious!
Print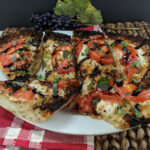 Caprese Garlic Bread
---
1 loaf ciabatta bread, sliced in half
1/2 c. unsalted butter, softened to room temperature
2 cloves garlic, minced
kosher salt
1 1/2 c. shredded mozzarella
2 large tomatoes, sliced
1/4 c. balsamic vinegar
1 tbsp. honey
2 tbsp. finely sliced basil
1 tbsp. extra-virgin olive oil
---
Instructions
Preheat oven to 350 degrees F. Place bread halves on a large baking sheet.
In a medium bowl, mash together garlic and butter then season with salt and pepper. Spread butter mixture onto both baguette halves. Bake until the bread is toasted, about 15-20 minutes.
Top the toasted bread with mozzarella and tomato slices and bake until the cheese has melted, about 5-10 minutes more.
Meanwhile, make balsamic glaze: In a small saucepan, combine balsamic vinegar and honey. Simmer until reduced by half, stirring occasionally, for 8-10 minutes (the mixture should coat the back of a spoon). Let cool.
Drizzle garlic bread with olive oil and balsamic glaze. Garnish with basil, then cut into slices and serve warm.