I have made Tyler Florence's Ultimate Barbecued Rib recipe ever since I made it the first time. They're that good. I've even renamed them Melt In Your Mouth Barbecued Ribs! Once you make them, you'll know why.
First of all, I start with some really good quality ribs. Any style, but I prefer baby back which are taken from the top of the rib cage, close to the loin of the pig. This is why they are smaller and more tender cut of meat. You can also use Pork Spareribs which are one of the most common types of pork ribs, and despite the low amount of meat, the fat content tends to make them one of the most flavorful. St. Louis style ribs are quite fatty with little meat, but make a great, flavorful cut. Country style ribs have by far the highest meat to bone ratio and will generally need a knife and fork to eat them. 
Secondly, throw out your prepared jarred barbecue sauce… you're not going to need them! You won't believe the depth of the sauce when you make your own. And it's  like a homemade marinara sauce, it takes just a few minutes and its well worth it. Home made  super easy, super tasty, and you'll never want to eat that stuff in the container again!
Third, and most important….when cutting your ribs after they are cooked, make sure to wash your hands to remove any grease, and make sure your knife handle is clean and not greasy. I cut my hand pretty good once using a knife handle that had grease on it, and my hand had grease on it. You do not have a good  grip if your hands and the knife have grease or sauce on them. The knife will slip and may cut you. Don't do what I did.
OK back to these delicious ribs…You're going to cook these ribs in the oven low and slow. Just put the ribs on a baking sheet, add salt and pepper, a little olive oil, and let bake in a 250 degree F oven for 90 minutes.
Meanwhile, make your sauce. Your not going to believe how easy it is to make this sauce. The hardest part is wrapping bacon around thyme sprigs.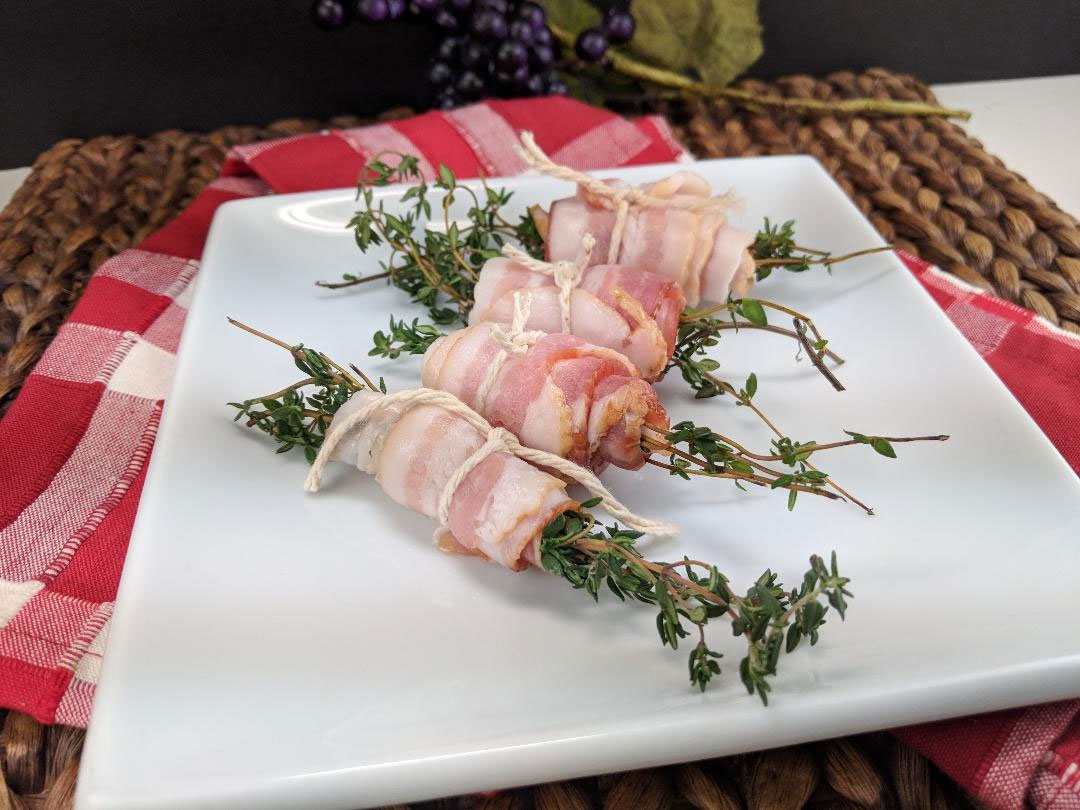 Saute in some olive oil, to get a smoky flavor and bring out the flavor in the herbs.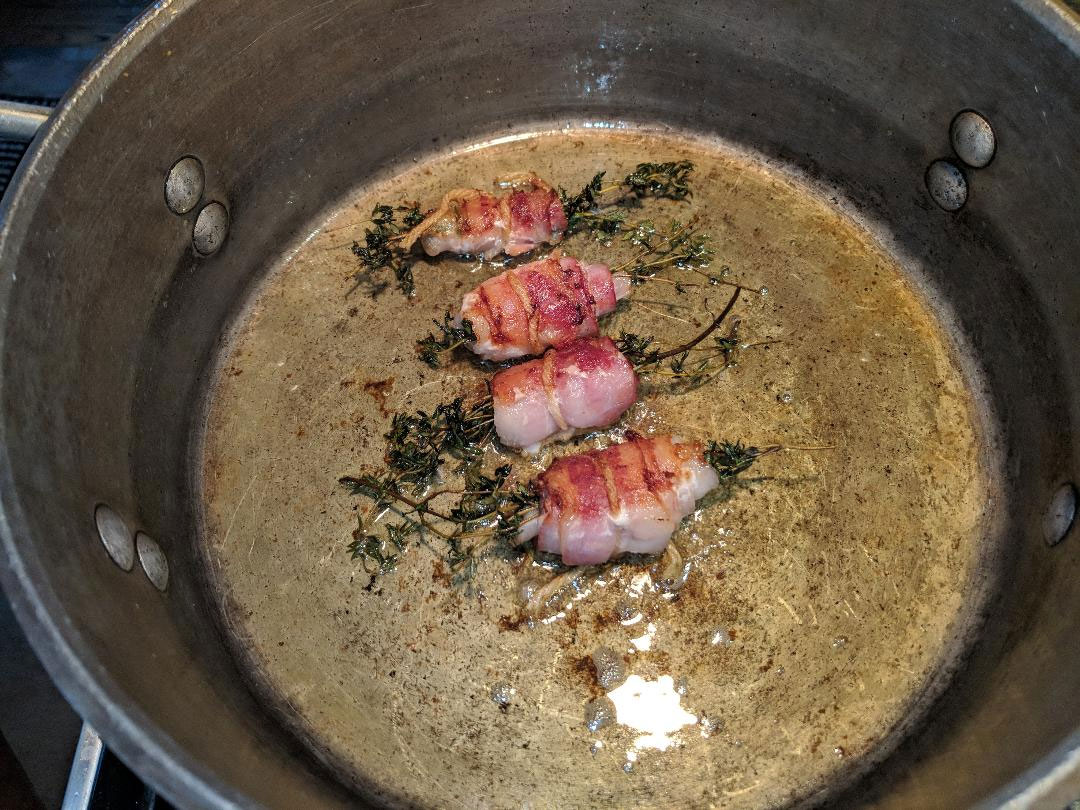 Add onion and garlic, saute. Add the rest of the ingredients and cook for about 20 minutes.
once your ribs have cooked for 90 minutes, baste with some of the sauce and continue cooking for 30 minutes,basting a couple more times. Turn up the oven to 350 degrees F just to crisp up the ribs.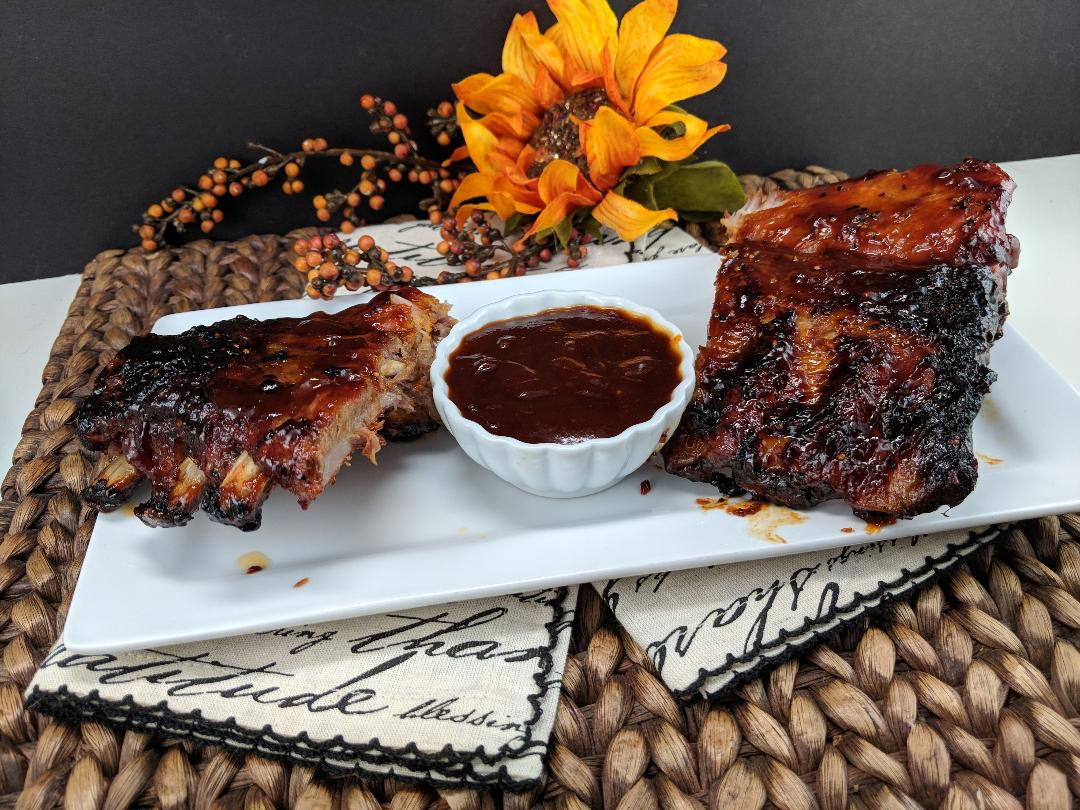 Ingredients
2 slabs baby back ribs (about 3 pounds)
Kosher salt and freshly ground black pepper
Extra-virgin olive oil
2 bacon slices
4 sprigs fresh thyme
1/2 onion
3 smashed garlic cloves
2 cups ketchup
1 cup peach preserves
2 tablespoons Dijon mustard or 1 tablespoon dry mustard
2 tablespoons brown sugar
1/4 cup molasses
2 tablespoons red or white wine vinegar
1 teaspoon ground cumin
1 teaspoon ground paprika
Instructions
1
Preheat the oven to 250 degrees F. Put the ribs on a baking sheet, season with salt and pepper and drizzle with olive oil. Stick them in the oven, and let the ribs bake, low and slow for 1 1/2 hours.
2
Meanwhile, make the sauce. Wrap the bacon around the middle of the thyme sprigs and tie with kitchen twine so you have a nice bundle. Heat a 2-count of oil in a large saucepan over medium heat. Add the thyme bundle and cook slowly for 3 to 4 minutes to render the bacon fat and give the sauce a nice smoky taste. Add the onion and garlic and cook slowly, without coloring, for 5 minutes. Add all of the rest of the sauce ingredients, give the sauce a stir, and turn the heat down to low. Cook slowly for 20 minutes to meld the flavors. Put some sauce in a separate bowl for basting, reserving the remaining sauce for serving.
3
Baste the ribs with the sauce and let them continue cooking, basting twice more, for 30 more minutes. When the ribs are cooked, take them out of the oven. You can let them hang out like this until you're ready to eat.
4
When ready to eat, preheat the broiler for 5 minutes and broil the ribs, basting with the sauce. They should become crisp and charred, about 5 minutes on each side. Pick the onion and garlic out of the sauce and serve with ribs.