I got the inspiration for this trifle from Spcookiequeen. Seeing how much I LOVE lemons, I thought this would be the perfect thing to make.
I don't know about anyone else, but every time I go to make a cake from scratch, it comes out too dry or heavy for my liking. So I have been making boxed cake mixes with additions. So when I thought lemon cake, I went right to Lizzy's blog at "Your Cup of Cake". She has the best ideas for cupcakes, and recipes to doctor up those cake mixes. I have made several of her recipes and they have all come out beautiful. The lemon cake came out moist, very flavorful, and down right delicious. I could've eaten it all by itself.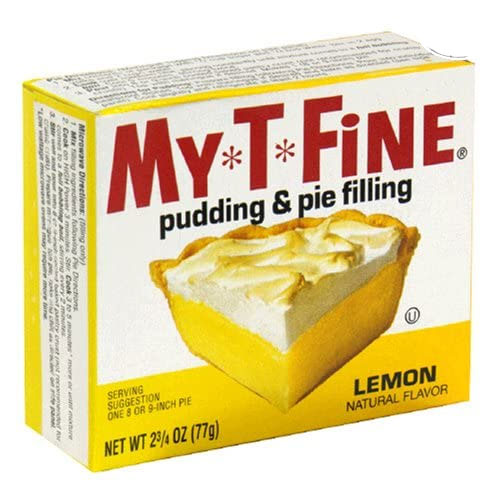 Now, I've made lemon curd before and it is delicious, but I didn't want to mess with making it from scratch. I try to save time on everything I do these days so shortcuts are king. So, even though I will post the recipe as Gina did, I used a box of Lemon pudding and pie filling (pictured above). This can be found in your local grocery store or even on Amazon. It's great in a pinch, and I doubt anyone will ever notice.
I used regular cream cheese instead of Mascarpone cheese. I don't know why, but I had in my head that the recipe called for cream cheese, not Mascarpone cheese. So I bought cream cheese. I just added 4 Tbsp sour cream to the mixture. And it turned out excellent.
I did make the Raspberry-Lime Coulis myself. There is no substitution for that. It came out so good I could drink it. And the combination of the creamy, lemony trifle, drizzled with the tart, raspberry sauce, is nothing but a party for your taste buds.
This recipe will truly knock your socks off!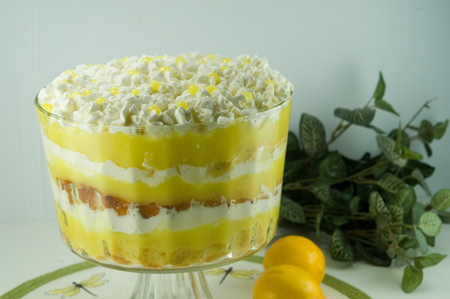 Print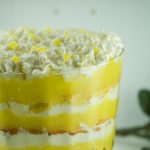 Lemon Mascarpone Trifle
---
Description
Deliciously decadent. Well worth the preparation. Can shortcut the lemon curd by using jarred or making a boxed version.
---
Cake:
1 box lemon cake mix
1 cup sour cream
1/4 cup fresh lemon juice
1/2 cup milk
3/4 cup oil
4 eggs
Zest of 1 lemon
1 small box lemon instant pudding mix
Lemon Curd:
3 large eggs
3 large egg yolks
1 cup granulated sugar
3/4 cup freshly squeezed Meyer lemon juice
4 tablespoons cold unsalted butter, cut into 1/2 inch pieces
Mascarpone Cream:
2 cups heavy whipping cream
1 pound mascarpone cheese
1/4
cup
granulated sugar
1 teaspoon Meyer lemon zest
Raspberry-Lime Coulis:
12 oz. fresh raspberries (or thawed if frozen)
5 – 7 Tbsp granulated sugar
1/8 tsp salt
1 Tbsp lime juice
---
Instructions
Cake:
Preheat oven to 350 degrees. Grease and flour two  8″ or 9″  round cake pans.
In a large bowl, mix sour cream, lemon juice, milk and oil together.  Add eggs one at a time until fully incorporated.
Add zest, cake mix, and pudding mix slowly while stirring.
Bake for 30 minutes or so, or until a cake tester come out clean.
Lemon Curd:
Fill a small pot with a couple inches of water and place a heat proof bowl on top of that and bring the water to a boil.  You don't want the bowl touching the water.
Place the eggs, egg yolks, and sugar into the top of the double boiler and whisk until blended. Add the lemon juice and mix well.  Reduce the heat until the water is at a gentle boil.  Whisk the mixture constantly for seven minutes until the mixture is very thick.   Don't let the curd boil.
Immediately strain the curd through a fine sieve set over a medium bowl.  Use a spatula to push the curd through and discard any bits.  Add the cold butter to the curd and whisk until melted. Press a piece of plastic wrap directly on the surface of the curd.  Once completely cooled store in the fridge until needed.
Mascarpone Cream:
Place the whipping cream in the bowl of a mixer or use a hand mixer to whip the cream until stiff peaks form. Set aside.In another bowl add the mascarpone cheese, sugar and lemon zest, mix till combined.  Fold the whip cream into the cheese mixture.Assembling the trifle:Remove the lemon cakes from their pans and slice each cake in half.  Use a long serrated knife and make a cut half way down from the top of the cake, rotating the cake as you cut.  Don't worry if they break, because you are layering them anyways.  You will have 4 layers when you are finished.Place one of the cake layers on the bottom of a trifle bowl.Divide the curd into four portions visually. Spread a fourth of the lemon curd on top of the cake layer.Divide the mascarpone cream into four portions visually.  Spread a fourth of the mascarpone cream on top of the curd and make sure you push it to the edges.Add another layer of cake and top it with another layer of curd and then follow with the mascarpone cream.  Repeat.For the top layer put the remaining mascarpone cream into a piping bag with a 1M tip and piped the top, and then put a small amount of the curd into a piping bag and piped small dots on top of the cream to resemble flowers.
Note: Of course this method only works perfectly if your trifle bowl is as big as the cake rounds. If not, just piece in as best as you can. After all, its a trifle, and when you dig in to it, no one is ever going to know if they were put in whole or not.
Raspberry-Lime Coulis:
In medium saucepan, bring berries, 1/4 cup water, 5 tablespoons sugar, and salt to bare simmer over medium heat, stirring occasionally; cook until sugar is dissolved and berries are heated through, about 1 minute longer.
Transfer mixture to blender or food processor; puree until smooth, about 20 seconds. Strain through fine-mesh strainer into small bowl, pressing and stirring puree with rubber spatula to extract as much seedless puree as possible. Stir in lime juice and additional sugar, if desired.
Cover with plastic wrap and refrigerate until cold, at least 1 hour. Stir to recombine before serving. (If too thick after chilling, add 1 to 2 teaspoons water.) Can be refrigerated in airtight container for up to 4 days.
Notes
Can short cut this by using My T Fine Lemon Pudding and Pie Filling on the stove. Just as delicious and saves time.