I pinned these great Glazed Doughnut Muffins from Sweet Pea's Kitchen blog, and never got to make them. Wow! Was I missing out!
The taste and texture of these muffins (I almost said doughnuts) is exactly like a homemade doughnut! The spices are perfect (you can even see them in the close up above)! The crumb is perfect in my opinion. Dunked in the sweet glaze, and you've got a slice of heaven! They are that good! What's not to like about tender muffins spiced perfectly with cinnamon and nutmeg, dunked in some sweet and slightly spice with cinnamon glaze???
They are super easy to make. I doubled the recipe as I was taking these to church, and 12 are just no where near enough. The only problem with doubling is, you can't forget you're doubling the recipe, and mess up with the measurements of any of the ingredients. It might not be a bad idea to write down the doubled recipe so you'll know everything's right.
I forgot to change my rack to the next level up in the oven, so they scorched a little on the bottom. So, make sure to raise your oven rack up one level, and watch them in the oven. They were still delicious, and that gives me an excuse to make them again next week to get it right!

I added a little cinnamon to the glaze also. You could also add a little orange zest to the glaze.
Seriously, these muffins are one's you want to make sooner than later. They are perfect for this cold winter's day (and anytime of year) with some piping hot coffee.
Print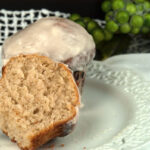 Glazed Doughnut Muffins
---
For the Muffins:

1/4 cup

butter

1/4 cup

vegetable oil

1/2 cup

granulated sugar

1/3 cup

brown sugar

2

large eggs

1 1/2 teaspoons

baking powder

1/4 teaspoon

baking soda

3/4 teaspoon

ground nutmeg

1 teaspoon

cinnamon

3/4 teaspoon

salt

1 teaspoon

vanilla extract

2 2/3 cups

all-purpose flour

1 cup

milk
For the Glaze:

3 tablespoons

butter; melted

1 cup

confectioners' sugar; sifted

1/2 teaspoon

vanilla

2 tablespoons

hot water
Sprinkle of cinnamon
---
Instructions
Preheat oven to 425 degrees F. Line 12 muffin cups with muffin liners or spray with nonstick cooking spray.
In the bowl of a stand mixer fitted with the paddle attachment, beat together butter, vegetable oil, and sugars till smooth. Beat in eggs, one at a time. In a separate bowl, mix baking powder, baking soda, nutmeg, cinnamon, salt together. In a 2 cup measuring cup, add milk and vanilla. With mixer on low speed, stir the flour mixture into the butter mixture alternately with the milk, beginning and ending with the flour and mixing until just combined. Do not overmix!
Spoon batter into cups, filling the cups, and smooth tops. Divide batter equally among prepared muffin cups. Bake until muffin tops are a pale golden and springy to the touch, 15 to 17 minutes, rotating halfway through baking time. Cool muffins in muffin tin for 5 minutes, then transfer to wire rack and cool before glazing.
To make the glaze, In a medium bowl mix together the melted butter, confectioners' sugar, vanilla and water. Whisk until smooth.
When muffins have cooled slightly, dip the muffin crown into the glaze and allow the glaze to harden. Once hardened, dip a second time and allow to harden then serve.