Beets are one of my favorite vegetables. And Pickled Beet Salad is right in that category! They are basically available all times of the year, although my "fresh from the local vegetable farm stand" are my favorites! There's nothing like knowing these precious gems were just pulled from the ground.
Even as a child, I remember eating those pickled beet from the jar. To this day, I always have some on hand for a quick vegetable for a weeknights supper, or to add to a warm summer's night meal.
I never really realiazed the health benefits of beets (beyond the obvious), until I Googled it. Here they are….
1.) Beets are nature's Viagra (Beets contain high amounts of boron, which is directly related to the production of human sex hormones).

2.) Beets are high in many vitamins and minerals (Potassium, magnesium, fiber, phosphorus, iron; vitamins A, B & C; beta-carotene, beta-cyanine; folic acid)

3.) Beets cleanse the body (They are a wonderful tonic for the liver, works as a purifier for the blood, and can prevent various forms of cancer)

4.) Beets help your mental health (Beets contain betaine, the same substance that is used in certain treatments of depression. It also contains trytophan, which relaxes the mind and creates a sense of well-being, similar to chocolate)

5.) Beets are used as a stomach acid tester (Nutritionists use beets and beet juice to test stomach acid levels)

6.) Beets are a high source of energy (At the same time they are low in calories and high in sugar (although the sugar is released into your system gradually, as opposed to chocolate)

Here's some added benefits:
1.) Lower Your Blood Pressure (The naturally occurring nitrates in beets, which are converted into nitric oxide in your body. Nitric oxide, in turn, helps to relax and dilate your blood vessels, improving blood flow and lowering blood pressure)
2.) Boost Your Stamina (nitrates turning into nitric oxide, which may reduce the oxygen cost of low-intensity exercise as well as enhance tolerance to high-intensity exercise)

3.) Fight Inflammation (Beets are a unique source of betaine, a nutrient that helps protects cells, proteins, and enzymes from environmental stress)

4.) Anti-Cancer Properties (The powerful phytonutrients that give beets their deep crimson color may help to ward off cancer)

Some added benefits of eating the beet greens:
1.) Help ward off osteoporosis by boosting bone strength
2.) Fight Alzheimer's disease
3.) Strengthen your immune system by stimulating the production of antibodies and white blood cells

I've always wanted to make my own, but just never seemed to get around to it. Well, I finally got around to it! And am I glad I did!
Print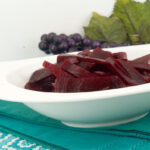 Pickled Beet Salad
---
Author:

Prep Time:

15 mins

Cook Time:

25 mins

Total Time:

40 mins

Yield:

4

1

x
3

very large beets

2 Tbsp

sugar

1/3 cup

white vinegar

2 tsp

salt

2/3 cup

water
---
Instructions
Boil beets whole in a large pot of water at a rolling boil until cooked, about 20 to 25 minutes. Drain well. When cool enough to handle, slip off skin. Slice in to chunks, slices or julienne slices. Place beets in a non-reactive bowl and set aside.
for the marinade, in a small saucepan, combine sugar, vinegar, salt and 2/3 cup water, and bring to a boil over high heat. Simmer 5 minutes.
Pour hot marinade over beets, and cool to room temperature. Cover the beets well and refrigerate for several hours or overnight before serving.
Note: Can also add a large red onion, sliced if desired. Add onions to marinade mixture, and prepare marinade as directed.
Notes
Make sure to boil whole. Beets dry out if cut before boiling. This recipe is meant to be eaten within a few weeks of making it.
These pickles beets remind me of those beets in the jar, and if you can't make these, you can't make anything. That's how easy they are! I'm sure you can can these very easily, although mine will not last that long unfortunately.