I was looking to make a basic salad festive for the holidays and decided to make a layered salad. Of coarse, no salad is complete without home made salad dressing. So I made my Honey Mustard Vinaigrette and White Balsamic Vinaigrette.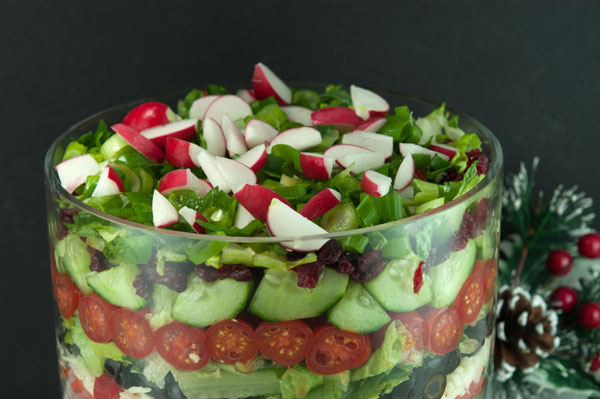 I chose to make the layers in holiday or winter colors, but you can change things up for a Thanksgiving salad by adding dried cranberries, etc. For thee summer you can add canned mandarin oranges, fresh pineapple, scallions, or really anything you choose. For the Fourth of July, add some blueberries. They are the perfect option for the blue, and are super good for you! The options are endless. Since we eat with our eyes, this sure does make an otherwise plain ole salad festive! It's hard to believe something so beautiful is so easy to make!
Print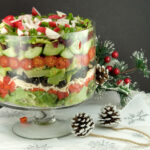 Layered Winter Salad
---
Any kind of lettuce, torn into bite sized pieces
Cucumbers
Cherry tomatoes
Black olives
Cheddar cheese
Red pepper
Scallions
Dried Cranberries
Radishes
---
Instructions
Wash, peel and cut vegetables into bite sized pieces. Start layering with the lettuce layer. Try to make two full layers in trifle dish so another layer of lettuce is in the middle.