I have to admit, when I first saw this  Italian Sausage & Cabbage Soup it had me wondering, how can something so pale be tasty?
I just had to make it to find out. After all, it's either going to be "souper" good or terribly bad. Either way, it's only soup, I think I'll survive…and you never know unless you try it. Right?
It's super easy to make. Basically  brown sausage, add onion and garlic, add liquid, and add veggies. Nothing could be easier.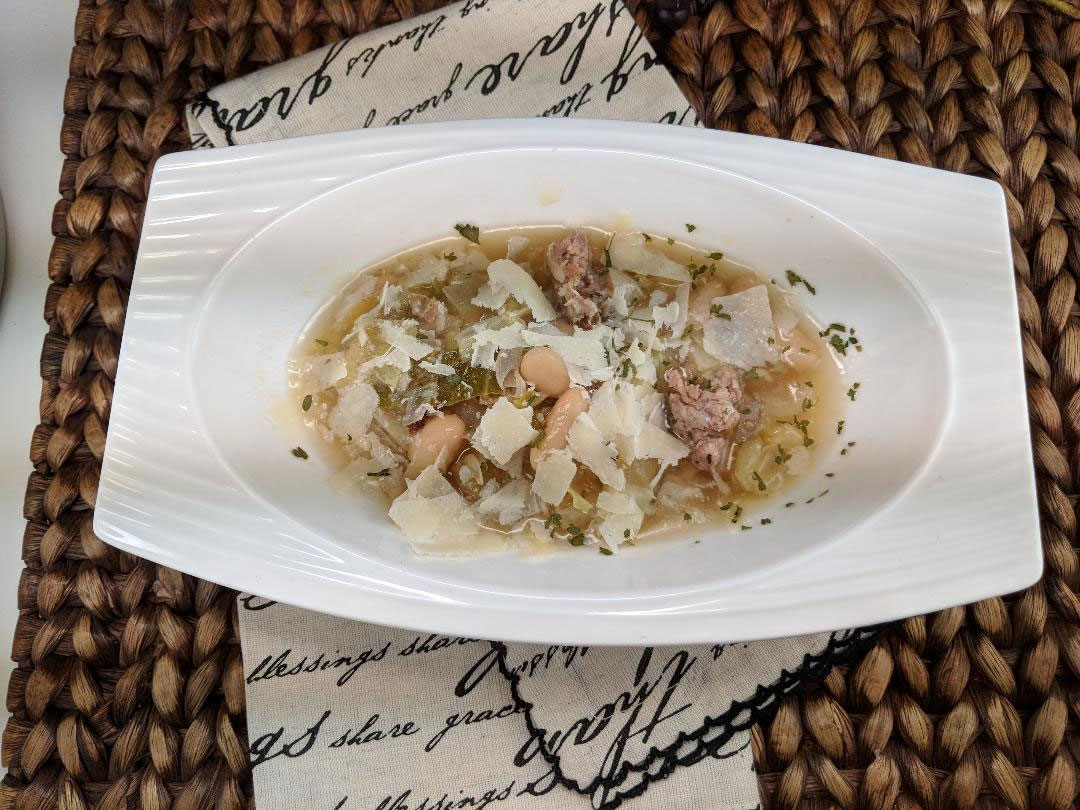 Would it help to know I made this soup on an 80 degree day? It doesn't matter to me, I can eat good soup anytime.
I have to say, I tried it right after it was done, and it tasted pretty good. The only thing I added from the original recipe from Simply Recipes was some coarsely ground black pepper and grated (yes, from the bottle) Parmesan cheese. I know they say to garnish with fresh Parmesan cheese, but I didn't have any when I tasted it, so I added to the soup. It was pretty good!
I did have a bowl with the fresh Parmesan cheese and it was delicious! What doesn't taste good with freshly grated Parmesan cheese?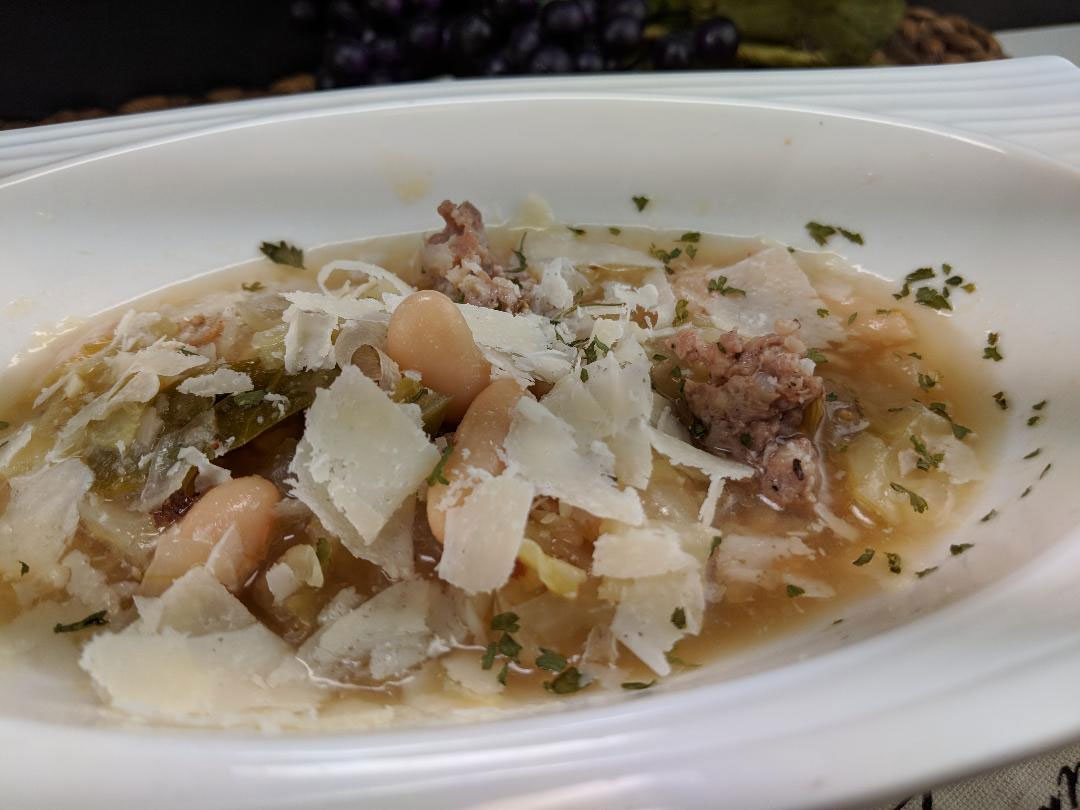 Ingredients
1 Tbsp olive oil

1 pound sweet Italian sausage, bulk, or removed from casings

1 large yellow onion, half sliced and half minced

2 garlic cloves, minced

1- 1/2 cups white wine

1 15-ounce can of white beans (Cannellini, Great Northern, or Navy), drained

1 quart vegetable or chicken stock

1 quart water

1 teaspoon salt, more to taste

1 large (2-pound) savoy cabbage, quartered, then sliced into 1/4-inch thick slices (could also use regular cabbage as well)

2 bay leaves

1/2 cup chopped parsley, loosely packed

1/4 cup grated Parmesan cheese for soup

1/2 cup to a cup of freshly grated Parmesan or Pecorino cheese for garnish
Instructions
1
Cook the sausage: Heat the olive oil on medium heat in a large (8-quart), thick-bottomed pot. Add the sausage, breaking it up into pieces as you put it into the pot in a single layer.
2
When the sausage has cooked on all sides, remove it with a slotted spoon and set aside.
3
Sauté onions, garlic: Add the minced onion (save the sliced onion for later) and sauté for 3-4 minutes, stirring often.
4
Once the onions give up some of their water, use a wooden spoon to scrape up any browned bits from the bottom of the pot.
5
Add the minced garlic and cook for another 1-2 minutes.
6
Add wine, beans, boil, lower heat to simmer: Add the white wine and the beans and bring to a rolling boil. Reduce to a simmer. Cover and cook for 10 minutes. If you want, for a thicker base, use an immersion blender to blend some (or all) of the beans and onions.
7
Add water, stock, salt, cabbage, sliced onion, bay leaves, sausage, then simmer: Add the water, stock, salt, cabbage, sliced onion half, bay leaves and browned sausage. Bring to a boil, reduce heat to a simmer. Cover and simmer for 10 minutes, then uncover and continue cooking until the cabbage is tender, about another 10-20 minutes. Add 1/4 cup grated cheese.
8
To serve, sprinkle on chopped parsley and grated cheese.