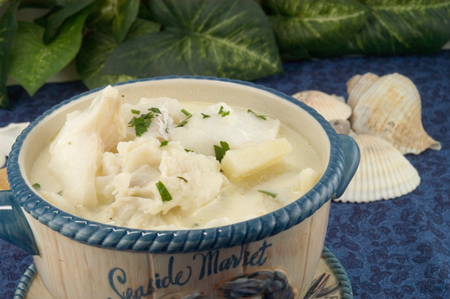 I love fish chowder. And the best place I've ever had it is the Dolphin Restaurant in Harpswell, Maine. It is virtually "loaded" with fish that taken right off the boat…literally. And, every bowl comes with a gigantic Blueberry Muffin! What could be better than sitting, looking out at the ocean, slurping on a big bowl of fish chowder, and a Blueberry Muffin on a beautiful Summer's day? Not much!
But if you can't go to the Dolphin Restaurant, I think this chowder comes darn near close. Its based on Jasper White's recipe which uses a whopping 3 pounds of fish. The bottom line is making sure the fish goes in at the end, so it stays in big chunks without much stirring. If you use Cod it will break apart a little more easily than Haddock. Either way, it is delicious.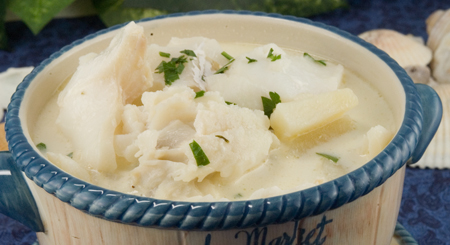 Author:
This chowder is loaded with fish, potatoes and cream.
Ingredients
4 oz. salt pork
2 Tbsp butter
2 medium onions, chopped
6-8 sprigs thyme, leaves only
2 bay leaves
2 lb. potatoes (about 5-6), diced
2 bottles clam juice
1 can chicken broth
2 c. water
3 lb. haddock, skinned & boned
1-1/2 c. heavy cream
1 c. half & half
Render fat from salt pork. R
Instructions
Render fat from salt pork. Remove pieces. Add butter, onions, thyme & bay leaves; cook 5-8 minutes. Add potatoes, clam juice, chicken stock & water to half fill an 8 qt stockpot. Make sure you slightly cover the potatoes. Cook potatoes 10 minutes. Add salt & pepper. Add fish and cook for 5 minutes. Remove pan from heat; let sit for 10 minutes. Gently stir in cream.
* Can substitute milk for some or all of the cream, depending on how rich you would like the chowder. Try to keep the stirring to a minimum so the pieces of the fish stay as whole as possible.