What's in a name? The Amish call these "Whoopie Pies".  Some call these "Moon Pies". I call them "Black Moons".  Everyone has to have memories of these sweet little cakes in their childhood!
Some use egg whites and confectioners sugar in their cream. Some use Marshmallow Fluff and Confectioners sugar. Some like me, use all three. This is my Maternal Grandmother's recipe through and through.
The cake is a perfect density…not too soft but not too stiff. The cake is just right. The marshmallow cream filling is delicious. A filling like you have never tasted.I have seen filling recipes that sound like frosting I make from scratch for cakes. Its too rich and sweet for the filling in these.
I remember my Grandma every time I make them. These are truly "comfort food" to me!
Print
Print
Ingredients
Cake:
2 c. flour
½ tsp. salt
½ tsp. baking powder
1-½ tsp. baking soda
½ c. Crisco shortening
1 c. sugar
1 egg
1 c. milk
1 tsp. vanilla
½ c. cocoa
Filling:
3/4 c. Crisco shortening
1/2 c. marshmallow fluff
1 c. confectioners sugar
1/2 tsp. vanilla
pinch salt
2 large egg whites (or 1 jumbo)
Instructions
1
For the cakes, make sure your oven rack is one up from the bottom of the oven. Preheat oven to 425 degrees F.
2
Sift flour, salt, baking powder & soda together and set aside.
3
Using an electric mixer, blend shortening and sugar until blended. Add egg. Beat in milk and vanilla.
4
Turn mixer to low speed and add sifted flour mixture. Add cocoa and mix completely.
5
Drop by tablespoonfuls onto ungreased cookie sheet, and bake for 6-7 minutes. Cool completely on cookie rack. Fill with cream.
6
Note: Keep a watch of these as they can burn easily on the bottom. Unfortunately its hard to tell if they are getting brown.
8
Beat shortening and marshmallow fluff together.
9
Slowly, add confectioners sugar and blend well.
10
Then add vanilla, salt and egg whites.
11
Blend thoroughly, and fill each cake half when cooled. Top with other half.
12
Refrigerate if not using right away.

Marshmallow Fluff is made right here in New England. I grew up eating "peanut butter and fluff". It is also available in Raspberry and Strawberry flavors. Wanna know the history of Marshmallow Fluff? Check this out.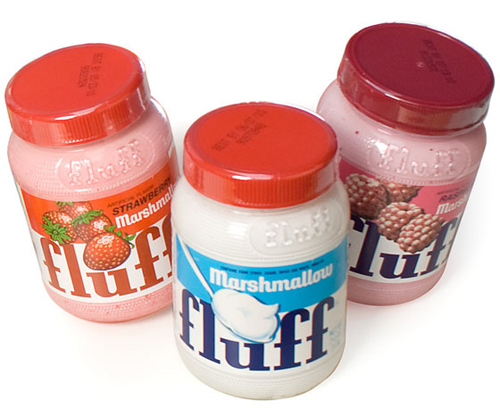 Check out my Black Moons with Chocolate Mascarpone Filling here.