I grew up on this recipe for Mom's Chop Suey. My Mom is 92, and was brought up to cook with what they had on hand. Grocery stores were not on every corner as they are these days, and money was in short supply. So many of the recipes I publish here are meals I remember growing up; Hamburger Stew, Chicken Stew, American Chop Suey, and now this Chop Suey recipe. They are simple, easy to make, and super delicious.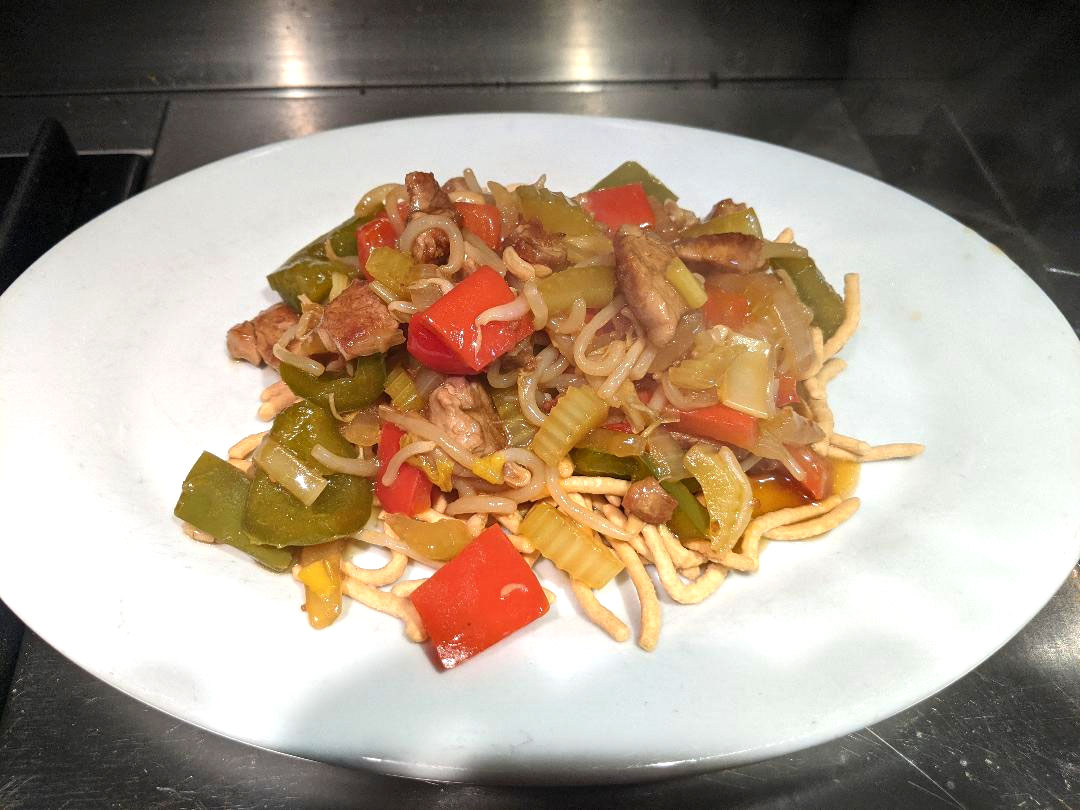 The mindset was different in those days. It was something like one of those food shows that they give you a few ingredients and expect you to make something from it. These days we see a published recipe and run to the store for the ingredients we don't have.
Chop Suey sandwiches were also a big thing when I was growing up, and are still sold at two takeout stands at the Salem Willows Seaside Park in Salem, MA. The Chop Suey sandwich is often associated with Summer for the people of Salem who recall the lunch wagons rolling out to serve beachgoers and visitors to the casino, the pavilion, the carousel and Restaurant Row. Woodman's of Essex, MA also offers Chop Suey sandwiches.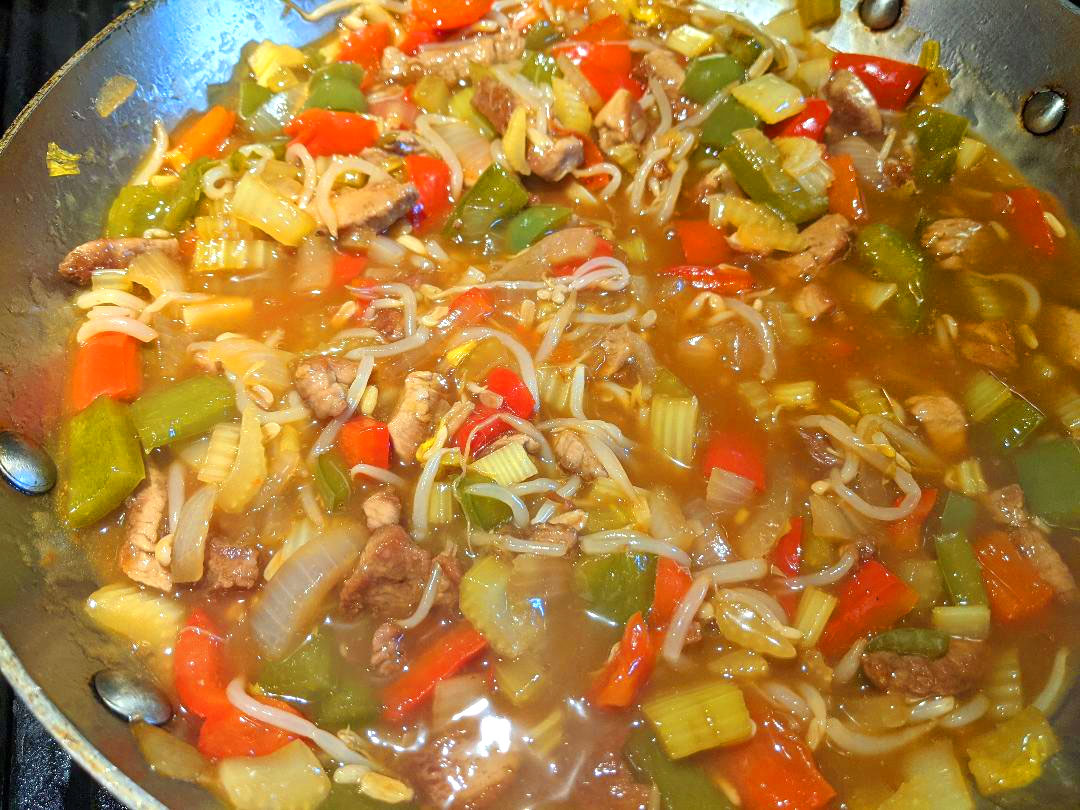 Some say they came from Chinese American immigrants working on the railroad. Another myth is that, in the 1860s, a Chinese restaurant cook in San Francisco was forced to serve something to drunken miners after hours, when he had no fresh food. To avoid a beating, the cook threw leftovers in a wok and served the miners who loved it and asked what dish is this—he replied "chopped sui". Although there is no final evidence were Chop Suey came from, I will attest that it is delicious!
I have always made mine from Pork. You can use chicken, beef or what ever you like. I have made it with pork chops as my Mother did, but think the pork is too tough. I make mine with pork tenderloin. It is not very expensive and the results are far better than the pork chops if you want the meat to be tender. I just slice some slices off of the tenderloin and saute until browned in a fry pan like you would pork chops. That way you still get the brown fond in the bottom of the pan that will give the Chop Suey its super flavor.
This chop suey has a ton of flavor. It comes from the browning of the pork, and the delicious flavor of the peppers, onions, celery and soy sauce. This is so good you'll go back for more, and want it for lunch the next day.
Ingredients
1-1/4 lb pork tenderloin, cut into 1" thick slices
2 tablespoons butter, melted
2 cups white onions, chopped
2 cups celery, chopped
1 large green bell pepper, chopped into a large dice
Black pepper
2 -3 cups water
2 Tbsp low sodium soy sauce (to put in with vegetables while cooking)
1 28-ounce can bean sprouts, or fresh
Sauce:
3 Tbsp cornstarch
1 Tbsp granulated sugar
4 Tbsp low sodium soy sauce
4 Tbsp water
Instructions
1
Over a medium high heat, add butter to skillet and melt. Add pork tenderloin to skillet and cook until lightly browned on both sides and cooked through. I cover skillet so pork cooks through better and grease doesn't spray all over the stove. Use a instant meat thermometer if you are not sure of pork is cooked throughout; temp should be 160 degrees F. Remove to a plate. Do not clean out bottom of pan.
2
Add the chopped onion, peppers and celery and stir fry for a couple of minutes. Do not brown vegetables (they may have a brown color to them due to the fond in the pan from the pork, which is OK). Add enough water to just cover vegetables; add 2 Tbsp soy sauce. Cook over low to medium heat, until vegetables are cooked but still crisp. In a separate cup combine cornstarch, soy sauce, sugar, pepper and a little water. Stir to combine ingredients.
3
Add cornstarch mixture to vegetables. Cut pork tenderloin into bite sized pieces and add to vegetables. Cook on medium heat until thickened, stirring occasionally. Add the bean sprouts and heat throughout.
4
If mixture is too thick, thin with a little water. Not thick enough, add a little more cornstarch mixed with water to the mixture.
5
Serve on hamburger rolls, over chow mein noodles, white rice or all by itself.