I don't know about anyone else, but in these uncertain times I am being drawn to carbs. Maybe its because we have to get creative and eat at home every day, but I keep eating carbs.
This Tortellini Salad makes a bunch, so even if its just for your family, you'll have loads for lunches or snacks.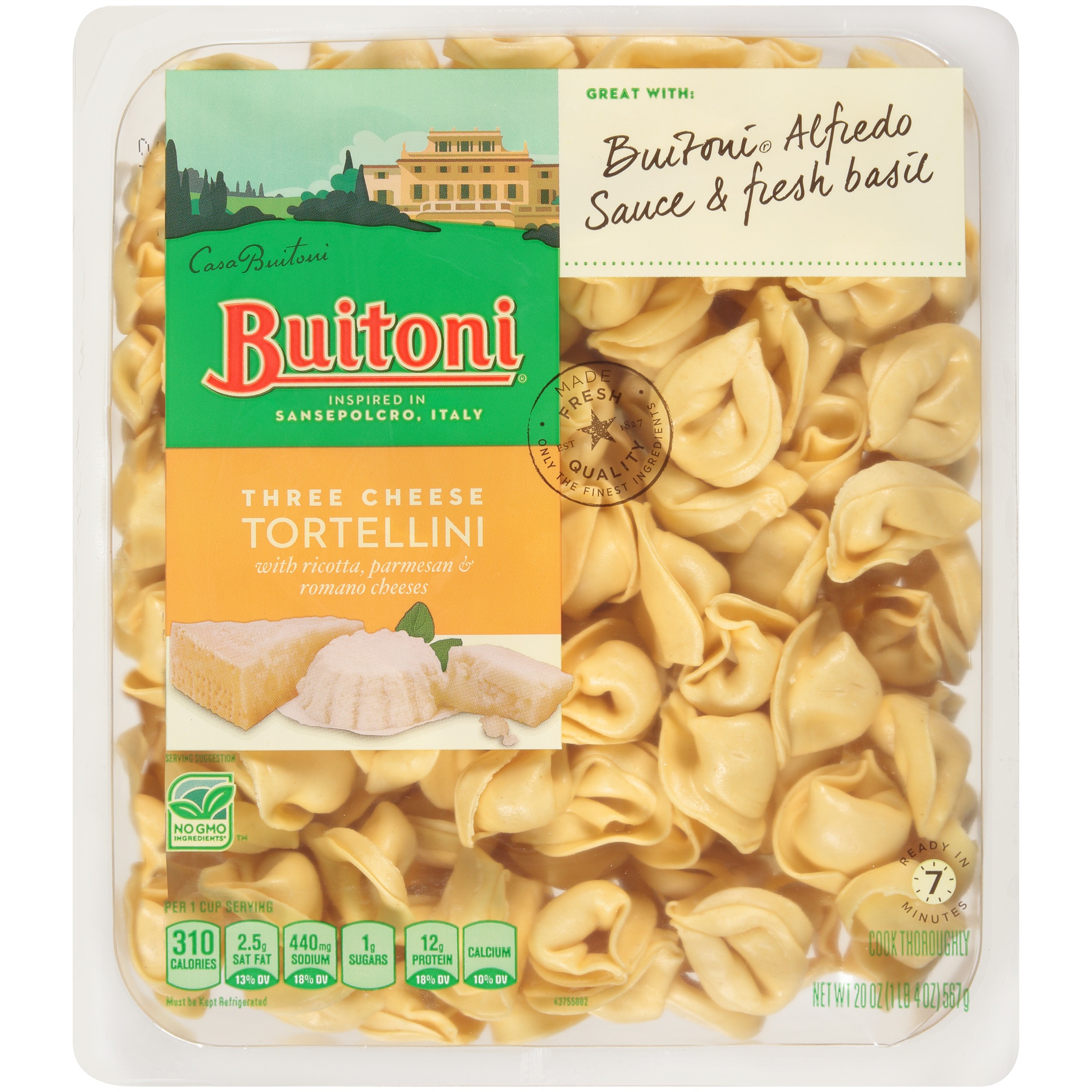 Its also great to bring to pot lucks, picnics or family get together's, if we ever get to enjoy them in the future!
This salad is full of flavor, veggies and goodness. It keeps in the fridge for days, so make extra.
It's also one of those recipes that I don't measure. So the amounts in this recipe certainly don't have to be exact. The ingredients can be changed to suit whatever you like. Whatever you put in, make sure you use lots of herbs (fresh if possible, or dried). If using tomatoes, only use whole cherry. Sliced tomatoes will get mushy for any leftovers.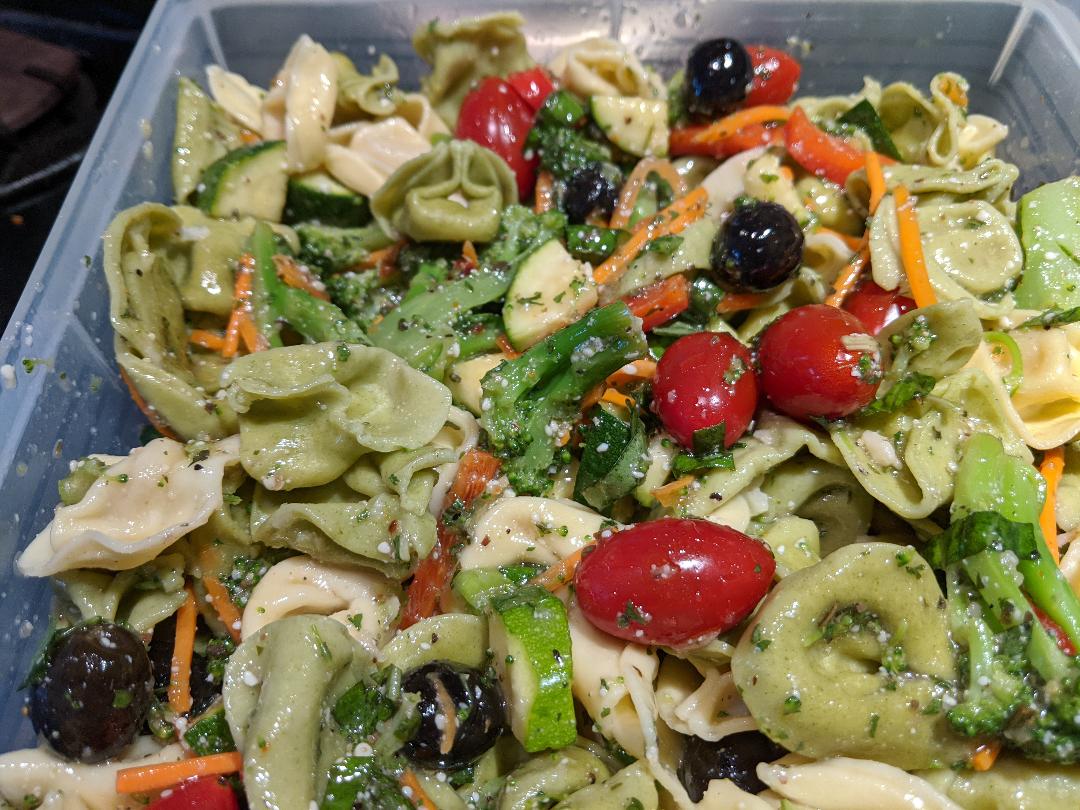 With this recipe though, the results you get, depend on the method you use to make it. After making the tortellini, make sure to drain into a colander, and put on a tray to completely cool and DRY OUT. This way the dressing and all of the great herbs in it will surely stick to the tortellini. I use this same method for pasta, and even potato salad. The dressing or mayo sticks much better to the pasta when it starts out dry. The key is to not leave out too long or your tortellini will be too hard. I would say 2 hours.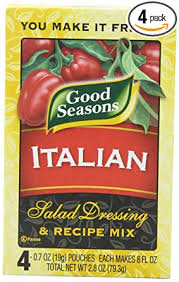 As the tortellini is cooking and cooling, prepare the vegetables and place in the Ziploc bag. Add the herbs and Good Seasons, and marinate in the fridge until you are ready to put the salad together. The dressing gives a head start to marinating the vegetables before you add them to the pasta.
No matter which way you slice it, this salad is a sure winner for any function!
Ingredients
2 pkgs (12 oz.) fresh three cheese tortellini (I only use Buitoni all white or multicolored)

2 or 3 small zucchini (halved, quartered and sliced into bite sized pieces)

1 bag of prepared broccoli florets

1 red bell pepper, sliced into bite sized pieces

Handful or two of carrot matchsticks

1 bunch scallions, sliced

1 can black olives

1 pkg cherry tomatoes

Optional: 1 jar red roasted peppers, cut into strips

Optional: 1 jar or about 1 c. fresh marinated mushrooms, whole

3 cloves garlic, peeled and minced

1/4 c. fresh parsley, chopped

1/4 c. fresh basil, chopped

salt & pepper

1 Tbsp celery flakes or seed

3/4 c. – 1 c. Parmesan cheese, grated

2 or 3 envelopes dry Good Seasonings Italian dressing

canola oil

red wine vinegar
Instructions
1
Boil water in a dutch oven pan. If using broccoli, blanch broccoli in water about 2-3 minutes or until it turns bright green. Don't over do or it will be much in the salad. You just want to take the rawness out of it, and spark up the color. With a large slotted spoon, remove from the water and rinse in a colander with very cold water to stop the cooking process. Set aside.
2
In the same water as you cooked the broccoli in, cook tortellini according to package directions (about 7 minutes). Strain in a colander, and lay out on a large tray or cookie sheet with edges to cool and dry. You want the toetellini to be sticky.
3
Cut all veggies and put into a jumbo Ziploc bag. Add olives, grated Parmesan cheese, Good Seasons and herbs into the bag. Let air our and zip the bag. Make sure all ingredients are mixed together, and put in the fridge until you are ready to use.
4
In a large bowl, mix tortellini and vegetable mixture together. Adjust with more dressing and cheese, if necessary.
5
This salad can be kept in the refrigerator for several days. Just be careful not to use ingredients that will get soggy (cut tomatoes, pepperoni, cubed cheese, cucumbers, etc), unless you're eating all right away.
Notes
This is the type salad you can vary and make your own. Make a Tortellini Caprese salad by adding fresh Mozzarella balls, fresh basil, cherry tomatoes and white balsamic instead of red wine vinegar, and if serving right away, croutons. You can add marinated artichoke hearts, marinated mushrooms, roasted peppers, to name a few. The sky's the limit in making this delicious salad your own.