I've been cruising through the various recipes for different types of macaroni salad on the various blogs and Pinterest. In most of them, it looks like the macaroni is screaming for help, from drowning in a pool of mayo:(
I don't like my macaroni salad with more mayo than macaroni. I like the mayo to cling to the macaroni, and to be able to see all the great veggies and herbs in the salad as well. The first way to achieve this, is to cook the macaroni, drain, but do not rinse, and cool on a sheet pan or tray. When the macaroni is completely cooled, then proceed to add the veggies and mayo mixture. I mix the ingredients for the mayo dressing in a bowl together, taste, and then add little by little to the macaroni, so as not to add too much. Don't discard the mayo mixture you have left over, because the macaroni will absorb the mayo some, and you may have to add a little more later to achieve the consistency you like.
This way, you control what your end product looks like. And I think macaroni should be the star. You can make with any type macaroni , and add essentially any veggies, olives and herbs you like. That's what's great about macaroni salad. It's very versatile, and you can make with basically anything you have on hand.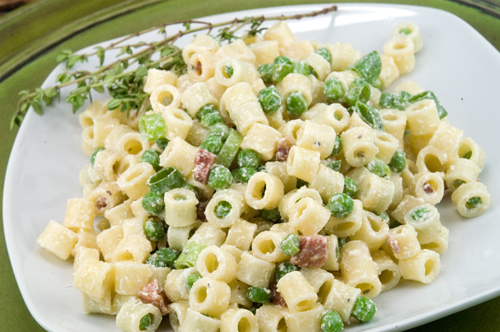 This is truly a delicious salad. The dressing tastes a little strong when first made, but after it's on the salad, tones down quite a bit. Just make sure you add to the salad sparingly, so as not to "drown" the salad.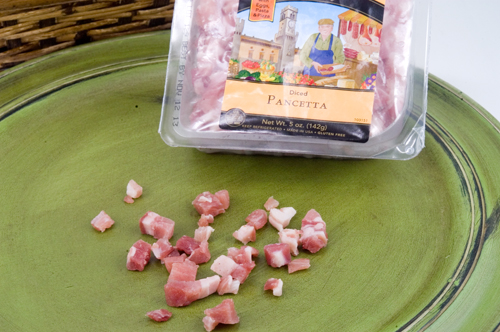 Also, I used the pre-diced pancetta (pictured above), instead of cutting from a chunk. It's very hard to get the dice so small, and larger pieces would not fare well in this dish. Nice lemon undertones, with crisp peas, crunchy bits of pancetta, and delicate scallions, make for a refreshing , light summer salad.
Print
Macaroni Salad with Crispy Pancetta & Peas
---
Description
The crispy pancetta and peas add a delicious and flavorful twist to ordinary macaroni salad, a lemony dressing.
---
12 oz

salad-size macaroni pasta, cooked according to package instructions for Al Dente, and cooled

1 cup

frozen petite peas, thawed

4 oz

diced and crisped pancetta

3

stalks green scallions, sliced
Creamy, Lemon-Thyme Dressing (recipe below)

2 teaspoons

fresh thyme leaves, for garnish
---
Instructions
Cooked macaroni according to package directions for Al Dente. Drain and cool on a sheet pan or tray until completely cooled.
Cook pancetta in a skillet on medium high until crispy, but not burned. Drain on paper towel until ready to use.
Add the cooked and cooled macaroni to a large bowl, and add in the thawed petite peas, scallions and the diced, crisped pancetta; if serving immediately, toss with the Creamy, Lemon-Thyme Dressing, and garnish with the thyme leaves. If making ahead, prepare all components and keep them separate, then toss the dressing with the pasta/peas/pancetta/scallions when ready to serve, to keep the pasta salad moist and fresh; keep cold.
Print
Creamy Lemon Thyme Dressing
---
3/4

c. mayonnaise

4 Tbsp

sour cream

1 Tbsp

heavy cream

1/3

c. olive oil

1/4

c. fresh lemon juice

1

–

1/2

Tbsp lemon zest

2

–

3

Tbsp sugar

1

–

1/2

tsp.salt

1 tsp

. whole grain Dijon mustard

1 tsp

. fresh thyme leaves

1/2 tsp

.freshly cracked black pepper
---
Instructions
Add all ingredients into the bowl of a food processor, and process the mixture until thick and completely creamy; store in the fridge until you're ready to serve the salad, at which point you can toss the dressing with the pasta.