I know…I know… It's St. Patrick's Day and I've decided to make Sheet Pan Lasagna….Pretty sad! I'm not really a "corned beef" and "boiled cabbage" person. I prepare cabbage by slicing and pan sauteing with butter. I love the slightly browned pieces of cabbage, it really brings out the flavor of the cabbage. I think boiling takes the flavor out.
I found this Sheet Pan Lasagna recipe on Food Network, and had all the ingredients, so decided to make it. This recipe looked so delicious, and the weekends are my "cooking" days, so it's Sheet Pan Lasagna Day!


It's funny after I assembled it, I thought it looked amazingly like my favorite pizza from Tripoli Pizza before I put in the oven. My husband came home and saw it coming out of the oven and said "that looks like pizza"! Who doesn't love pasta, oodles of cheese, and sausage that looks and acts like pizza?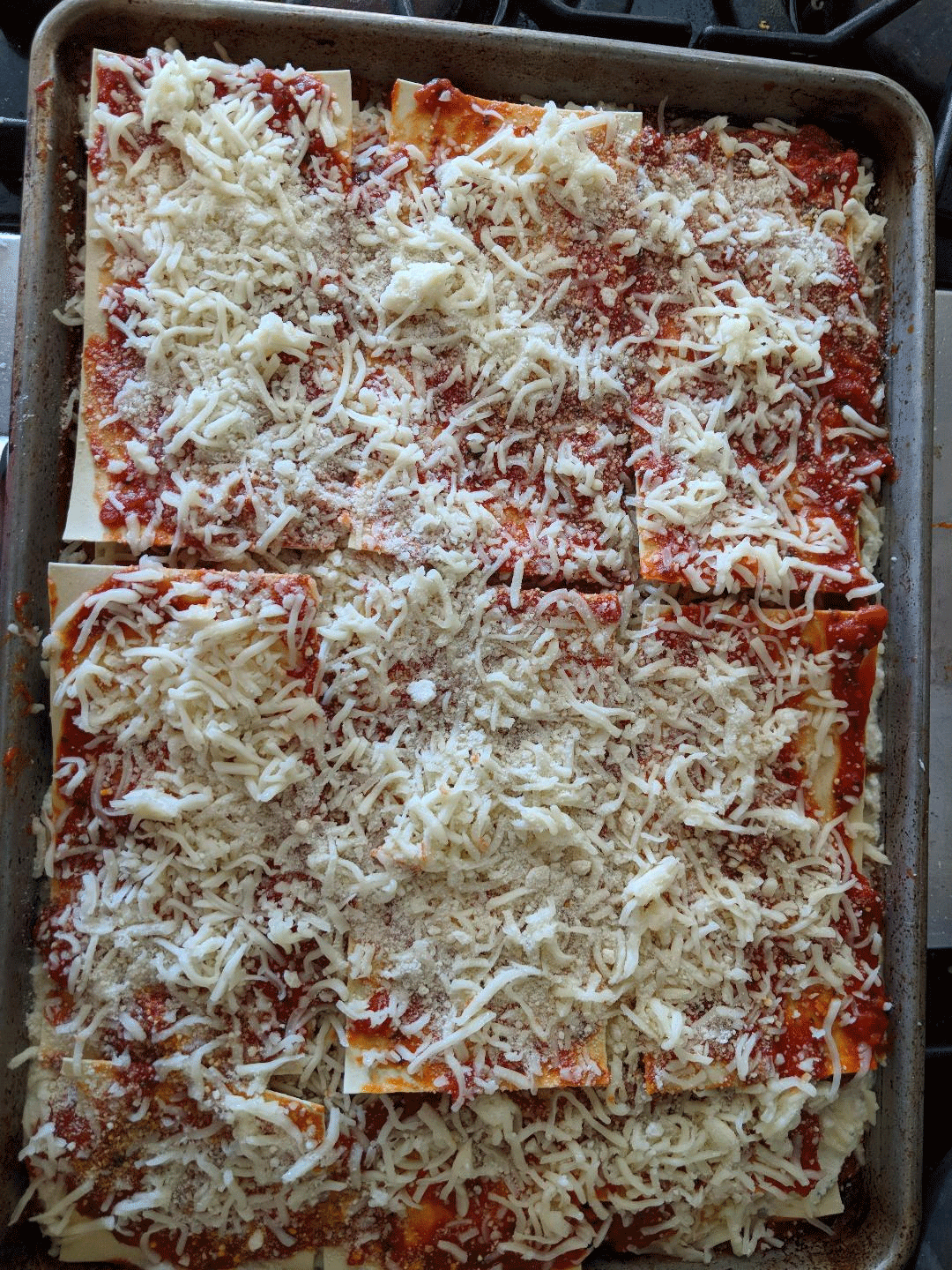 Let me say, this recipe is super easy to make. It used the "no cook" lasagna noodles, which takes that whole "cooking the noodles" step out. Don't worry about spaces between the no cook lasagna when assembling. When the pasta cooks it will fill out nicely. It only takes 20 minutes to cook covered, and another 15 uncovered. Granted, it's not as thick of a piece as the traditional lasagna, but it's a great twist on lasagna for an appetizer. It's super tasty with the ricotta, sausage filling! The only comment I had in making the original recipe is that it was pretty salty. I cut down the salt from 3/4 tsp to 1/4 tsp, but you use your best gauge on how much you like salt. I figure you can always add salt to your portion if its not salty enough.
Try this Sheet Pan lasagna! You will be glad you did! I hope you love it as much as I do! Lasagna in any form is Deeeelicious!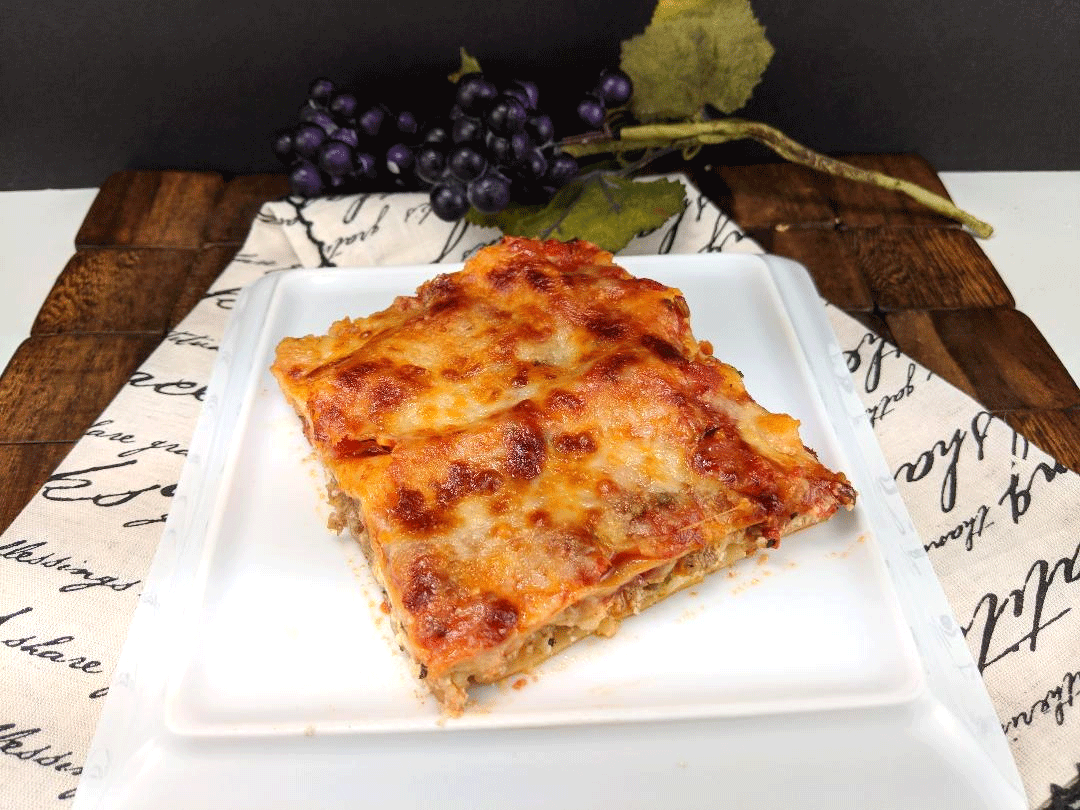 Ingredients
3 tablespoons extra-virgin olive oil, plus more for oiling foil
12 ounces sweet Italian sausage, casings removed (about 3 links)
2 cloves garlic, thinly sliced
One 28-ounce can whole peeled tomatoes, crushed by hand
Kosher salt and freshly ground pepper
One 15-ounce container whole-milk ricotta cheese (about 2 cups)
1 large egg
1/4 cup milk
1/2 cup packed basil leaves, roughly chopped
3/4 cup grated Parmesan
One 1-pound block whole-milk mozzarella cheese, shredded (about 4 cups)
12 flat no-boil lasagna noodles (7-by-3.5-inches each)
Instructions
1
Position a rack in the center of the oven and preheat to 450 degrees F.
2
Heat 1 tablespoon olive oil in a large skillet over medium-high heat. Add the sausage and cook, breaking up the meat with a wooden spoon, until browned and cooked through, about 5 minutes. Transfer the sausage to a bowl with a slotted spoon and reserve the drippings in the pan.
3
Reduce the heat to medium. Add the remaining 2 tablespoons olive oil and the garlic to the pan. When the garlic begins to brown at the edges, about 1 minute, add the tomatoes with their juices, 1/4 teaspoon salt and 1/8 teaspoon pepper. Bring to a simmer and continue to cook, stirring occasionally, until the sauce thickens, about 8 minutes.
4
Mix the ricotta, egg, milk, basil, 1/2 cup of the grated Parmesan, 3/4 teaspoon salt and 1/4 teaspoon pepper together in a large bowl. Spread 2/3 cup of the tomato sauce across the bottom of an 18-by-13-inch sheet pan. Next, space out 6 lasagna noodles on top of the sauce, turning them to fit so there are 2 noodles across and 3 noodles down. (The noodles will expand when they cook.) Top the noodles with all of the ricotta mixture, all of the sausage, 2/3 cup tomato sauce, and half the shredded mozzarella. Add another layer of 6 lasagna noodles and top with the remaining sauce, mozzarella, and 1/4 cup grated Parmesan.
5
Lightly oil one side of a large piece of foil. Cover the pan with the foil, greased side down. Bake until the noodles are tender when pierced with a paring knife, about 20 minutes. Carefully remove the foil and continue to bake until the top is very crusty and brown, 10 to 15 minutes more.