I was driving down the street the other day, and suddenly thought, "I'm going to make a Banana Cream Pie" for my next post. Out of the blue, who knows where it came from, I just had to make one. Although I have no intention of eating it (I'm trying to eat low carbs), I get pure satisfaction from making it and knowing someone else will be enjoying it!
I wanted to make a pie from scratch, as compared to the quicker "made from a boxed pudding mix ones" I would have made in the past. There is nothing that compares to pies made from scratch when it comes to cream pies.
I started looking on the internet at the various recipes and methods, and found this one from Bon Appetit that looked delicious. They incorporate the sliced bananas into the custard. I used 1 tsp vanilla bean paste and 1 tsp vanilla extract, as I wanted the vanilla bean speckles in the custard. The custard was super easy to make, and you can use your favorite pie crust recipe , the one I used from Cooks Illustrated, or even the refrigerated ones work good in a pinch.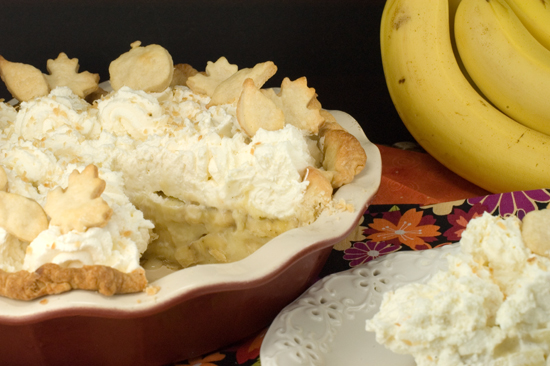 I tasted the custard after it was cooked (and no, that doesn't count against the no carbs!), and it was unbelievable tasting. I can only imagine what it tastes like when the banana flavor infuses in to the custard.
I made some whipped cream from, what else, real heavy cream. I threw in some stabilizer because I wanted to make sure it stayed nice looking as I was giving it away. Did I mention how unbelievable this Whipped Cream Stabilizer is? This stuff lets you decorate with whipped cream as if it was frosting, and it STAYS the way you decorated it! THE BEST THING EVER! Top with Toasted Coconut for added crunch.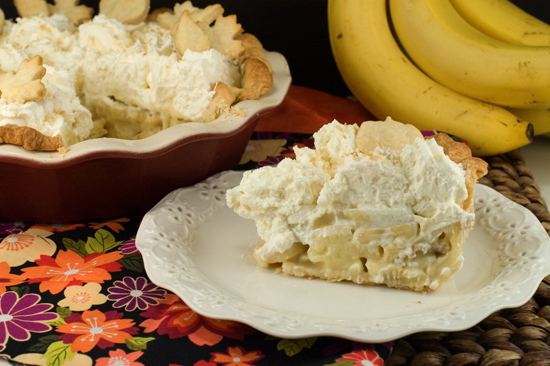 I will say in retrospect, I would advise using a standard pie plate, instead of a deep dish one, as there is only enough pie filling for a standard plate. If you do use a deep dish, increase the pie filling by a half. That should give you enough to fill a deep dish pie plate.
Any way you slice it, this Banana Cream Pie recipe is tops in my book!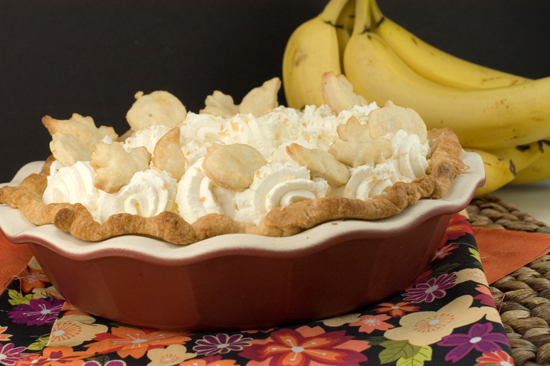 Print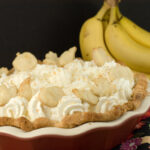 Banana Cream Pie
---
Pie Crust Recipe, or 1 refrigerated pie crust, baked

3

large egg yolks

1/2

c. sugar

3 Tbsp

cornstarch
Pinch of salt

2

c. whole milk

2 Tbsp

unsalted butter

2 tsp

. vanilla extract

3

bananas, peeled and sliced

1

c. chilled heavy cream

2 Tbsp

sugar

2 Tbsp

whipped cream stabilizer

1/4 tsp

. vanilla
toasted coconut
---
Instructions
Bake your favorite pie crust recipe, and put aside to cool.
Meanwhile, whisk 3 large egg yolks, 1/2 cup sugar, 3 tablespoons cornstarch, and a pinch of salt in a medium saucepan, off heat, until smooth.
Gradually whisk in 2 cups whole milk. Whisking constantly, bring to a full boil over medium heat and boil until the custard pulls away from the sides of the saucepan, about 3 minutes.
Remove from heat and whisk in 2 tablespoons unsalted butter and 2 teaspoons vanilla extract. Fold in 3 sliced bananas and let cool slightly.
Pour filling into prepared pie crust, cover with plastic wrap, and chill until firm, at least 3 hours and up to 1 day.
Beat 1 cup chilled heavy cream with 2 tablespoons sugar and 1/4 teaspoon vanilla extract until firm peaks form; spoon over pie and swirl decoratively.
Top with toasted coconut.