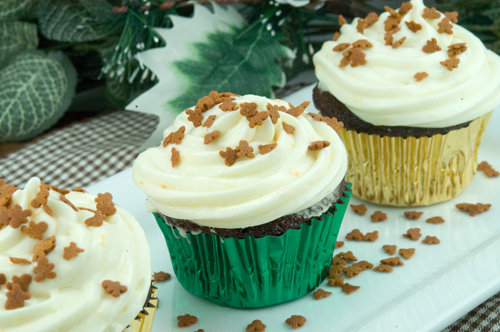 The holiday time is so busy for me, I hardly have time to do the one thing I love, cooking and baking. And when I make the time, its for things to bring to party's, church, etc., and are done in a rush. I have so many great recipes bookmarked, or posted on Pinterest to make, and the holidays fly by without getting a chance to make!
I wanted to make some cupcakes for Christmas, and remembered I had these great gingerbread decorations I got at Stonewall Kitchen. So I decided to make gingerbread cupcakes. I remembered I had bookmarked a recipe from Epicurious, so found it and got to work. I doubled the recipe to make 24 cupcakes.
I used a great recipe for orange cream cheese icing I had to top them with.
These cupcakes were supposed to go to church with me Sunday, except the all fell on the floor as I was taking the container out of the fridge. I didn't take them with me, but was able to salvage a few to re-ice and taste. They tasted unbelievable! Just like old fashioned gingerbread. Not that stuff from the box, either. I even think if you added some raisins, they would be even better! The orange icing, really complimented the gingerbread well, and was perfect for the cupcake…even though they did end up on the floor! Next Sunday, I will try again. They were that good!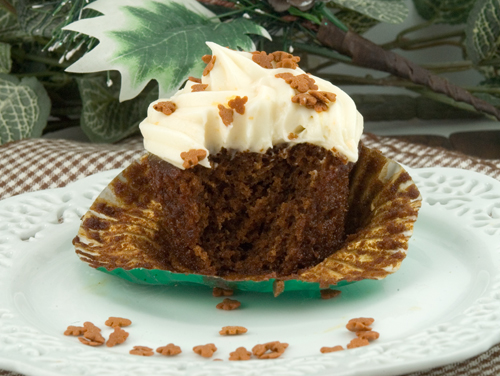 Print
Gingerbread Cupcakes with Orange Icing
---
Cupcakes:

1

–

1/4

cups all-purpose flour

1

–

1/2

teaspoons ground ginger

1 tsp

. cinnamon

1/4 tsp

. ground cloves

1/2 tsp

. allspice

1/4 tsp

. salt

1/2

stick plus 2 Tbsp unsalted butter, softened, OR 1/4 c. vegetable oil

1/2

c. granulated sugar

1/2

c. unsulfured molasses

1

large egg, beaten lightly

1 tsp

. baking soda
Icing:

8 oz

. cream cheese, at room temperature

1/4

lb. (1 stick) unsalted butter, at room temperature

1/2 tsp

. orange zest

1/2 tsp

.pure vanilla extract

1/2

lb. (about

2

c.) confectioners' sugar
---
Instructions
Preheat oven to 350 degrees F.
In a medium bowl, sift together the flour, ground ginger, cinnamon, cloves, allspice, and salt.
With an electric mixer, mix together sugar and butter (or oil), until fluffy (or blended if using oil).
Beat in molasses and egg, until smooth.
In a measuring cup, combine the baking soda with 1/2 c. boiling water, and stir the mixture to dissolve the baking soda.
Stir the water and baking soda into the molasses mixture (the mixture may appear curdled, if using butter).
Slowly mix in flour and spices, stirring to combine.
Line twelve 1/2-cup muffin tins with paper liners and spoon the batter into the liners, filling them halfway.
Bake the cupcakes in the middle of your oven for 20 minutes, or until a tester comes out clean. (The cupcakes will be flat or slightly indented on top.)
Transfer the cupcakes to a rack and let them cool completely before icing.
For the icing, mix the cream cheese, butter, orange zest and vanilla in the bowl of an electric mixer fitted with the paddle attachment, until just combined. Add the confectioners sugar and mix until smooth. Adjust the consistency with a little milk if needed.