I pinned these great German Chocolate Cupcakes from Cooking Classy, and decided to try them today. One word…UNBELIEVABLE! And fairly easy to make! Jaclyn from Cooking Classy is just that…"classy" for coming up with this fantastic recipe!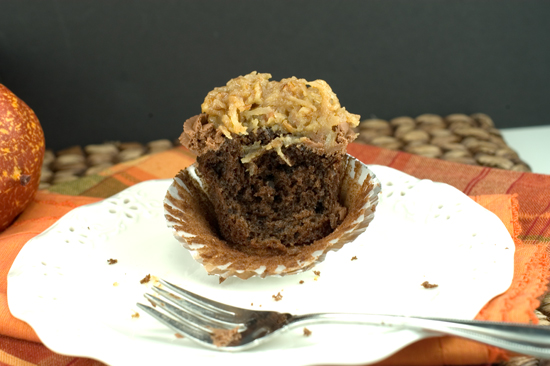 I made the cupcakes earlier in the day, and then made the topping and frosting later in the day when I had time. The cupcake is moist and delicious, the topping is basically a caramel that you add pecans and coconut in to. I didn't follow the chocolate frosting part of the recipe, I just made my own, although I didn't add my usual Espresso Powder as I usually do. I didn't have any, and forget to bring some home from my online store stock. So…….no espresso powder, but the frosting tasted delicious anyway.
They are the perfect recipe for bake and take.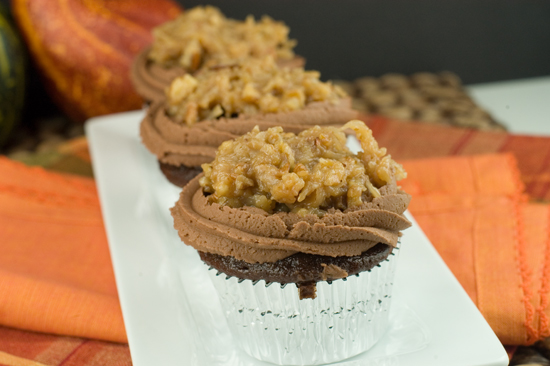 Print
German Chocolate Cupcakes
---
Cupcakes:

1 cup

all-purpose flour

½ cup

packed light-brown sugar

1/3 cup

granulated sugar

1/3 cup

cocoa powder

1 tsp

baking powder

½ tsp

baking soda

½ tsp

salt

1/3 cup

vegetable oil

1/3 cup

milk

1

large egg

1 tsp

vanilla extract

1/3 cup

hot water

¼ cup

sour cream
Coconut Pecan Topping:

1/2 cup

evaporated milk (regular fat)

2

large egg yolks

1/2 cup

packed light-brown sugar

1/4 cup

salted butter, diced into pieces

1/2 tsp

vanilla extract

1 cup

sweetened shredded coconut

3/4 cup

chopped pecans
Chocolate Frosting:

3

c. confectioners sugar

½

c. Crisco shortening
milk to desired consistency

4

envelopes pre-melted semi-sweet chocolate

½ tsp

espresso powder
---
Instructions
For the cupcakes:
Preheat oven to 350 degrees.
In a large mixing bowl whisk together flour, brown sugar, granulated sugar, cocoa powder, baking powder, baking soda and salt for 30 seconds. Add in vegetable oil, milk, egg and vanilla extract and beat with an electric mixer on low speed for 2 minutes. Pour in hot water and stir until well combined. Add in sour cream and mix until combined.
Fill paper lined muffin cups 3/4 full and bake in preheated oven for 16 – 19 minutes, until toothpick inserted in center of cupcake comes out clean (or with a few moist crumbs).
Remove from oven and allow to cool several minutes in muffin pan then transfer to a wire rack to cool completely.
Once cool, top each cupcake with 1 Tbsp of the Coconut Pecan Topping (in a mound in the center) then pipe the Chocolate Frosting around cupcakes. Store in an airtight container.
For the Coconut Pecan Topping:
In a medium saucepan combine, evaporated milk, egg yolks, brown sugar and butter.
Cook mixture over medium heat, stirring constantly, until thickened, about 10 – 15 minutes (mixture should nearly come to a boil and when you run a rubber spatula along the bottom you should see the bottom of the pan for a moment). Remove from heat and strain through a fine mesh strainer into a mixing bowl.
Stir in vanilla then mix in shredded coconut and chopped pecans and allow mixture to cool to room temperature.
For the Chocolate Frosting:
Place confectioners sugar and Crisco in the bowl of an electric mixer, and mix for approx 1 minute to blend. Blend in envelopes of pre-melted semi sweet chocolate, until blended. Add espresso powder. Add milk to desired consistency.