I remembered a Maple Walnut Muffin in my local Shaw's grocery store, I used to buy one once in a while for a treat. These were sweet. I mean really sweet. The tops are dipped in a Maple glaze. The inside, a rich Maple flavor loaded with walnuts. Totally yummy! 🙂

These days I'm trying to cut down on sugar, but noticed them the other day, and thought I would try and duplicate. Or at least get close. I started with my Jordan Marsh Blueberry Muffin recipe, and changed it up a bit. I replaced 1/2 cup of the white sugar for brown sugar. I added maple syrup for the extract in the recipe. The muffins came out with super hard tops, and hardly rose at all. Failure.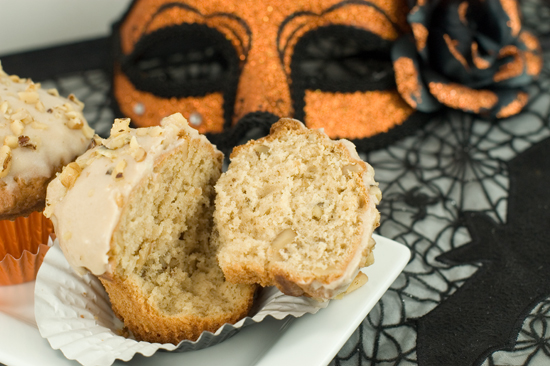 I made another batch exactly the same as my Jordan Marsh Blueberry Muffin recipe, and they rose quite a bit more, and the tops were slightly browned, but not hard as a rock like the first ones. OK, I might have something here.

The muffins were cake like, just like I like them… too bad I'm giving them away to get them out of my house ASAP! Pretty acceptable I thought. I have never had a hard time with icing, but for some reason, the icing kept separating or curdling, and tasted OK, but looked terrible. I tried butter with water, butter with milk and vegetable shortening with water. The icing looked fine until the icing got rather thin and then it looked terrible. So I decided to leave a little thick. Even though I didn't eat one (I just took a teeny, tiny taste of the muffin), they look a little sweet for a breakfast muffin. So drizzling the icing on would probably be a little more favorable, at least for breakfast.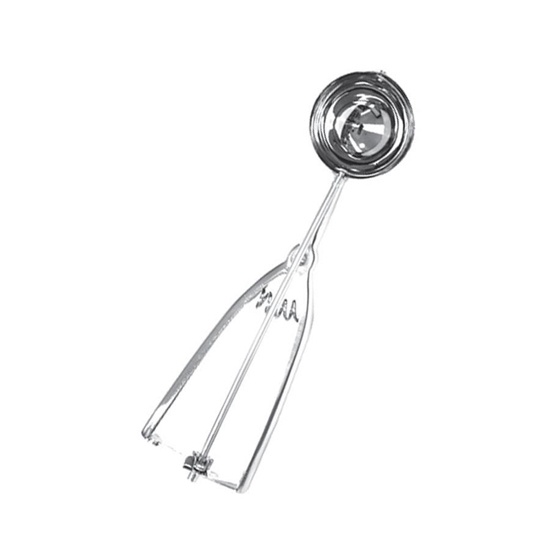 The #10 Spring Handle Serving Scoop makes the job of filling the paper muffin cups a breeze! Visit Shopafoodieaffair.com to check them out. These scoops are invaluable in the kitchen. They come in various sizes. I use them for meatballs, cookies, and the smaller ones for fruit. No kitchen can be without them!
Although I love fine tuning recipes (in this particular case, I made two batches of muffins, and 4 batches of icing!), I am trying not to take the next step and eat the results. That's where my friends and family come in. Everyone's more than happy to take them off my hands, which is fine with me!
Icing, or no icing, the muffins had terrific flavor, and tasted delicious. A great variation of my favorite Jordan Marsh Blueberry Muffins!

Happy Halloween Everyone!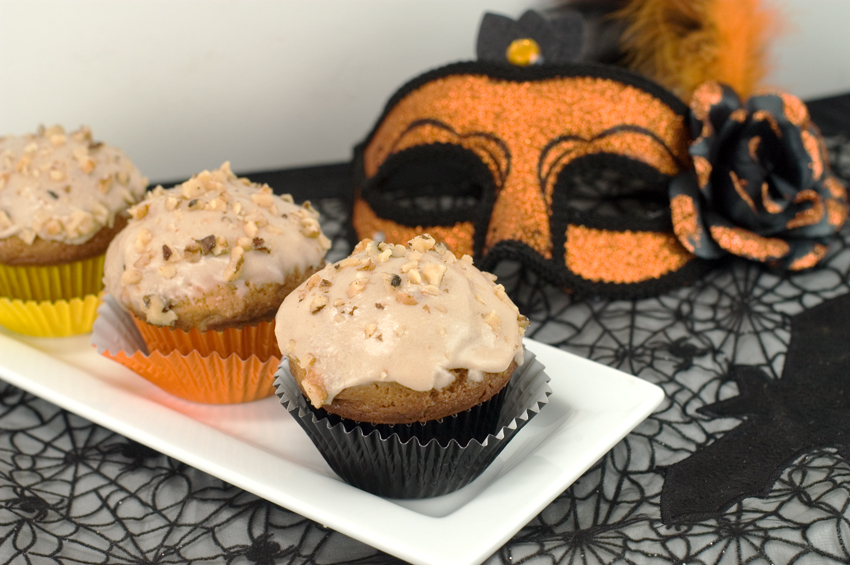 Print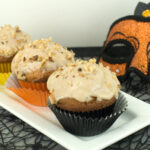 Maple Walnut Muffins
---
1/2 cup

(

8 tablespoons

) butter, softened

1 cup

granulated sugar

2

large eggs

2 teaspoons

baking powder

1/2 teaspoon

salt

1 teaspoon

Maple extract

2 cups

King Arthur Unbleached All-Purpose Flour

1/2 cup

milk

1/2

–

3/4

c. chopped walnuts
Icing:

1

–

1/2

cup confectioners sugar

4 Tbsp

butter, softened

1/4 tsp

Maple extract

3

–

5

Tbsp milk
---
Instructions
Preheat the oven to 375°F. Lightly grease a standard 12-cup muffin tin – tops and cups. Even if lining with muffin papers. Grease the papers also.
Using an electric mixer, in a medium-sized bowl, beat together the butter and sugar until well combined.
Add the eggs one at a time, scraping the sides and bottom of the bowl and beating well after each addition.
Beat in the baking powder, salt, and maple extract.
Add the flour alternately with the milk, beating gently just to combine. Scrape the bottom and sides of the bowl.
Mix in the walnuts.
Scoop the batter by the heaping ¼-cupful (or I use a large ice cream scoop) into the prepared muffin pan.
Bake the muffins for about 30 minutes, until they're light golden brown on top, and a toothpick inserted into the middle of one of the center muffins comes out clean.
Remove the muffins from the oven, loosen their edges from the pan, and after about 5 minutes transfer them to a rack to cool.
Ice or drizzle with maple icing, and top with finely chopped walnuts.
Notes
If you don't like things super sweet, just drizzle a slight amount of icing on top of the muffins. Muffins are also delicious with no icing.